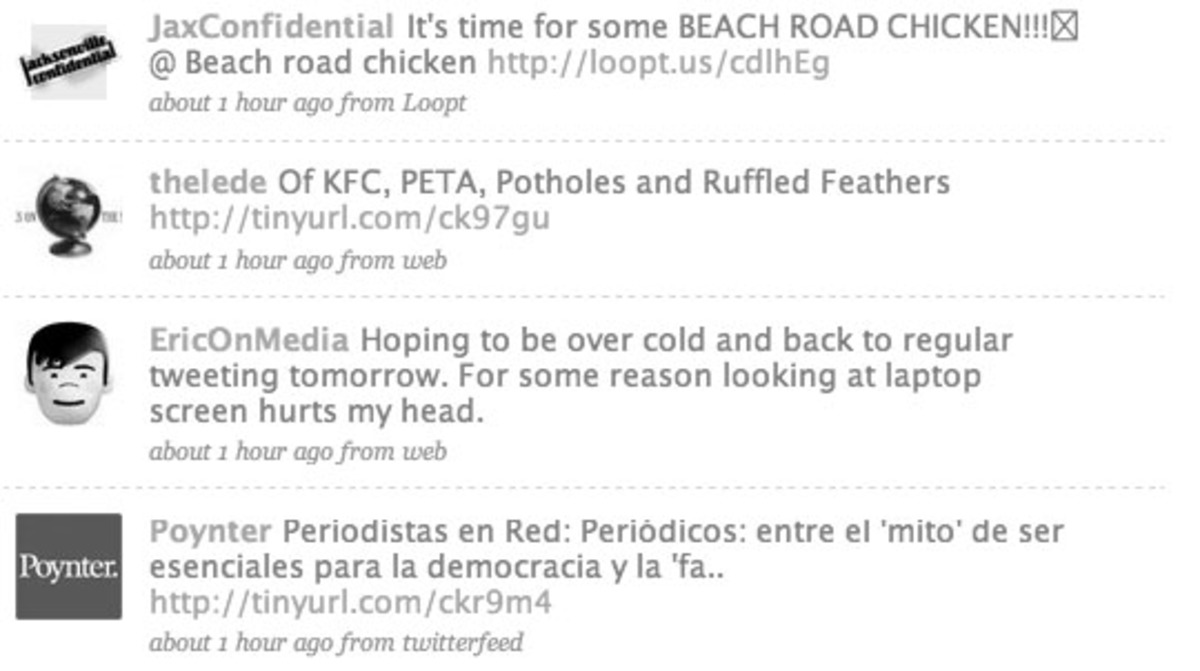 Do you ever find yourself on Facebook or MySpace just looking to see what your friends are up to by reading their status updates? Twitter.com, a new social networking site, solely focuses on what you and your followers are doing.
Twitter, which launched in fall 2006, is becoming increasingly popular among college-age students as a new way to keep in touch with their friends. Unlike other sites, Twitter focuses primarily on micro-blogging, which is like writing a very short blog or updating a status.
"Twitter is different," UNF communication professor Robert Bohle said. "It allows only 140 characters, and that includes spaces and punctuation, per tweet. So you can't say much."
Micro-blogging is the primary function of Twitter. Some users blog about useful information, while others constantly answer the question – what are you doing? This is written right above the text box where users type their micro-blogs.
"I think it's so useful," said Kristen Ballentine, a senior psychology major. "You can contact several people at once, asking them if they want to do something, without disturbing them if they're in class or work."
Like other networking sites, users can befriend people, but instead of friends they are called "followers." Users – also known as Twitterers – can subscribe to different organizations' tweets, such as the one run by National Geographic.
On the user's homepage, tweets are integrated with the tweets of people and organizations they follow and listed chronologically with the most recent at the top. Twitterers can even opt to receive their friends' tweets via mobile phone.
"I have the people I talk to most on my mobile updates so that I get a text with their updates," said Chris Hovel, a senior psychology major. "It's awesome because it's like they're with me all the time."
Users can reply to other people's tweets and even send private messages to other users who are following them, all of which can be done either online at twitter.com or with a mobile phone. Twitter not only updates users with their friend's tweets, but it also allows Twitterers to update their status with their cell phone no matter where they are.
"I love the fact that I can update Twitter from my Blackberry whenever something funny, memorable or random is said or done," Hovel said. "It's also fun to go back and read for laughs later."
Unlike other social networking sites such as MySpace and Facebook, Twitter does not offer features like photo albums or advertisements, but it does allow for complete customization similar to MySpace. Users can create a custom username, upload a picture and customize their homepages to have the look they desire.
Twitter was first imagined by Jack Dorsey, who in the beginning, simply wanted a way to know what his friends were doing, according to the Twitter Web site. He mentioned the idea to his colleagues and a prototype was built two weeks later.
Three months later, in June, Twitter was introduced to the online world and quickly grew to be very popular. According to the Twitter Web site, simplicity plays an important role in Twitter's success and popularity.
The creators of Twitter, based out of California, said they're trying to create a simple worldwide service as opposed to making revenue. Twitter has received numerous opportunities that would allow it to generate a profit, but the owners have chosen to hold off while they remain in the research phase. For right now, the creators said they spend more money than they make.
"They really are dedicated to what they created," said Taylor Campbell, a senior communication major. "They really want people to enjoy it and get their point across."
Since Twitter's launch in 2006, it has successfully built a fan base which includes users ranging from President Barack Obama to Britney Spears. There is no cost to join Twitter; it simply asks to know one thing of its users: "What are you doing?"
E-mail Amanda Tew at [email protected].