Speedy Ortiz is aware Jacksonville exists
Jacob Rodriguez
January 21, 2014
And they really want to ride that monorail downtown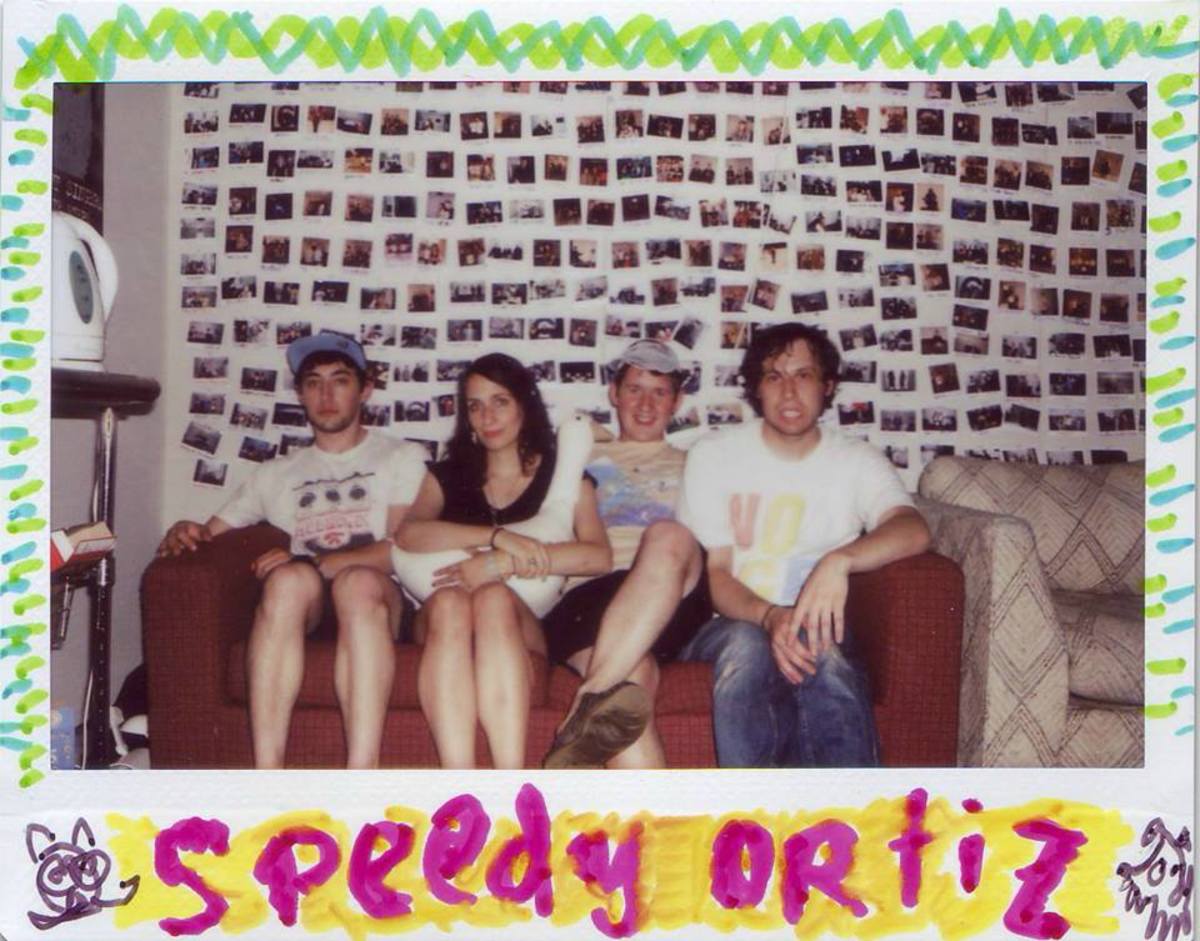 Sadie Dupuis, Mike Falcone, Matt Robidoux and Darl Ferm came to Jack Rabbits January 9 with their tour buddies Grass Is Green, out of Boston. This headlining tour is their first since running around with the Breeders late last year.
Speedy Ortiz formed January 30, 2012, and proceeded to put out a couple two-track singles and EPs before their release of Major Arcana out on Carpark Records July 8, 2013. As one of my favorite piece of music from 2013, Major Arcana is required listening, okay?
What might be most exciting about their set was that it took place in Jacksonville. If you aren't aware, not very many indie acts make the trek out to the First Coast at all. So I guess the fact that we pulled Speedy Ortiz makes us a bigger deal than Palatka at least.
I got the chance to talk to them before their set and learn about their general feelings on a few different topics. My takeaway is that they're awesome people just trying to do what they love. If that sounds cliché I don't care.
Spinnaker Radio: Is this tour for Major Arcana?
Sadie Dupuis: It's not for anything. It's for – can we afford to live our lives?
Mike Falcone: We just really wanted to play a bunch of shows with Grass Is Green and come to Florida.
SR: I'm sorry the weather's so awful.
MF: Are you kidding? This is outstanding.
SD: Still way better than up North. But I guess we kind of did this tour because we did the Breeders thing and done a couple other support tours this year and we wound up in mostly clubs. We just wanted to be able to do an all-ages tour. Most of the spaces are bookstores and houses and the occasional venue that's willing to accommodate.
SR: You guys started your band on what date? When you guys became officially Speedy Ortiz?
SD: January 30th, 2012.
MF: That's pretty close probably.
SD: That's exactly the date.
Darl Ferm: Yeah.
SR: And how did you guys meet?
MF: Hangin' out.
Matt Robidoux: You guys met at the Triangle.
DF: Drinkin' beer.
SD: We met when our old bands were on tour.
DF: We played the North Carolina Triangle.
SD: We all just played in each other's bands.
MF: We all played together. Separately.
MR: I think that's how Sum 41 met. They were all in different bands and met playing.
MF: That's how Sum 41 got together? That's pretty similar to us actually.
DF: We're very similar to Sum 41.
MF: That might be the one thing we have in common with them.… Actually that's not true. Sum 41 did live with their parents for a long time even after they got big.
SR: Is that happening right now?
SD: Duh-rell.
DF: This guy! [pointing to himself with his thumbs] MF: You're the Steve-O of Speedy Ortiz.
DF: In every way I'm the Steve-O of Speedy Ortiz! All right – what?
MF: Steve-O was the drummer.
DF: What? I thought you were talking about the Steve-O from Jackass.
SR: That's what I thought too.
MF: When they did their episode of Cribs, Steve-O brought the cameras to his parents' house. Which was a good episode of Cribs.
DF: I'm definitely more like Steve-O from Jackass.
SR: Okay. That's cool.
SD: That was the burning question you wanted to ask.
MF: But that was his name right?
SR: The guy with his face on his back?
MF: No, the drummer from Sum 41.
SD: I have no idea…
MF: I thought that was his name. I could be wrong. I'm sorry.
SD: You could be right; you're probably right.
SR: I'll fact check that. [It actually is his name. Sort of.]
SR: So you got to Jacksonville at seven-thirty? Have you had any time to check out any places?
MF: We were late getting here.
DF: It was lucky we were late getting here. Very lucky.
SD: Why?
SR: Eh, there's nothing here really.
SD: Is that true?
DF: You got it! You got 'em. You nailed it!
MR: What about that monorail? Should we ride it for fun?
SR: I don't know how you even get on that thing. I have no idea where it goes.
DF: I wanna ride the monorail though. That's what I want.
MR: Can we ride in a circle? How long is it, round-trip?
SR: I don't know. I'm sure there are a lot of homeless people on it. There are a lot of homeless people in downtown Jacksonville.
SD: Okay. You're really selling us on your city right now.
SR: I don't know. I've been here five years; I'm just ready to go.
DF: Everyone I know — well I know one person from Jacksonville and uh. No, I know two people from Jacksonville, and uh, yeah they say exactly the same thing.
SR: It's tough. Our only indie band out of here is Black Kids.
SD: Oh yeah, I remember.
MF: I sort of guilty pleasure enjoy that album. Partie Traumatic or whatever?
SD: I liked "I'm Not Gonna Teach Your Boyfriend How To Dance With You."
MF: That wasn't my favorite one. There were some deeper cuts on that album.
SD: Spencer was really into it. My old bandmate. Also from Florida. So, maybe that's why.
SR: Florida has some cool people. And, Orlando's cool. Vice just put out an article [about it]. So then – what was the worst city you've been in?
MR: Chesney, Ohio, I think.
MF: Let's just say… Gary, Indiana.
DF: Gary, Indiana!
SD: To be honest, our last time in Florida was not the greatest.
MF: Wasn't it here?
SD: No, no. It was in Gainesville.
SR: What? But Gainesville loves your kind of music.
SD: I know! But we just – for whatever reason – went up on a weird-ass show. And the guys who run the venue are like really sorry.
MF: You know what? I'm going to have to go with Orlando, I'm sorry.
SD: We got called 'a bunch of f——[an epithet for gay people],' I think. I think that happened. So this time through Florida is our chance to make up after the bad times last time.
SR: But you're live set is awesome!
SD: I don't think it had anything to do with our set. These guys were outside.
MF: Gary, Indiana's a bummer too. The birthplace of Michael Jackson.
DF: Gary, Indiana? Yeah, that was my choice.
MR: I was pretty bummed out about the slaughterhouse town that we found. I looked it up on Wikipedia and it was segregated until like 1996.
SR: Did you play there?
DF: We just drove through.
MR: There were dead cows and feces… and I think Buddy Holly was born there, too.
DF: Really depressing.
SD: Anyway! This time through Florida! We loved Tallahassee last time. Had a fucking really awesome time there last time.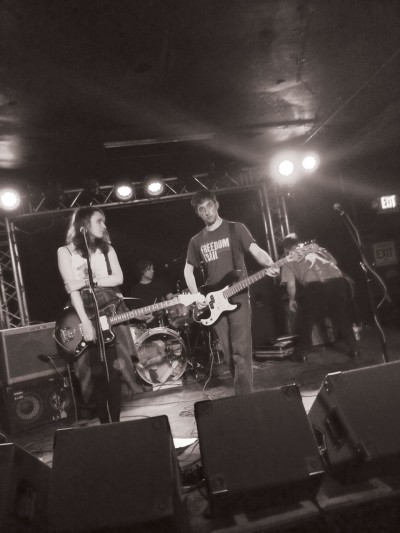 SR: And in Jacksonville, we've got… … like eight breweries. I guess that's cool.

DF: You have the monorail.
SD: That's cool.
MF: Do you know Merchandise?
SD: Aren't they from Tampa?
MF: I like them.

SR: Surfer Blood too, I guess.

SD: I don't know if I want Surfer Blood… I just object to guy being arrested for beating his girlfriend.
DF: Is that common in Florida?

SR: Well yeah, there's a pretty popular twitter account called Florida Man where they just detail the crazy stuff Florida men do.

DF: Well what's good about Florida?
SD: There was this story about a cop, in Florida, and there was this kid playing on the beach, he was black, playing with his new puppy, and the cop said the kid looked at him in a threatening way and ended up choking the kid and arresting him.
DF: Whoa.

SR: That was a downer.

SD: This was like last summer.

SR: Here?

SD: No, not in Jacksonville. Just another sad Florida cop.
MF: Yo Majesty is from Florida. They're pretty good.
DF: All female rap group.
MR: Why are you talking about them?
MF: And Surface to Air Missive. One of the best albums of 2013, in my opinion.
MR: Assboys is from here.
DF: What's 'Assboys?' Are you making that up?

SR: Okay, I've got a good generic interview question for you guys: as 2014 starts, are you guys worried that the flame ignited by your debut album might start to go out?

SD: Oh yes.
MF: What does that even mean?

SR: I don't know.

SD: We have no expectations and we are generally pessimistic.

Speedy Ortiz went back inside after that to listen to their tour-mates Grass is Green (who killed it) and then played a great set themselves to about twenty to thirty people. I was sad to see such a small crowd for such a good band, but I guess that's Jacksonville. I just hope they got to ride the monorail before they left the following morning.

The interview was edited only for length and clarity.