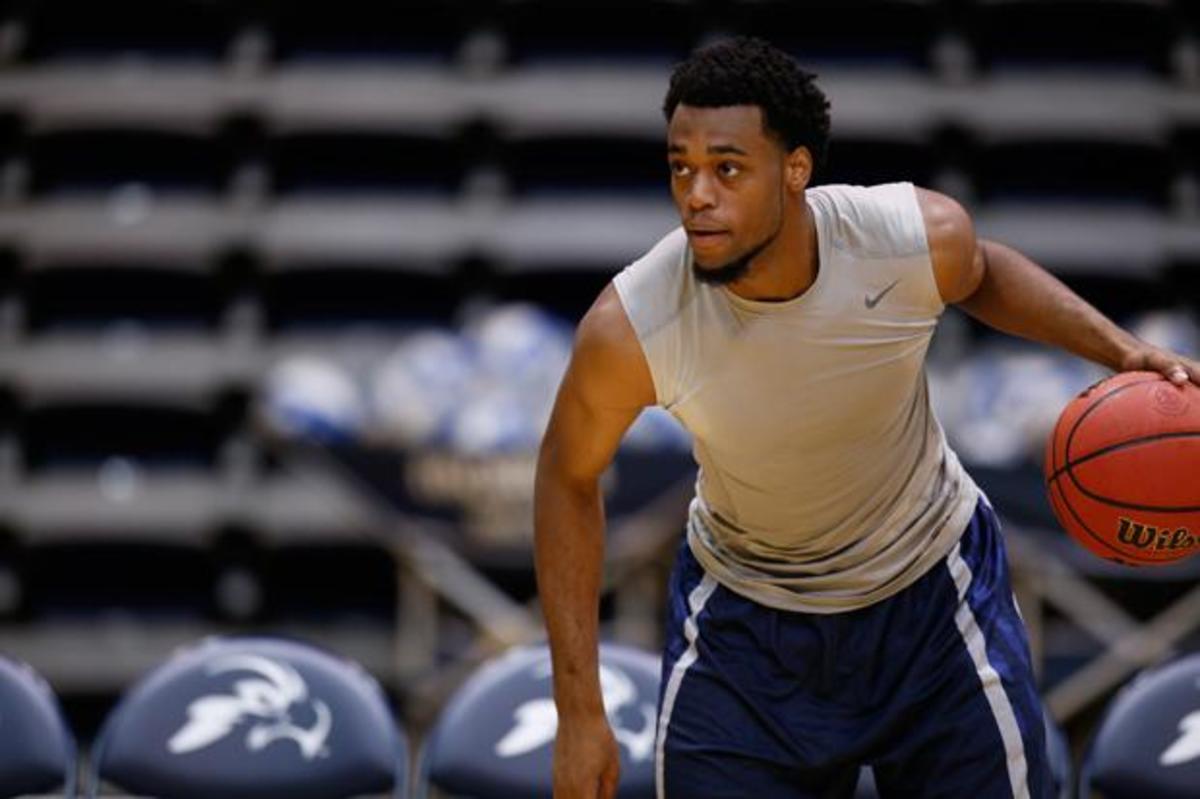 Last March, Mike Krzyzewski, a teary-eyed head coach for the Duke University Blue Devils, walked into Mercer University's locker room to congratulate them on their upset of his team. The year before that, Georgetown University was the first of two victims to fall to an Atlantic Sun team.
In two back-to-back seasons, two Atlantic Sun teams–Florida Gulf Coast University and Mercer University–that were double-digit seeds going into the NCAA Tournament, knocked off two top 5 seeds, bringing success and exposure to those schools. Just making the tournament alone warranted publicity.
That is the goal for the Ospreys this year, led by Head Coach Matthew Driscoll and a crew of versatile players. The expectations are higher than ever before. This season the UNF men's basketball team has been ranked second in the preseason coaches poll for the Atlantic Sun Conference.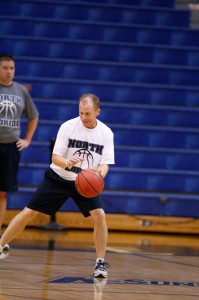 Three Ospreys have been named to the Preseason All-Conference team: Dallas Moore, the reigning A-Sun Freshman of the Year, Chris Davenport, sophomore forward, and Beau Beech, junior guard and forward who shot 39.8 percent from three-point range last season.
While Driscoll and his players may think the ranking holds little value until they prove anything on the court, the fans and students hold a value in that ranking and expect other teams to recognize UNF's potential this season.
The coaches aren't the only ones to predict UNF's better chances. The Ospreys are third in the media poll behind Lipscomb.
"It does tell you how people view you," Driscoll said. "The coaches have an in-depth understanding, where sometimes the media may not know."
It feels like the program has been growing every season, from making it to the conference title in 2011, to last year's record of 10-8 in league play with a young team. Now the team is a year older with a few new freshmen and one transfer who redshirted last year. This season the Ospreys have one of the most versatile teams they've had in a long time.
"We probably have the most shooters that we've ever had," Driscoll said. "We have some guys that can play, pick and pop from the four position, which is going to open it up for Romelo [Banks]."
Romelo Banks, sophomore, is stepping into the starting center role with the departure of Travis Wallace. As a reserve player, Banks ranked ninth in the A-Sun for blocks last year.
"The more you can space the floor and the more you can place shooters around him, the easier it becomes to play one-on-one," Driscoll said. "Sometimes we can have five shooters on the floor."
Helping spread the floor is Trent Mackey, a junior who was redshirted last season after transferring from the University of Louisiana at Monroe. During his last season at ULM, he averaged 44 percent from beyond the ark, ranking him 12th in the NCAA in three-point field goals.
"Those guys have already heightened their own expectations even before they came," Driscoll said. "They all want to do something here that's never been done before, from a team standpoint."
"Our goals have always been the same: win the A-Sun," Beech said. "We've got a lot of guys that can play and everybody can shoot. It's fun."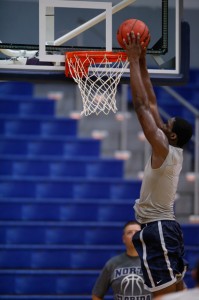 The Ospreys were a young team last year with 17 games decided by six points or less, and two wins over Mercer, who would go on to win the A-Sun and upset Duke in the NCAA tournament.
UNF is hoping to use that experience from last season, along with a versatile cast, to do what has never been done – win the conference championship.
"Winning the tournament and getting to the NCAA is everybody's dream," UNF Athletic Director Lee Moon said. "The impact will be similar to what happened to FGCU – like Mercer."
UNF has two wins in A-Sun Conference tournament history, both in 2011, when they advanced to the championship but ended up losing to top-seeded Belmont University by a painstaking 41 points.
Making it just a little easier on the Ospreys, both Mercer and East Tennessee State University departed the Atlantic Sun Conference this year, after Belmont departed in 2012.
"It is a weaker league," Raphielle Johnson, columnist for NBC's College Basketball Talk, said. "You've got opportunities to step forward."
"Lipscomb and North Florida are two teams that are pegged this season to possibly contend," Johnson said. "UNF's got some good pieces. When you have guys at each position that can shoot the basketball, it makes you that much tougher to defend. They can definitely contend for the conference title."
With the starting lineup coming back more experienced, Moore running the offense and the addition of three new players, the Ospreys look promising. Nick Malonga and Osborn Blount are junior college players, who will have the opportunity to play for the Ospreys for three years as opposed to two.
"It's really a nice situation for us to have guys that can be here for that long coming into the program," Driscoll said.
The other new face on the team is a 6'6 freshman forward, Karlos Odum.
The team will head to Cancun, Mexico in November to compete in The Cancun Challenge, a preseason tournament. The Ospreys last won this tournament in 2010, the same time they contended for the A-Sun conference title.
"It gives us two games against upper level opponents that we can measure on, and it gives us two games against mid-major opponents," Moon said. "In the last few years, we've played somebody like us in a neutral situation and won both games each year and that gives us confidence."
Starting in January 2015 the games will be streamed on ESPN 3. Until then many of the games will be broadcasted on A-Sun TV through the A-sun's website.
Gallery photos by Joshua Brangenberg
[doptg id="46″]
Email Charles White at [email protected]