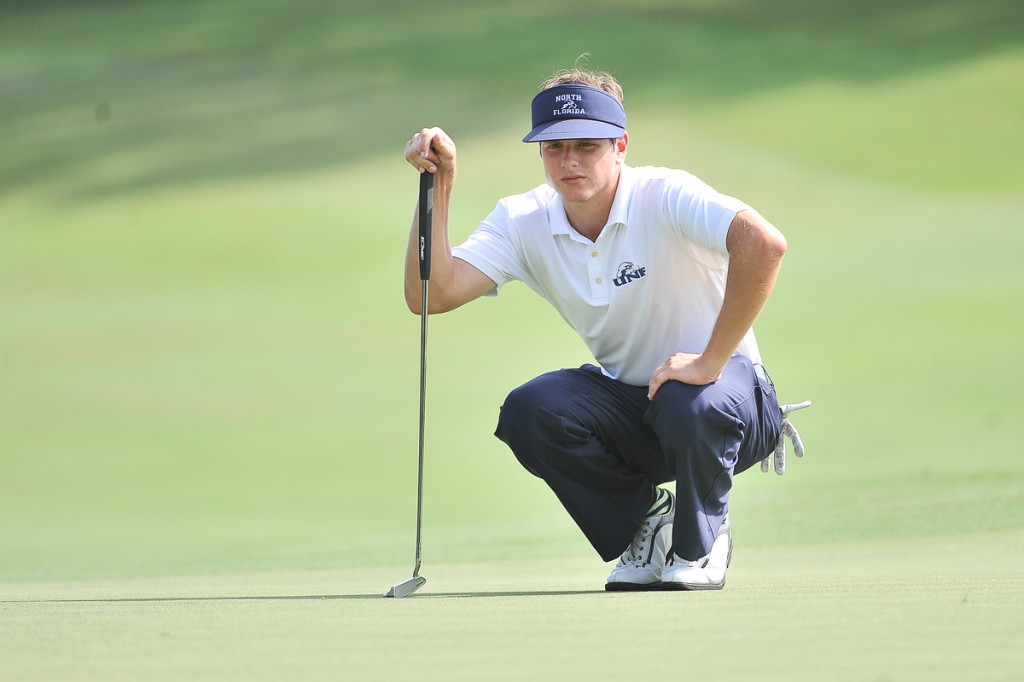 Looking at the green 198 yards away, Joey Petronio could see the ball roll into the hole.
The senior golfer for UNF, playing in his hometown of Orlando, Fla., just made a hole-in-one in front of family and friends during the Tavistock Collegiate Invitational tournament, which was held at the Lake Nona Golf and Country Club on Oct. 21.
He finished the round at three under par, tied for 13th place out of 211. Coming off a birdie on the 16th hole, he stepped into the tee box on 17, which was a par-3, and mashed home a memorable tee shot he won't be forgetting any time soon.
"I was hitting the ball well all day and I was putting a good swing on it and it went in," Petronio said. "It's my third one, but it's definitely my best one because I've never had one in competition."
This continues a hot streak for Petronio, who shot a career best six-under par at the Shoal Creek Intercollegiate tournament in Birmingham, Ala. on Sept. 30. With Petronio's help, the Ospreys would go on to win this tournament, coming in first place out of the 12 teams that competed.
"It was good to shoot six under in the final round because we were trailing Alabama by three shots," Petronio said. "To be able to be clutch in the final round was pretty big for us and myself – big confidence boost."
This season Petronio isn't just improving his numbers on the scorecard. He says he's also growing mentally, which is a huge part of the game.
"I'm having a lot more fun," he said. "It's helping me mature a lot. I used to have a little bit of a temper when I was in high school but learning how to control that helps me play better but also helps me off the course."
The UNF men's golf team has been on the upswing this season. Other than Petronio's most recent individual efforts that landed him the title of Atlantic Sun Men's Golfer of the Week on Oct. 1, GolfWeek chose UNF as "Team of the Week" on Oct. 6.
The Ospreys are currently ranked second in the A-Sun, behind Kennesaw State. The men's team traveled to Vero Beach, Fla. this past weekend to compete in the Quail Valley Collegiate tournament on Oct. 27.
[doptg id="55″]
Email Charles White at [email protected]