More than a monument: Thoreau Table takes aim at the machine of society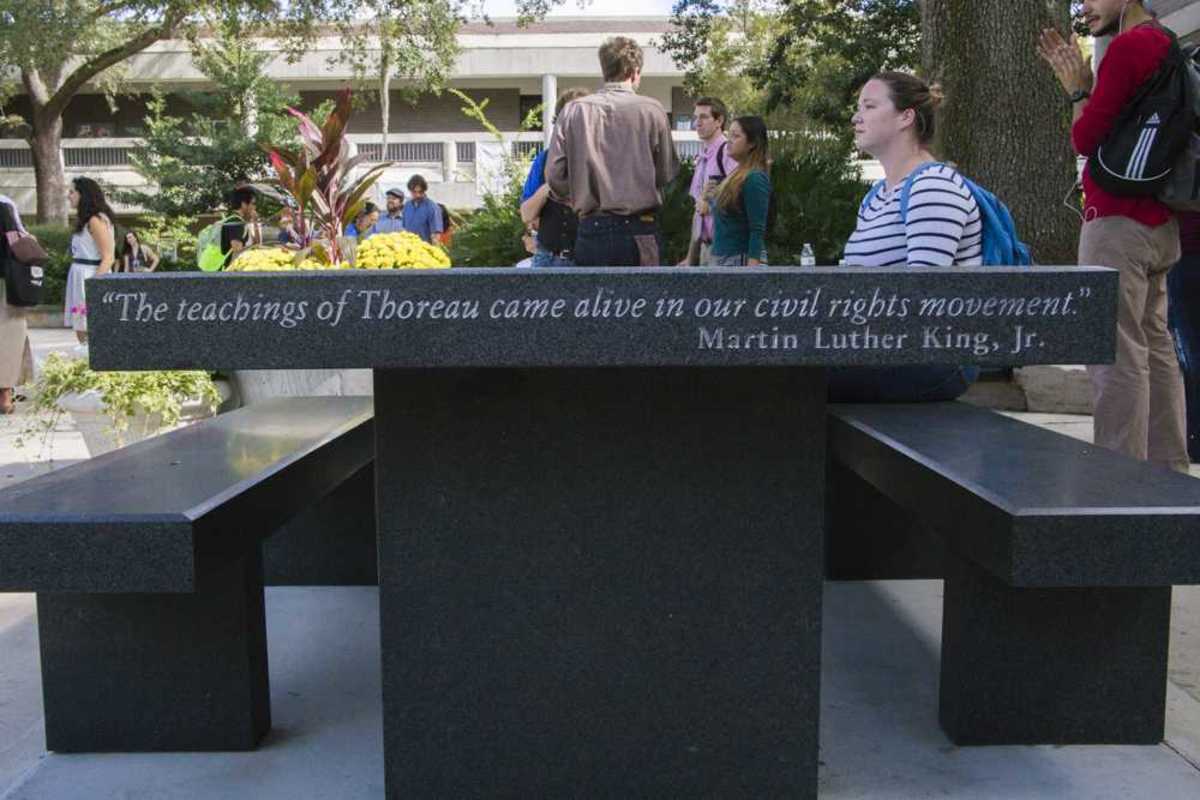 It's more than just a fancy picnic table–it's a monument to the message that Dr. Jason Mauro said has "toppled empires."
UNF students, community leaders and professors gathered in Peace Plaza Thursday afternoon, when Sigma Tau Delta held a passionate dedication ceremony for the Thoreau Table.
The table is named after the 19th century writer Henry David Thoreau, who captivated readers with his elegant prose and vivid persuasive technique. His peaceful, nonconformist principles inspired Mahatma Gandhi and Martin Luther King.
Thoreau's 1849 essay "Civil Disobedience" advocated citizens to use nonviolent resistance to institutions and forces that aim to exploit them, and was the main inspiration for this monument.
"Above all he believed in civility and peace, to do everything in a nonviolent fashion," said Oupa Seane, Director of UNF's Intercultural Center for Peace.
Seane spent a year in a South African jail cell in the late 80s because his student group opposed the Apartheid. After he moved to the states, he was responsible for removing power from companies that cooperated with the Apartheid regime. The table took three years from conception to installation in Peace Plaza April 2015.
"I was approached by one of our faculty members and a dear friend," Seane said. "He said to me: 'I have an idea.' He said 'I'd like to see something that acknowledges Henry David Thoreau.' The gentlemen who spoke to me was Dr. Jason Mauro."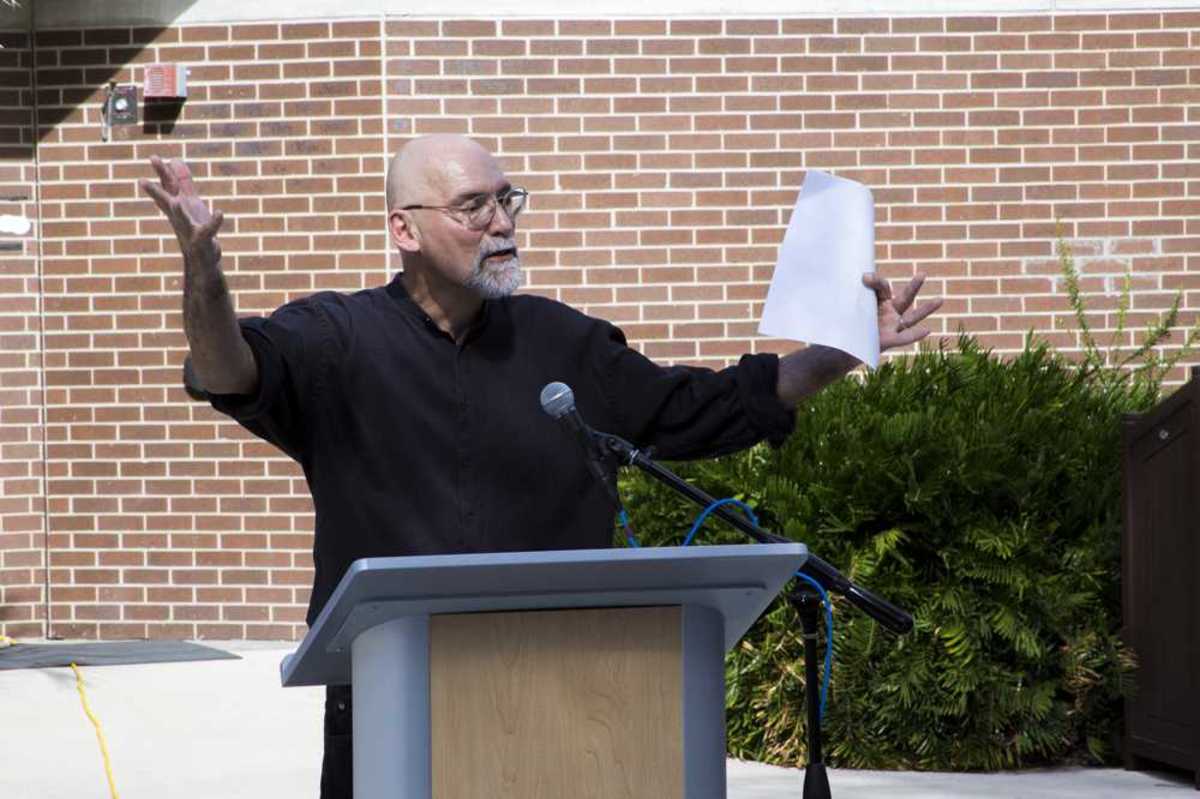 And it was Dr. Jason Mauro who stole the show with a passionate appeal for universities to value the liberal arts and humanities by treating college as more than a place to get a job–but paying professors more.
"It's a national phenomenon," Mauro said. "We have part-time contingent faculty, on our campus in swelling numbers who are bidden to treat education as a kind of piecework doing extraordinary things under really strenuous conditions, having to piece together many courses for very little money, no benefits, and they are as dedicated as anyone who has the rank."
Mauro referenced Governor Rick Scott asking universities to scale back funding for anthropology programs in favor of STEM programs. Mauro also mentioned GOP presidential candidate Jeb Bush's comment that psychology majors would end up "working at Chick-Fil-A."
"There's a narrow range of ambition being forwarded as the sole goal of university education, and that's to get a job. Is that what we're supposed to be doing here? That's a thing–is it the only thing?"
Maruo opened by reading a short selection of Thoreau's 1854 novel Walden. Charlotte Mabrey, director of the UNF Percussion Ensemble, played a short snare drum solo inspired by Thoreau's quote: "If a man does not keep pace with his companions, perhaps it is because he hears a different drummer."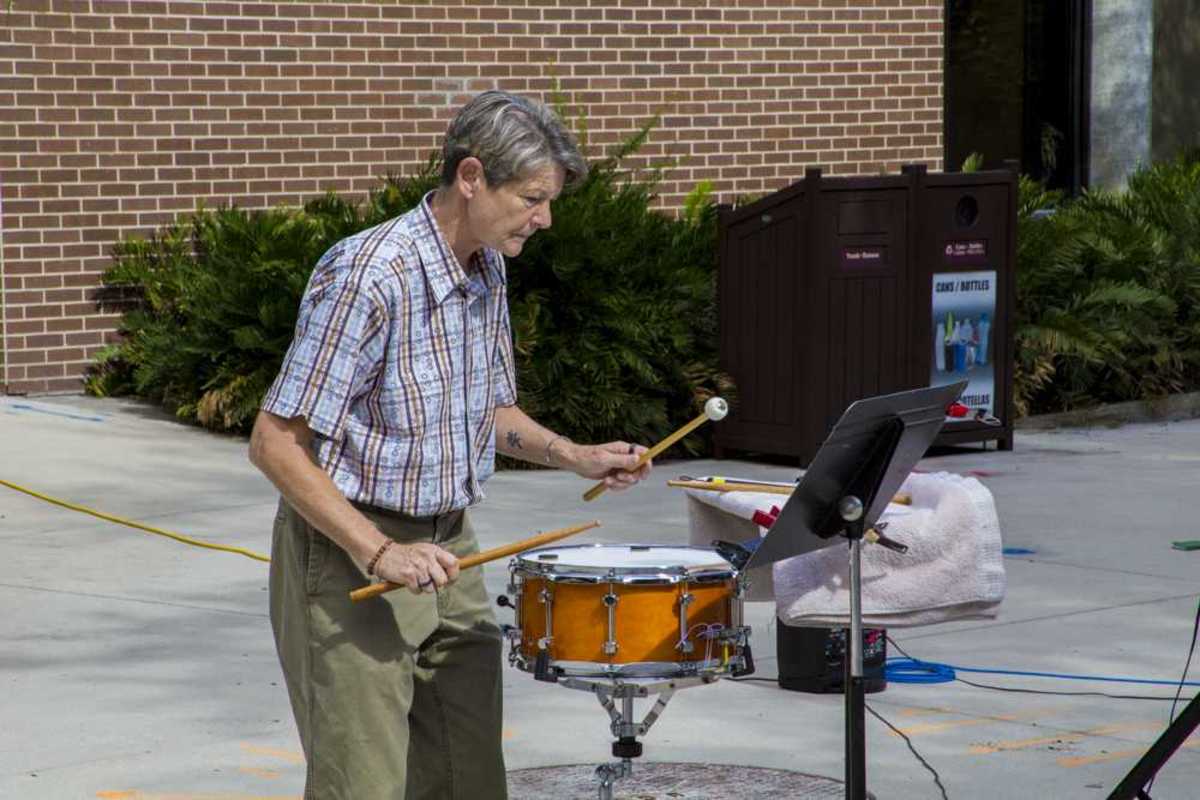 Students and professors shared their thoughts on their ideas of civil disobedience.
"I think Thoreau's message that resonates with me the most is of breaking out of the shell and the regulations that society tries to put on us," said junior English major Natalie Brown. "The most brave thing anyone can take from Thoreau's message is to make a difference in the society that we live in."
English professor James Beasley is an expert of Thoreau. He's read Thoreau's original manuscripts at Harvard, and he's visited Thoreau's famous cabin at Walden Pond. Beasley was also critical of the current university structure.
"Our education system is immersed in a corporate model," Beasley said. "They're running the university like a business, when his message at the time was to counteract that kind of 19th-century emphasis of industry during the Gilded Age."
Valerie Kelco is the vice president of Sigma Tau Delta, an English honors sorority, and is currently working toward her PhD in English. Thoreau's work is a huge inspiration for Kelco, who read an excerpt of Thoreau's essay "Civil Disobedience."
"People don't realize the boldness of the message the monument is trying to send," Kelco said. "As a university, I think our strength is in our numbers to be a part of thing, to show up at student government meetings to show up at round table meetings, to make sure that the people that are representing us are truly representing us."
On the sides of the table, sculpted by Iosif Lukacs, there are quotes engraved relating to the significance of civil disobedience to Mahatma Gandhi and Martin Luther King. Students can scan a QR code on the table's surface, linking them to a page containing Thoreau's groundbreaking essay, and an explanation of the significance of the essay.
"I want this memorial to stand here as a check on that sense of what counts as education and ambition," Mauro said.
For Seane, the monument represents a reminder that society must push for the peace it wishes for.
"We need these memorials," Seane said. "We live in a violent world. We need to always push and promote peace. These memorials are a way of UNF preserving history. They are a display of our values. They are a way of saying, especially our students, that you too can be like Gandhi, Thoreau and King."
The table is hoped to remind students every day that the worst of human behavior begins with our own ignorance of authority.
—
For more information or news tips, or if you see an error in this story, contact [email protected].