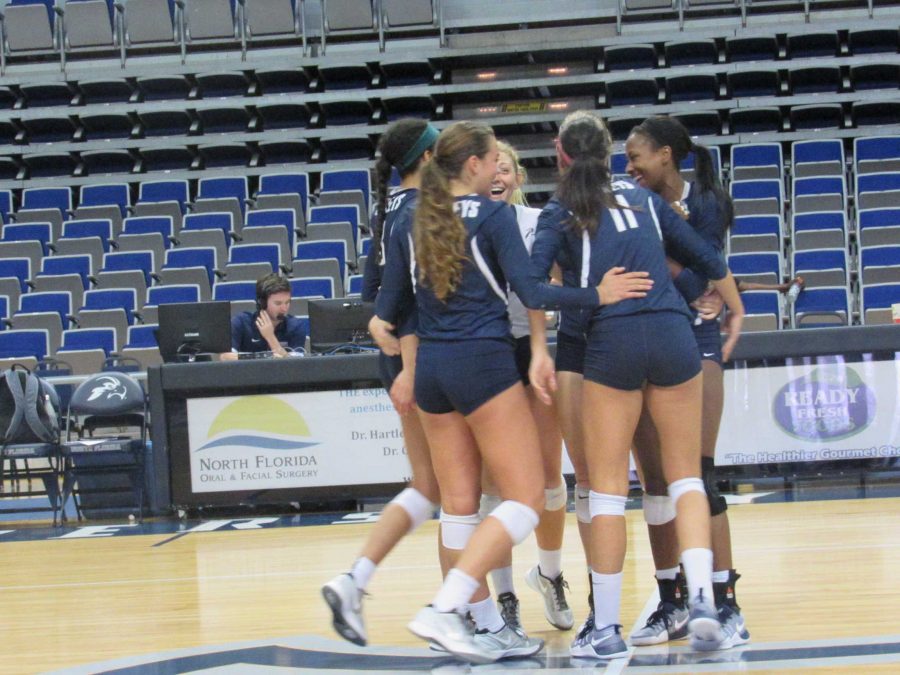 Over the weekend, North Florida Volleyball claimed huge back-to-back road conference victories over the University of South Carolina Upstate Spartans and the New Jersey Institute of Technology Highlanders (NJIT).  
USC Upstate (25-11, 25-22, 25-18)
The Ospreys defeated USC Upstate to earn its second conference win of the season, sweeping the Spartans in three sets to bounce back after consecutive conference losses.
UNF had 14 kills that the Spartans had little answer for. The Ospreys dominated and won the first set easily, 25-11. The second set was a similar story. UNF had 17 kills to the Spartans' 11. The Ospreys stayed hot the whole set, and won the set 25-16. They cruised into halftime with a 2 set lead over the Spartans.
Upstate came out of the break with extra energy, to avoid the sweep in straight sets. The leading shifted several times as Upstate fought to force a fourth set. Upstate took a 19-18 lead, but outside hitter Gabby O'Connell notched two big kills for the Osprey's nineteenth and twenty-first points of the night. Setter Carinne Turner had the set and game-winning kill, to seal the set 25-22. Setter Madilyn McCarty delivered a strong outing, with 32 assists and 10 kills, for a double double.
UNF had a season-best hitting percentage (.345), and 46 total kills to Upstate's 28. None of the Spartans' players had double figures in kills or blocks. North Florida's overall all-time record against USC Upstate is now 28-6. 
NJIT (25-18, 25-22, 25-10)
UNF earned its second sweep of the weekend against NJIT in Newark, NJ. The Ospreys improved its ASUN record to 3-2, handing the Highlanders its fifth-straight conference loss of the season.
The first set was tight, but UNF was able to win it 25-18. The Highlanders had 25 attack errors, essentially gifting UNF the set. The second set was a close one as well. Hungry for their first conference win, the Highlanders played with added energy. The Ospreys won the second set 25-22, and went into halftime with a two-set lead over the Highlanders.
The play at the net was almost even. UNF had 34 kills to NJIT's 31. McCarthy had 28 assists, in addition to nine digs.
Out of the break, North Florida were still on fire. Freshman phenom Gabby O'Connell had two service aces late in the set, to bring UNF's total to nine aces. O'Connell had a solid offensive outing (16 points, 10 kills, four service aces and five digs). Then the Ospreys went on to swoop away the set, 25-10, thanks to an eight-point run.
The Ospreys (13-8, 3-2 ASUN) continues ASUN play with a trip to DeLand, FL., to face Stetson Oct.14 at 6 p.m.
—
For more information or news tips, or if you see an error in this story or have any compliments or concerns, contact [email protected]