(Unofficial) SG election results are in
Hang on for a minute...we're trying to find some more stories you might like.
Despite low voter turnout, students voiced support for using FL Bright Futures over summer semesters, and voted to allow the judicial branch the freedom to make their own policies and procedures.
The opinion poll on the FL law to allow concealed carry of weapons on campus found that 46.9 percent of students oppose the law, 42.5 percent support it, and 10.5 percent are neutral. These results are similar to the outcome when the question was asked on the ballot last year.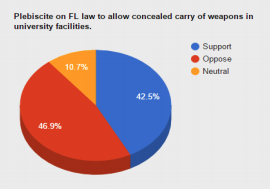 The majority of students were in favor of allowing the Judicial Branch of Student Government to establish their own Policies and Procedures without having to obtain approval from another branch.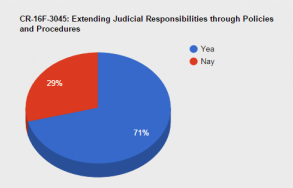 Students overwhelmingly supported the use of FL Bright Futures during summer semesters. While 30.7 percent of students said they did not receive Bright Futures, 67.1 percent chose to support the scholarship. Although students are required to complete nine summer credit hours to graduate, current law does not allow Bright Futures scholarships to disperse over the summer.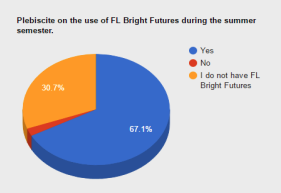 The total number of voters were 1165, which means there was a 7.28 percent voter turnout, which is one percentage point higher than last fall. According to the SG Constitution and Statutes, Senate shall validate election results no later than ten (10) business days after the last day of the election.
For more information about elections, visit the SG website.
—
For more information or news tips, or if you see an error in this story or have any compliments or concerns, contact [email protected].