GOP Debate brings division and determination to the Republican Party
Adam Putnam and Ron DeSantis met at Jacksonville University on Aug. 8 to win over the republican votes for the primaries.
UNF student Makenzi Conner, a computer science junior, served on the Putnam Campaign Trail for her summer vacation.
"It started as an internship and it turned into a job and it was very exciting to start off as a volunteer and just to go through the process," Conner said. "It's been very beneficial and I have learned a lot from it."
Conner, along with UNF Alum Samantha Mims, held up signs in front of the Terry Concert Hall.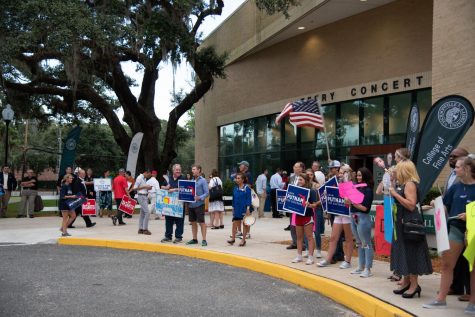 Colson Douglas, a political science junior at University of Florida, volunteered his summer to campaign on the Ron DeSantis trail.
"The younger generation is starting to get more involved because they want to see themselves represented versus having the older generation represent them," Douglas said.
The moderator of the gubernatorial debate was News4Jax Political Analyst Kent Justice.
Putnam began the the debate. His introduction included the election being about choice. Voters need to decide whether to put Washington first or put Florida first. He compares his opponent to Seinfeld and says that DeSantis is putting Washington first, not the citizens of the state.
DeSantis began the debate as a local man with local ties, and then went into the fact that he was endorsed by President Donald Trump.
Gun Control
The first question of the debate was about gun control and the recent legislation that Governor Rick Scott passed shortly after the Parkland shooting in February. While both believe very much in the second amendment, they had some opposing views when it comes to the strength of the bill Scott passed.
"I think we need to secure our schools. Schools should not even be a target if they are secure," DeSantis said. "My approach to firearms will stand by the Second Amendment."
By adding more local law enforcement, DeSantis thinks schools will not become a target for mass shootings.
When asked about banning semi-automatic assault weapons, DeSantis responded that he thinks there is more they need to do, despite his comments of standing by the Second Amendment.
Putnam does not believe that there should be an increased age limit to buy a rifle which is stated in the legislation. He argued that if you are old enough to protect the country with a gun, you should be old enough to protect your family and yourself with a gun.
"You can protect the rights of law abiding citizens without putting schools at risk," said Putnam.
Growing Jobs in Florida
Both candidates agree that putting money into the local economy such as deepening the Jacksonville Port is a good plan. The difference of both candidates was how else to create jobs for Jacksonville and for the rest of Florida.
"The Florida way is different from the Washington way," Putnam said. "We should be exporting, not importing."
Putnam stated that he had a plan for job security and it was a priority for him.
DeSantis sees hope for job security in Florida through helping the environment.
"Do the environment right, you're setting the ground to do things right economically," DeSantis said. "Its an environmental problem and economical problem."
Healthcare
Both candidates believe that medicaid and medicare shouldn't be expanded in Florida.
"I believe healthcare in Florida ought to be patient-centered, market-driven and it ought to be transparent so you know what you're going to have to pay," said Adam Putnam. "Taking what the feds tried to put on us was not the right move. It would have bankrupted us and taken us backwards."
"We need to make healthcare more affordable in the state of Florida," DeSantis agreeded. "Part of the problem is that like Putnam correctly said, is that obamacare has driven up the costs of insurance."
A turning point in the discussion was when the moderator asked each of the candidate if healthcare was a right for all.
"It's not a right for all," Putnam quickly replied.
"What you have the right to do is to pursue the kind of healthcare that you want," DeSantis rubuttled. "Obamacare infringes on your freedom to be able to do that."
The Impact
While some people went inside knowing who they clearly were going to vote for, UNF Business Management Senior Cole Poppell attended the debate to get a better understanding of each candidate before the primaries.
"I think it's important for all the candidates to really appreciate the voice of each Florida citizen, regardless of their age," Poppell said. "It's important for students to be involved specifically in the community, especially in events like this."
Poppell plans to attend the Democratic Town Hall on Aug. 9 at Jacksonville University starting at 8 p.m. Spinnaker Radio will be livestreaming the town hall at 95.5 FM and online.
Early voting for the primary election starts Aug. 13 and the final day to vote is Aug. 28.
—
For more information or news tips, or if you see an error in this story or have any compliments or concerns, contact [email protected].