Senate holds its first meeting of the fall term
The UNF Student Government Senate kicked off the first session of the school year by naming the Student Government Association scholarship after Former SG Director and current Parent Association Director Celeste Watkins. The body also heard reports from each of the various Student Government directors and members of the Executive, Judicial and Legislative branches.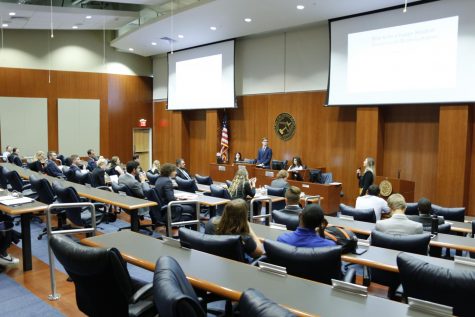 Current SG Director Dawn Knipe took the Senate floor and spoke about Watkins' passion for student government and the big shoes she has had to fill since taking the position.
"She would always say that Student Government was all about 'putting others above ourselves,' and that motto has never left Student Government," Knipe said.
After the introduction, Student Body President Jenna DuPilka shared testimonials from current and former SG members and gave her own story about "Momma C," as Watkins is lovingly known on the third floor. Watkins also took the podium and fought back tears as she thanked the body for the prestigious award. The newly named Celeste Watkins Distinguished Leadership Scholarship awards five students $1,000 each academic year.
During the Senate reports, Club Alliance Assistant Director Luis Tejeda reported that 102 clubs registered so far and that club registration will end on Sept. 21. Tejeda also shared upcoming events such as the 'Silent Library' on Sept. 24 and Club Fest on Oct. 15.
Lend-a-Wing Director Alistair Young shared that the University's student-run food pantry has served almost 200 students so far in August. Lend-a-Wing is open Monday through Thursday from 11 a.m. to 4 p.m. and on Fridays from 12 p.m. to 5 p.m. The pantry is located in Hicks Hall, Bldg. 53.
SG Chief of Staff John Aloszka shared that the University will be adding shade to Lot 18, which was originally under DuPilka's Seating and Shade initiative. Since the University will be adding shade on their own, this allows SG to focus on other areas around campus that are lacking. Aloszka said that he will be taking Senators on a tour of the areas and is looking at umbrellas and chairs. He also shared that there would be two bills presented to Senate for these expenses.
Student Advocate Madison Brantley shared that she and Vice President Maria Bermudez are currently working on a "Drink Safe" campaign which would give out drink testing kits to students. These kits would be about the size of a credit card and would test for substances in a drink to prevent students from being drugged.
Bermudez presented both her report and the Osprey Production report to the Senate. She shared that the OP concert will be held in November this year. Normally, the concert is held in the spring semester, but it was moved to fall because previous artists have canceled due to the festival season.
DuPilka was the last to give her report to Senate and she presented an update to the Thomas G. Library's wifi upgrade. The plan was to spend $200,000 on the upgrade and the estimate came back at $177,655. She also shared the initiative to add vending machines for hygiene products around campus.
DuPilka also discussed the recent exit of the Vice President for International and Student Affairs, Mauricio Gonzalez.
"Although Dr. Mauricio Gonzalez has left the university, his passion for students has not. Dr. Gonzalez was an integral part of Student Government and all that Student Government has achieved over the past eighteen years," DuPilka said. "He was our most prominent advocate and always listened to our students."
DuPilka also said that she will be meeting with interim Provost for Academic Affairs Pam Chally, who will be taking on the duties of the now eliminated office of Vice President for International and Student Affairs.
Later in the Senate meeting, senators voted on two bills and sent a third to committee. Title VIII Revisions and a Resolution on the Division of the Area Formerly Known as the Skate Park were both approved unanimously by the Senate, while another was forwarded to the Budget and Allocations Committee for debate.
The Title VIII Revisions were a number of changes to the Finance Code, such as defining "Other Capital Outlay," updating wording and changing the requirement to print "Paid for by Student Government" on everything. Going forward, the code still requires items to display some sort of branding.
Out behind Lot 18, there is a fenced off concrete slab that used to be the home of UNF's Skate Park. After a few years, the skate park wasn't being used and was deteriorating so the decision was made to tear it down. This left a concrete slab with no use. At the time, the Coastal Engineering department needed a place to put its wave pool and an agreement was made by the Vice President for International and Student Affairs to temporarily allow Coastal Engineering to use half the space. The other half of the space is being used by student funded Ogier Gardens.
Over the Summer, DuPilka sought to take back over the space to use for student funded entities and sought Senate's opinion on the matter. There was some backlash about asking the Coastal Engineering department to find new a new place for their wave pool. A contentious Senate meeting was held where Senate decided against voting on the proposal and allowed it to die on the floor. Regardless of the outcome from Senate, the final decision will be made by UNF President David Szymanski.
The new bill proposes allowing Coastal Engineering and Ogier Gardens to share 'the slab' going forward.
The next Senate meeting will take place on Friday, Sept. 7.
—
For more information or news tips, or if you see an error in this story or have any compliments or concerns, contact [email protected].