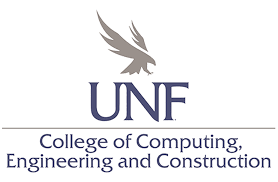 There were only two standing ovations at the inauguration of new UNF President David Szymanski. The first was for the man of the hour himself, as people clapped upon the beginning of his speech. The second was in response to Szymanski's announcement of a gift of $1 million to the UNF School of Computing in the College of Computing, Engineering & Construction.
The donor, George Morales, is not a UNF alum but, in the words of Szymanski, "Given all he is doing for UNF, you would think he is [an alum]."
Students from the School of Computing filled a quadrant of the balcony at the ceremony, excitedly clapping and smiling when the announcement was made.
Although Morales doesn't have any particular ties to UNF, he chose to get involved with the university when he was looking to involve his computer company with the community in Jacksonville. Now, Morales is responsible for many UNF grads receiving jobs and internships in the computing field after graduation.
"The Morales family are building their legacy right here on our campus," Szymanski said to the crowd before turning to Morales and his wife, Marjorie. "I really want to thank you for all that you're doing, for all your support and for how you're making a difference in people's' lives."
__
For more information or news tips, or if you see an error in this story or have any compliments or concerns, contact [email protected]