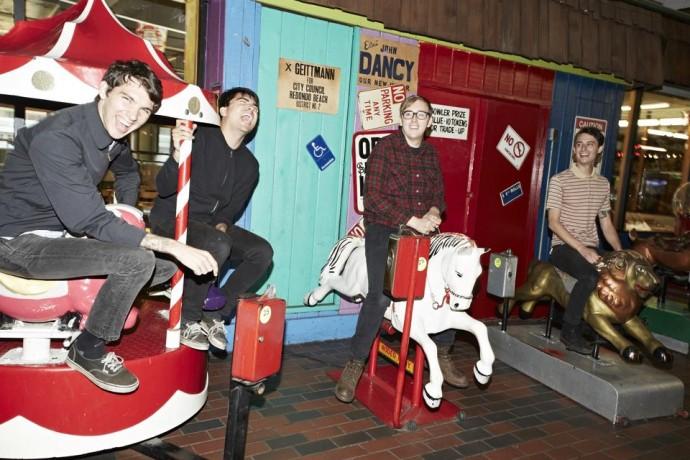 Considering that the most famous bands lumped into the descriptive pool of pop punk are Blink-182 (sellouts) and Green Day (huge f—ing sellouts), pop punk is generally one of those genres that one might react positively toward. In fact, one might be a little embarrassed about still enjoying music everyone gave up when they made it to ninth grade, or perhaps a little defensive, which is how the "Defend Pop Punk" meme started.
Isn't the term itself a bit of an oxymoron? Isn't "punk" supposed to represent a shunning of all things "pop," all things mainstream and boorish? How would such a thing even work? Well, a way was found, and for a solid decade, pop punk was a legitimate musical trend, generating platinum albums, middle school cults, and Guitar Hero: Green Day. Like all trends, it eventually waned sometime after American Idiot.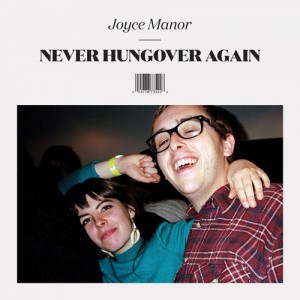 Enter Joyce Manor, a very affable, unassuming band from California, who've just released their third LP and major indie label debut, Never Hungover Again. Judging by the ten songs on the album, these guys aren't concerned with defending anything, especially a silly, dysfunctional label such as pop punk. They just want to make some neat music that people like, and they've definitely done it.
True to the conventions of both pop and punk, all of the ten songs on Never Hungover Again are very short. In fact, none of them even breach two-and-a-half minutes.  They're also very stylistically distinct from the pop punk most people are familiar with, drawing less from Simple Plan and more from power pop and Midwestern emo. There are even some synths on "Falling in Love Again," which is pretty novel for this kind of music.
It's a very positive, refreshing blend of styles for a scene that's sorely in need of some new ideas. The bright, twinkly guitar riff that closes out "Schley" will convince a listener more than anything else on this album that it's worth one's time. And while Barry Johnson's vocals and lyrics hint at the kind of interpersonal struggles pop punk is known for — breakups, leaving town, etc. — the music never deviates from the main focus: having a good time.
Soon, Jacksonville will be able to experience this kind of fun up close. The band will be performing at 1904 Music Hall downtown on September 21. See their upcoming tour dates and locations here.