The University of North Florida announced in a campus-wide alert this afternoon that it will be shut down on Tuesday and Wednesday in preparation for Tropical Storm Idalia. All activities and classes will be canceled as well. The university expects to reopen back to normal on Thursday but will communicate any changes to that plan on Wednesday, according to the alert.
On-campus housing will remain open, but if residential students feel they have a secure place to stay and can travel there safely, the university encourages them to do so. For students living on campus, the Osprey Cafe will operate as normal, according to the alert, but the university will make adjustments depending on weather conditions.
"As conditions worsen, the university will make necessary adjustments but will ensure that residential students have food and shelter," the Monday alert said.
After Monday, shuttle services will also operate on a "limited schedule," the university said, one that would be communicated directly to students living on campus.
It is one of the most recent Florida universities to do so, making it official within the same hour that the University of Florida and the University of Central Florida did the same. Florida State College at Jacksonville announced similar closures this afternoon alongside Duval County Public Schools.
UNF will continue to monitor Idalia's impact and will provide updates as necessary, they said.
For more information and hurricane preparedness resources, visit the City of Jacksonville's resources here.
The storm
Idalia is currently forecasted to become a Category 1 hurricane Tuesday morning, and hurricane conditions are expected within portions of the Florida Gulf Coast, according to NOAA. NOAA reported that strong winds will spread inland across portions of northern Florida, near the track of the center of Idalia, as of 4 p.m. Monday.
Flash and urban flooding is expected across portions of the west coast of Florida, the Florida Panhandle and southern Georgia on Tuesday going into Wednesday, and spreading into portions of the eastern Carolinas on Wednesday into Thursday, NOAA reported.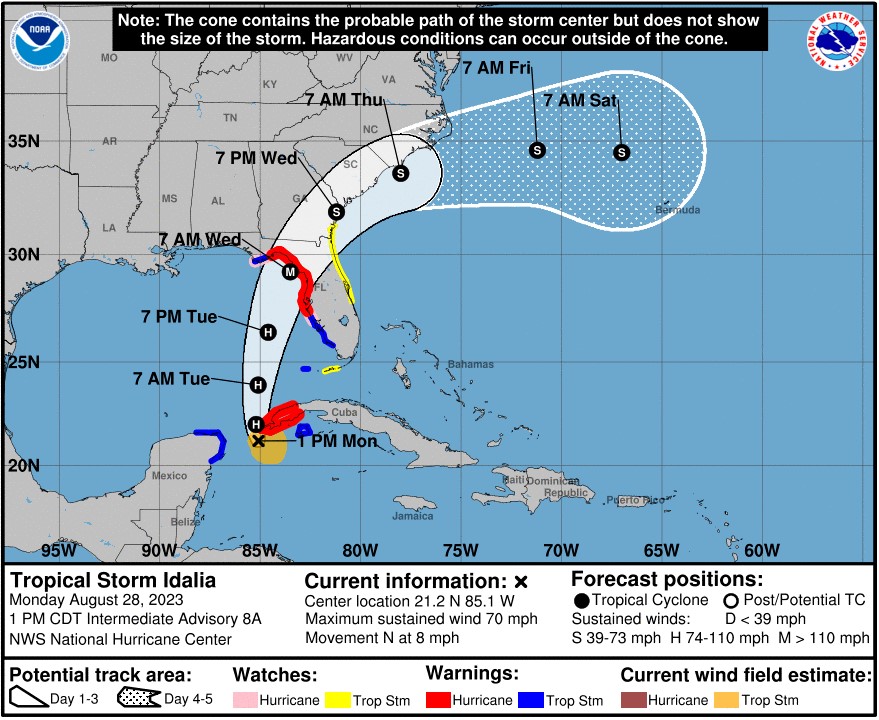 This is a breaking news article. Stay with Spinnaker as we bring continued updates about the storm. 
___
For more information or news tips, or if you see an error in this story or have any compliments or concerns, contact [email protected].