UNF anthropology students search for evidence of French fort, Spanish platoon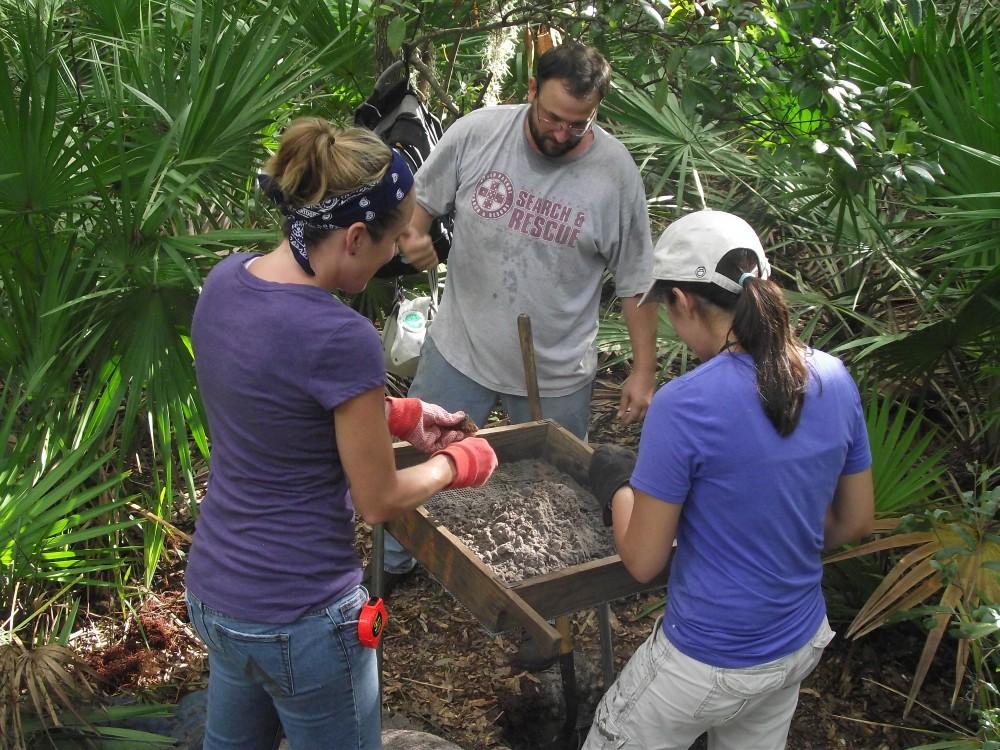 Any given Friday near the Fort Caroline National Memorial along the St. Johns River, UNF anthropology students can be found deep in the Florida marsh, searching for evidence of a lost French fort.
Fort Caroline, or as the French called it, "Fort de la Caroline," was founded after a French expedition landed at a site along the St. Johns River in 1564.
René Goulaine de Laudonnière founded the fort atop St. Johns Bluff June 22, 1564 and named the new fort for King Charles IX of France.
Though several documents from the era include evidence of the fort, its original location has never been determined.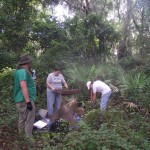 Dr. Keith H. Ashley, a professor in the Department of Sociology and Anthropology and UNF's coordinator of Archaeological Research, is the principal investigator of the dig.
"Surprising to most people is there's never been any evidence of the fort found, so everything is kind of based off documents now and we're trying to find archaeological evidence," Ashley said.
Dr. Robert Thunen, associate professor of anthropology and coordinator of the anthropology program, is the co-principal investigator.
Both Ashley and Thunen have already overseen a number of similar investigations with success in Jacksonville and Florida during their careers and hope to add this excavation to a long list of accomplishments.
Across from the entrance of the Fort Caroline memorial, the location of the dig is at Spanish Pond Ecological and Historic Preserve where the group of around 15 UNF students and alumni began the search for signs of French occupation.
"We're trying to find evidence of the French occupation here from 1564-1565," Ashley said. "We're looking at different areas around where the existing memorial is to try and find evidence of the fort or evidence of the colony."
The group is in the initial stages, using a method called shovel testing.
Shovel testing involves digging 50cm (19.5 inches) square holes one meter deep across a gridded area then using a table sifter to search for small objects such as buttons and ammunition.
Thunen said if historical materials are found during shovel testing, they are bagged and taken back to the archaeology lab to be identified.
"Ultimately, all that material belongs to the national park, so it will be transferred back to them," he said.
In addition to the French remnants, the anthropologists and historians are looking for evidence of the supposed group of about 500 Spanish soldiers who marched four days through the Florida marsh to an encampment near the Spanish Pond preserve.
Historical records suggest this is the location Spanish Admiral Pedro Menéndez de Avilés, who founded St. Augustine, and his army slept the night before they attacked and captured Fort Caroline.
Thunen said the group is also covering areas where they do not think the fort is so they can say definitively the fort is not there.
UNF students working on the archaeological site said the hot, muggy, dirty, and bug-infested labor in the thick Florida marsh is difficult, but working with Ashley is rewarding and offers an experience to work outside the classroom.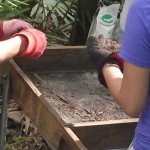 "Dr. Ashley is great; he's a lot of fun to work with," said Reagan Norton, an anthropology and history senior. "He's very knowledgeable and he's very good at giving direction making sure you know what he wants. I've given him the nickname of 'Wildman of the Woods' because unlike normal people who will cut a trail through, he just walks right through."
Steve DeFord, an archaeology and multimedia communications junior, said the project has been a lot of hard work, thus far. The group has performed over 300 shovel tests across a two-mile stretch of riverfront.
Though the group has not yet had any success in finding French or Spanish artifacts, they remain adamant in their quest, using previous digs that are more "fruitful" as motivation.
"I wouldn't consider anything to be a success or failure. Everything that we're doing is a progress," said anthropology junior Megan Paciello. "We're getting closer to what our goal is."
Email Zach Sweat at [email protected]