Just because a girl with the ability to dislocate her own joints worked one time in the 1976 masterpiece The Exorcist, doesn't give horror movies the right to beat the concept to death.
Thankfully The Conjuring distances itself from that crowd of films, and exhibits how real scary movies are done.
Set 40 years ago in Rhode Island, the movies follows the story of professional ghost hunters Ed and Lorraine Warren, who are trying to help a family being terrorized by a vengeful spirit. The characters, and the story to a lesser extent, are based on real people and events. The "based on a true story" is superstitious nonsense — as is believing in such things as ghosts and demons, but the film does deserve credit for attempting a rational explanation of the family's predicament.
Director James Wan, best known for his suspenseful Insidious, does an amazing job, crafting a chilling atmosphere that goes far beyond the typical cheap jump-scares. The ghost seems to be hidden at first, like many other modern horror movie poltergeists — a chill moves through the air, or a door slams shut. Then things kick into high gear when the Warrens arrive, which naturally ticks off the spirit, causing it to fling people like ragdolls, throw projectiles and attempt to murder the Warrens' daughter.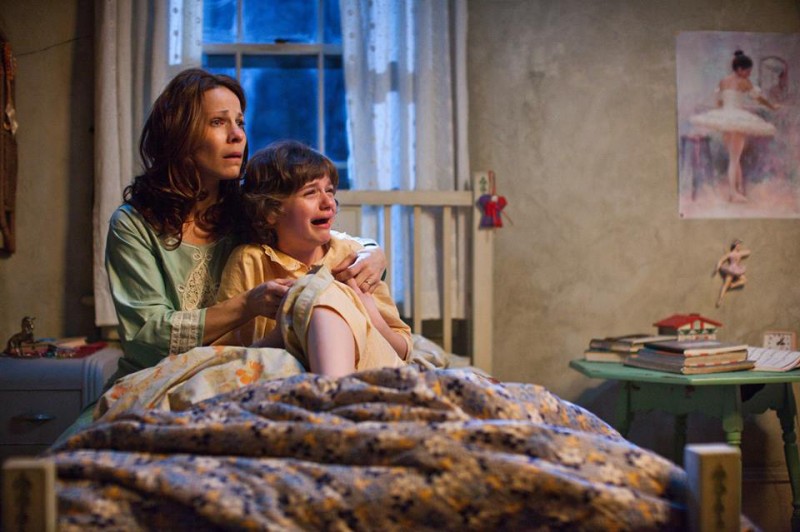 Writers Chad and Carey Hayes have written a tight script that has clever scares and good character development. What's most interesting about the film is how the Warrens map out the behavior of the ghosts, and how to deal with them in moderately believable methods.
What really sell the scares are the intense performances given by Ron Livingston, Lili Taylor, Vera Farmiga and Patrick Wilson, all of which do a wonderful job of looking legitimately frightened. Special mention to the child actresses who played the family daughters, all of which did an amazing job and were always the ones that looked the most scared when the ghost popped out.
The minimal CGI involved as well as the use of practical effects helped give the movie an extra sense of creepiness.
There is also some great camera work by cinematographer John R. Leonetti, and an unnerving score composed by Joseph Bishara that sounds like a cross between Psycho and The Amityville Horror.
All in all, The Conjuring is a brilliantly executed and expertly written horror film that deserves a look-see.
5 out 5 stars