Osprey forward earns Player of the Week
Sophomore Jean Rivaroli scored two goals for Osprey men's soccer in an overtime loss Sunday to Florida Atlantic. It was the first loss of the season for the Ospreys, breaking their undefeated streak at five games. A tick in the "L" column had its silver lining for Rivaroli though, as he earned Atlantic Sun Offensive Player of the Week honors Monday morning.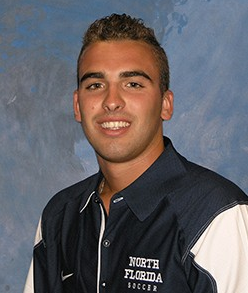 Rivaroli tallied 4 total points over the week, adding 2 assists to his first 2-goal performance of his college career. The Orlando native is joined by Northern Kentucky keeper A.J. Fleak, who earned Defensive Player of the Week honors for the conference.
Joining Christopher Bush and Brad Sienkiewicz, Rivaroli is the third Osprey to earn Player of the Week this season, and is the first to earn the accolade as an offensive player. This is also the forward's second such award, his first stemming from a solid first week as a freshman in 2012.
UNF has kept their foot on the gas offensively, outscoring their opponents 9-3 before the team's first loss to FAU. Rivaroli's effort put the Ospreys in favorable positions this past week, and his two goals against FAU were offset by two penalty kicks late in the game and in overtime.
The Ospreys have been on a mean streak lately with penalties, with two players getting booked against FAU and clocking in 14 penalties two days before against Florida International who had 7. Overall, the team has nine more penalties than opposing teams thus far this season.
A rebound is in session for the Ospreys as they head to South Carolina for their next game against Wofford (4-3-1, 3-0-0 at home) September 28. Then, UNF kicks off conference play against East Tennessee State Friday, October 4 at 7 p.m., scheduled for Hodges Stadium.