Trustees estimate new budget to meet decline of full-time enrollment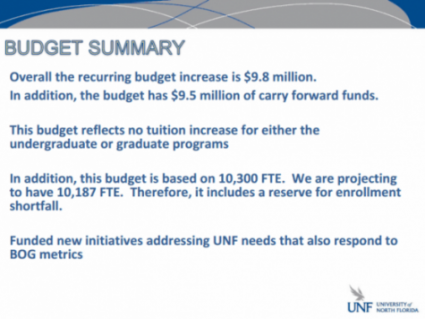 The UNF Board of Trustees met in the Talon Room on May 22 to discuss the approved budget for UNF which has $157,175,018 in Educational and General (E&G) allocation for the 2014-2015 fiscal year. The board bases their budget off of projected full-time student enrollment.
"Enrollment is down ahead of projections. There's a dip in terms of college-going students age 18 and above for the next couple of years," said John Delaney, UNF President. "We continue to adhere to ever-increasing admission standards which may be a factor here."
Also, community college student transferring to UNF are down, Delaney said, because their enrollment is down.
The board is projecting 10,187 full-time enrolled students this next fiscal year. The budget is based off of a full-time enrollment of 10,300 to allow for shortfall.
Reallocations
Alumni Services has combined with Annual Giving to make Development and Alumni Affairs.

The Office of Academic Testing, previously under the Office of Institutional Research and Testing, is now under the Division of Continuing Education.

Academic Affairs faced reconstruction with elimination and addition of positions.
Employment After Graduation
Tom Serwatka, Ph.D., UNF Vice President and Chief of Staff said UNF used to lead the state in employment rates after graduation but has since fallen to fourth.
"Students should be taking advantage of career services before their senior year," Serwatka said. "They are encouraged to take advantage of career services as early as freshman year."
Delaney said that by investing into career services, student job placement after graduation will be improve.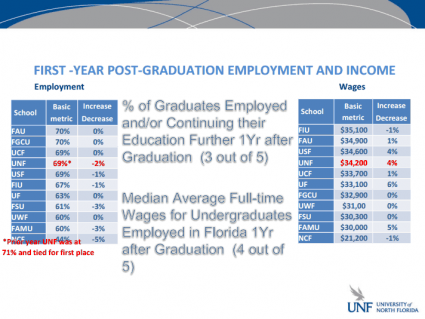 Average Cost Per Undergraduate Degree
"UNF teaches courses with full-time faculty at the undergraduate level, where as schools like UF have undergrad courses taught by graduate assistants," Serwatka said.
Delaney said schools like UF and FSU are actually more expensive because many of their numbers aren't analyzed the same way. None of the data represents the quality of the education, student research, and faculty research, he said.
Graduation and Retention Rates
UNF ranked number one in the state for graduating students with the least amount of graduates who faced a surcharge of going over the 110% credit hour surcharge.
Gordon Rakita, Ph.D., UNF Faculty Association President said they want to maintain their spot on top by investing into more counselors and advisors who can make sure students stay on track to graduation without going over hours.
If students go over hours, then they will face higher tuition per credit hour for every credit hour taken over 110% of their program.
According to the Registrar, Florida Law claims that credit hours earned through accelerated programs like AP, IB, CLEP, AICE or dual-enrollment do not count toward excess credit hours.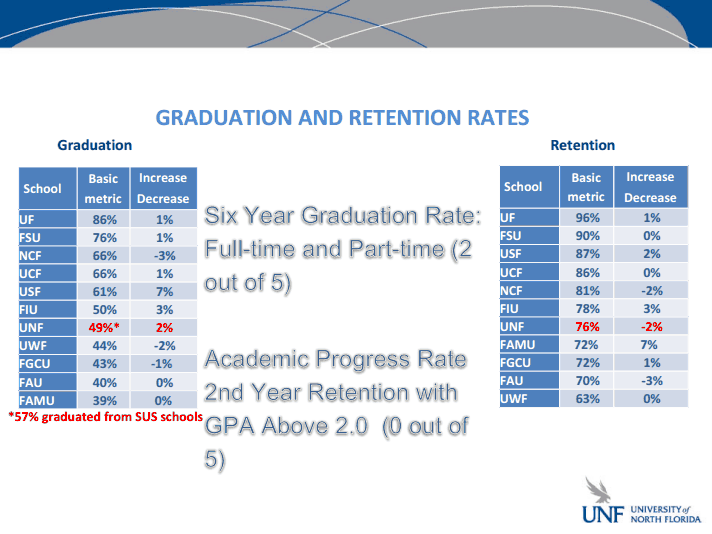 New Stuff
A math emporium will be designed to help incoming students who are struggling in math to succeed and have a positive impact on graduation and retention rates according to Serwatka.
Serwatka said the board will invest into academic advising to also increase graduation and retention rates.
Part-time student nurse practitioners have been hired to work phone lines assisting students after the Student Medical Center closes at 5 p.m., Shuman said.
Miscellaneous Facts
UNF Foundation Treasurer Shari Shuman said the Total General and Lottery Revenue is $91 million, which allows new initiatives from the Board of Governors to receive funding for the next fiscal year.
"It is a lot more fun to put together a budget when you've got money than when you don't," said Shuman. "This budget has no tuition increase for either undergraduate or graduate degree programs."
However, she said after subtracting Plant Operation and Maintenance (PO&M) costs only used for buildings, $72.3 million is still available for education.
According to Shuman, of the total E&G budget,
77% goes to salaries, benefits, and OPS

19% goes to operating expenses

4% goes to utilities
She said it all goes to personnel positions.
Board of Trustees meetings are open to the public. The PowerPoint from the meeting is available online on the UNF Board of Trustees page, with introduction of the numbers in the budget and comparisons of other state universities. The full E&G budget is also available for viewing.

Email Brandon Thigpen at [email protected]