Ray LaMontague's psychedelic rock and Jenny Lewis's pure voice brought their audiences back in time at Jacksonville's Florida Theatre last Tuesday. Two reporters give an account of each of these artist's timeless and possibly attention-seeking performances.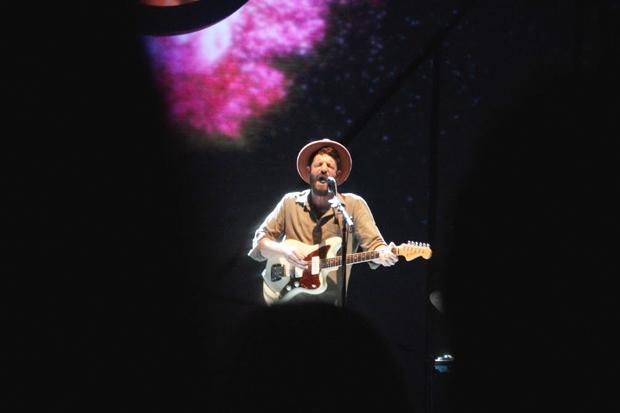 Ray LaMontagne: The Greatest Hits of Tomorrow
by Holt Knight
There comes a time in everyone's life when they decide they've experienced enough new things and are happy with what they have done. It may not come until the day they die, or it may hit them when they're young.
For most people, however, this time of satisfaction occurs in their mid-to-late thirties when they're beginning to settle down with their careers and families. The wild days of their youth have passed and what will come next are the golden years of peace, prosperity, and a little good-natured fun with their friends, neighbors, and kids.
On July 15, Ray LaMontagne refused to let the crowd at the Florida Theatre believe he'd entered the "greatest hits" era of his career. Instead he gave the audience enjoyment out of something they didn't fully understand.
Ray LaMontagne's music has always held onto a simple idea of what a song should be: the gain and loss of love, the hardships and troubles of this life, or the joy in life's simplicity. All sung in a rough but silky voice that reminds me of good soil — dark and rooted, but full of life.
On his new album Supernova, which made up most of the show's set list, he continued to use a full band while expanding his sound to include some psychedelic and electric blues influence. This gave the band a very full and developed groove to work with, allowing them to easily transition from one song to the next.
The audience, however, constantly called for LaMontagne to play his old stuff, never forgetting to share their deep, personal love for him through a traditional frat boy holler, which was meant to mimic a bird call, but eventually resembled a bro choking on his own pride. As it always is, the loudest fans are the ones who get noticed, so I'm sure many of the fans were just happy to be there, no matter what he was playing.
Unfortunately, LaMontagne's take on psychedelic and psychedelic rock is considered pretty tame in today's culture. Much of the unpredictability of the past was gone from his music, leaving the sounds and techniques of the psychedelic pioneers without much of the inventiveness or reward of early psychedelic music.
What you are left with, then, is a tightly performed psychedelic folk act led by a seemingly genuine man with a big heart and an even bigger voice. LaMontagne must know at this point that his audience, of 40-50 something's and traditionalist younger people, is not looking to him for new or strange directions, but more of the same blue-eyed soul that he built his career on. If he does know, he does a good job of playing through the confusion and playing his heart out on stage.
The highlight for the fans had to be the acoustic moments near the end where he played his classic tunes "Jolene" and "Trouble" which defined the standard to which all his music is now judged. He still has it in him to belt the song out the way it was meant to be heard.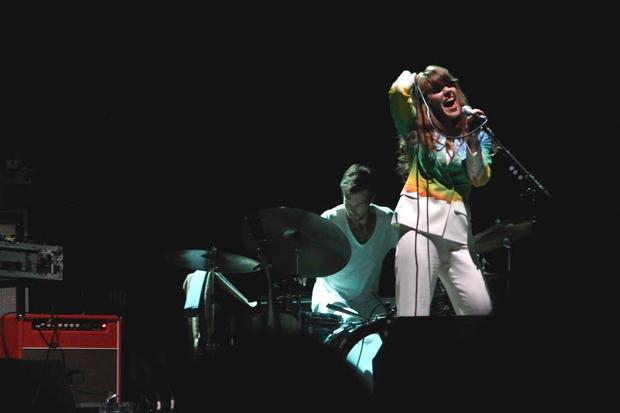 Jenny Lewis: adorable, but a bit gimmicky
by Michaela Gugliotta
Ever since she was a child actor, Jenny Lewis has been in the spotlight. Since then, she became the focus of indie rock sensation Rilo Kiley and now confidently lures her audience in as a solo artist.
In 2006, Lewis started her solo career and released her debut, Rabbit Fur Coat. She followed that up with the 2008 sophomore album, Acid Tongue. Currently she is working on releasing The Voyager.
She hasn't toured in a while, ever since Rilo Kiley disbanded. But now she's back — and this time in a cream-colored suit with airbrushed stars. She sports a similar jacket in her newest video of the single "Just One Of Those Guys," which features Anne Hathaway, Brie Larson, and Kristen Stewart dressed up as guys.
Lewis began her set with this song, when she opened up for Ray LaMontagne at the Florida Theatre on July 15. She came out smiling, strumming simple chords on her electric guitar, with a band of women and men dressed in white behind her. Though her performance was short-lived, it was packed with hit songs from her solo career, a couple of Rilo Kiley's, and a few from The Voyager.
She's 38 years old, but still has an adorable quality to her. However, her heart, hand gestures, and peace signs did eventually exceed the adorableness, which ultimately made her appear a bit gimmicky.
During her set, Lewis alternated between playing guitar and piano. She hardly talked to the audience, but happily teased them by standing on the edge of the stage and singing into the crowd. They all wanted her to come closer, but she was never attainable.
We just sat and watched her, as she barely announced the songs she played. She didn't need to; most were her hits, with a little bit of Rilo Kiley thrown into the mix. "Silver Lining," "A Bad Man's World," "Acid Tongue," and the line "To be lonely is a habit/like smoking or taking drugs/ and I've quit them both, but man was it rough" really got the audience excited. Her voice was pure, she hit every note on key, and it poured through the speakers of the old theater.
She walked off the stage with a drink in her hand, flipping her red hair behind her shoulder. I only wish she played "Portions of Foxes" so I could pretend I was 16 years old again.