A beer guide for the drinking osprey
In order to join in on the beer celebrations during the month of October, I went on a tour of Jacksonville's better known microbreweries, sampling their most famous offerings to provide the drinking osprey with a simple guide that will take you beyond the stereotypical college beers.
I tried three beers from each of the four major breweries in the First Coast, ranging from a light lager to an imperial stout. I also tried seasonal offerings specific to the fall, if available, and chose my favorite from those as well. While I am no certified beer critic, I have tried a variety of beers and want to share my experience with people who have yet to experience the craft beer world. No snobbiness here, I still like domestics just fine.
I chose a light beer, a medium beer–usually an IPA–and a dark beer in order to cover a broad spectrum of taste profiles. Here are my favorites: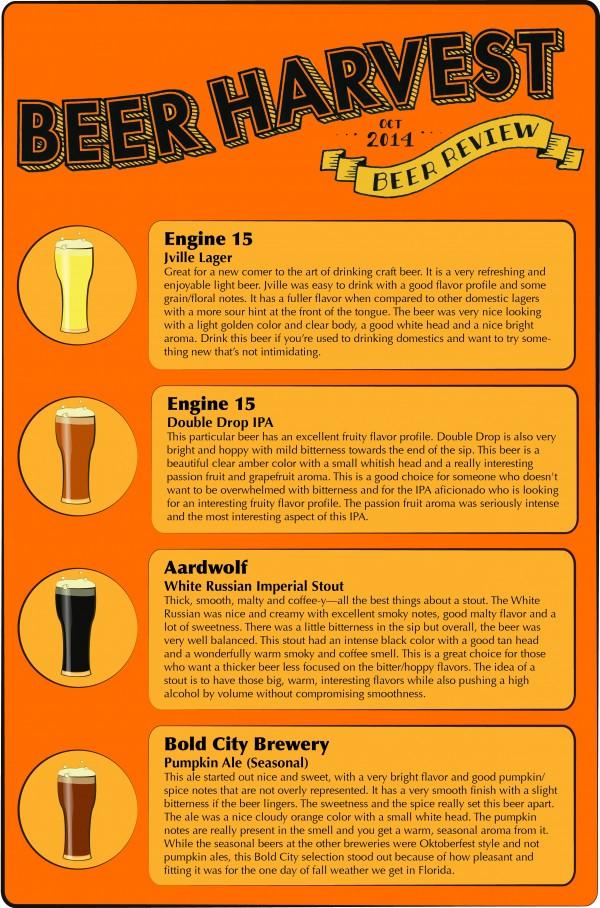 There are obviously other beer makers and an incredible amount of variety in beer selection, so go to all of the cool local breweries and taprooms throughout Jacksonville and experiment to find the beer or style you like. As the popularity of craft beers continues to grow around the country and in our state, the choices will just continue to get better and better.

Gallery photos by Joshua Brangenberg

[doptg id="57″]

Email Eduardo Santos at [email protected]