The Hunger Games: Mockingjay, Part 1 – the start to a revolution
[youtube https://www.youtube.com/watch?v=3PkkHsuMrho]

Osprey Productions presents two screenings of The Hunger Games: Mockingjay – Part 1 Wednesday, March 25 at 7 p.m. and 10 p.m. in the Student Union Auditorium. The event is open to UNF students who can bring guests and enjoy free pizza and popcorn.
---
Director Francis Lawrence left his audience with a chilling cliffhanger in "The Hunger Games: Catching Fire." He satisfies the appetite, that his ending created, for the continuance of the trilogy with "The Hunger Games: Mockingjay, Part 1."
The movie takes place during a post-apocalyptic world within the country, Panem, that consists of the wealthy Capitol and what was 13, but now 12, districts. However, in this film District 13 is back as if it were never destroyed. The games have now just begun between The Capitol and the surviving districts. Katniss Everdeen, played by Jennifer Lawrence, is put on another hero's journey to bring the districts together as one and fight for a revolution.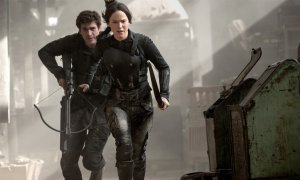 "Mockingjay, Part 1" ensures us a successful sequel by keeping all the brilliant actors from the first and second films. Jennifer Lawrence once again blows the audience away with her believable and courageous role as Katniss Everdeen, but it is Josh Hutcherson, reviving his role as Peeta Mellark, who stuns the audience as he wrestles with his feelings for Katniss throughout the film. Additionally, in his return as Gale Hawthorne, Liam Hemsworth takes a larger and more active role in this installment. Joining the powerful cast, Julianne Moore, popular for such films as "Magnolia," "The Lost World: Jurassic Park" and "The Forgotten," leads her district (13) and Katniss as President Alma Coin.
The unpredictable storyline of "Mockingjay, Part 1" switches up the "Hunger Games" we know from the previous films. Despite the lack of yearly male and female reapings within each district and the "fight to the death" games in force field reinforced domes, the movie still invokes excitement with its attacks and counterattacks between the districts and the Capitol. This time, however, the fight is on a larger playing field. The action sequences that take place are just as thrilling as in the past two films.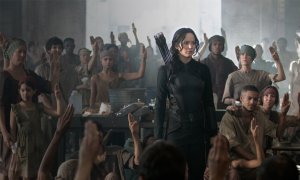 Director Lawrence's cinematography brings the devastating lifestyle of the districts and their desire for war to life, almost as if it were happening right outside the theater's doors. The explosive sounds and clever camera angles poignantly capture all aspects of the destruction and intensity, which keeps you clenching for hope throughout the movie.
At some points throughout the film, I wondered how "Mockingjay, Part 1" was going to end without sparing too much of the next movie. Contrary to my initial doubt, I was in total shock up until the final minutes left until the ending credits. I thought I was anxious for the release of this "Hunger Games"film, but my appetite is now hungry for "The Hunger Games: Mockingjay, Part 2."

Email Tiziana Onstead at [email protected]