Little One: The perilous journey of Stuart Maddox
Video by Michael Herrera
UNF wrestling alumnus Stuart Maddox, 2015 NCWA (235 lbs.) National Champion, knows what it feels like to be overlooked. Maddox lost every wrestling match during his freshman year at DeLand High School, creating a fairytale beginning to his quest for collegiate success.
"I did not win a single match my first year on JV, which is horrible," Maddox said. "I just dedicated myself and got better. Placed in the state my senior year, and knew I wanted to keep pressing in college."
Maddox would wrestle and attended Coe College in Iowa after high school. After Maddox's coach at Iowa left, Maddox took a year off of school and decided to coach wrestling at DeLand High.
Itching to compete again, Maddox decided to attend school at UNF and join the wrestling club.
"We started off with a small group my first year, we only had five people on the team and we were pretty close," Maddox said. "I was our first All-American that year."
Maddox said the small team, including club president Zach Lebovic and Coach Scott Sherman, would rotate practice partners, despite any weight class differences.
"That close team environment, even though skill levels are here and there and all in between," Maddox said. "It doesn't matter. The more people you have, the more you can get pushed and that really helped, and then of course the coaches too."
Lebovic also made the team write down their goals for the upcoming season.
Maddox had just a few simple goals for his last season as a college wrestler. Don't get pinned, don't give up any points, go undefeated, win the NCWA National Championship and beat UCF wrestler Josh Woods.
"Josh Woods from UCF, he was a 4 time All-American, a 2 time finalist and a 1 time champion," Maddox said. "And my goal in the 2013-2014 season, one of them, was to stop him from being a 2 time champion."
Maddox faced Woods three times during his first year wrestling for UNF.
"I won the first one pretty dominantly, we had a close second one, and then he crushed me the third time, got in my head, didn't end well," Maddox said. "And then I avoided him all of the second year I was here, on purpose. Which a lot of people say is cowardly, but I thought it was smart. And it ended up being smart."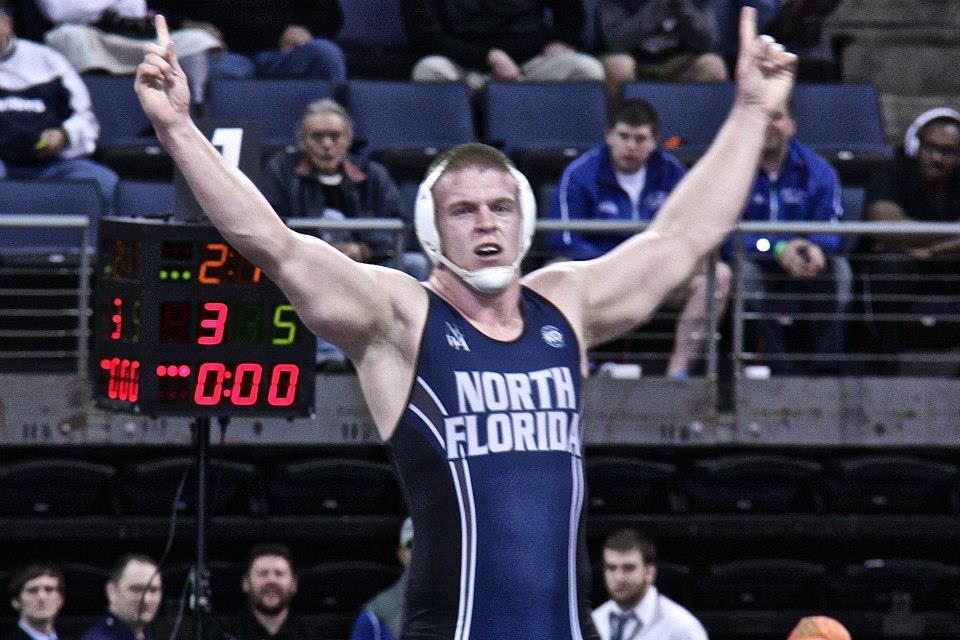 Maddox and Woods met on the mat for the last time in the 2014 national semi-final. Woods was the tournament favorite 1 seed and Maddox the 4 seed.
"[Woods] was a senior so this was the last time we were ever going to see each other," Maddox said. "We were 0-0, and then in the second period we got into a scramble. I put him on his back, took about 30 seconds, and everyone's freaking out."
Maddox's teammates knew what would happen next.
"And then they called the pin," Maddox said. "Until I won this past year, it was probably the most exciting single moment of my life and it was awesome."
Owning the mat, dominating his opponent, is Maddox's modus vivendi. He often paces before each match to psych himself up.
"I go in thinking, 'It's my match. They don't belong there. I'm going to win,'" Maddox said. "So going into the national tournament this year, I went in as the number one seed, and I knew that going in. So, in my mind, it was already my title. I just had to go make sure no one else took it from me."
Maddox graduated this Spring with a degree in criminal justice. He finished 17th on the NCWA individual point ranking, and Maddox did finish 2014-2015 undefeated (18-0) earning 8 pins in his 235 pound weight class.
Brazilian Jiu Jitsu is Maddox's next competitive challenge; the purple belt has already began competing in Jiu Jitsu tournaments. Training in Jiu Jitsu during his last two years of college helped Maddox wrestle as well, giving him a different approach to his mat tactics.
"It's actually the mindset that helped me a lot, I was way more patient," Maddox said. "Especially this last year, that really became obvious in my wrestling. I didn't make any stupid mistakes."
Maddox doesn't think he'll be wrestling much longer since he has graduated, but plans to continue Jiu Jitsu.
Despite earning a national championship, Maddox and Zach Lebovic, UNF's wrestling club president, said that Maddox was snubbed by UNF at the Esprey Awards this Spring.
Beau Beech earned Male Athlete of the Year and Chris Davenport received the Play of the Year Award during the Espreys. Lebovic and Maddox both said that the school's national champion should have been recognized for his wrestling prowess.
Besides personal awards, Maddox and Lebovic said that the wrestling club itself doesn't get the recognition it deserves. Lebovic started the club from scratch, without support from UNF Athletics.
"When I was accepted to UNF, I was aware that there was no current [wrestling] program," Lebovic said. "We started really, really grassroots. Had to make a constitution with Student Government, had to get all registered. And then one thing fell into another."
Lebovic started the wrestling club in 2009.
"In our first year, we had almost a full roster," Lebovic said. "Qualified six kids for the national tournament. And that's kind of been what we've been doing every year, about six kids every year."
Then, Lebovic met Maddox.
"I think Stuart more so found us," Lebovic said. "He had a buddy that he wrestled with in high school who was on the team. I guess that connection had a lot to do with transferring, I'm sure a few other things [did] as well. But that's how he heard about us, that's how he came here, that's kind of the initial foundation of his legacy here."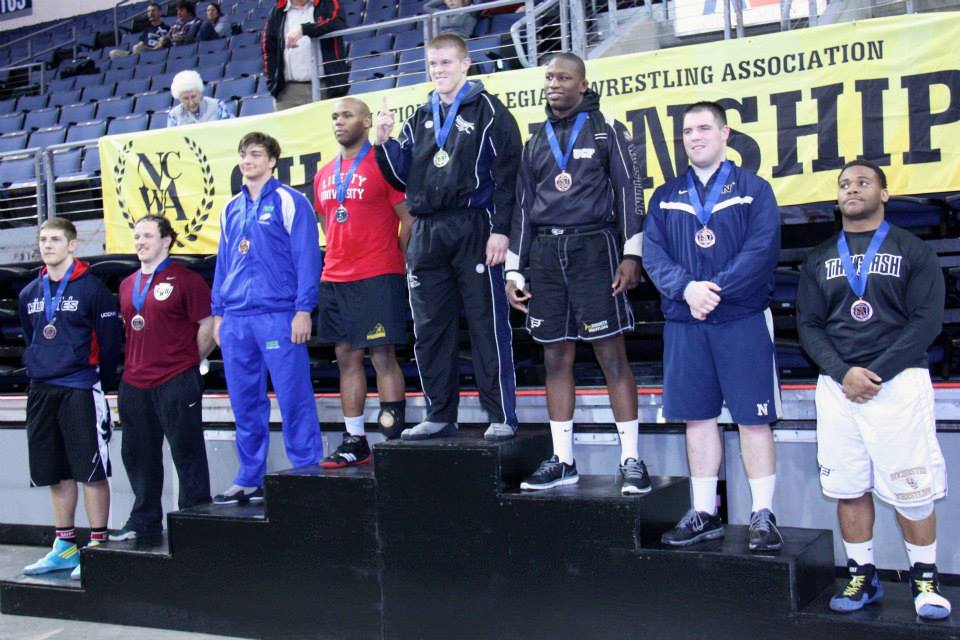 Maddox's national championship win isn't the only fairytale to come out of UNF's young wrestling club.
"Chad Baumann, he wrestled at 141 all three years, only three years because he was so smart he graduated early," Lebovic said. "His freshman year, he met a transfer student, a young lady named Ashley Rodriguez, she was also a high school wrestler. She was our first female national runner-up, and they hit it off immediately."
Bowman and Rodriguez dated for three years and married this past December, Lebovic said.
For Maddox, his parents played a big role throughout his own story with their support.
"My parents always supported me, they supported me going to Iowa even though I was going to be 23 hours by car away," Maddox said. "And then I came here, and they were just so excited to have something to come back to."
Maddox's parents have been to nearly every match Maddox has competed in. Maddox's father has each match on video and his mother, Jeannine Maddox, is also the wrestling club's photographer.
Over the years, Maddox accumulated a bunch of nicknames. To his dismay, many of Maddox's pseudonyms revolved around his pronounced jaw line.
"Anything with the word chin on it, Crimson Chin, Nuclear Chin, Iron Chin, the Chin, Snowcone, and of course Stuart Little," Maddox said. "Those were all wrestling nicknames. And then when I went to Iowa, I got a new one within like the first two days."
During orientation, several guys were drinking near Maddox's quad, staring at him.
"They're looking at me, whispering, laughing, and I'm like, 'You're talking about my chin, right?" Maddox said. "They're like, 'Yeah it's really big.'"
Maddox offered the guys 20 dollars to come up with a nickname he never heard before.
"The guy right behind them, lucky I didn't make him the offer, within ten seconds he goes, '…Jaws,' and that stuck," Maddox said. "Everybody called me Jaws. I had one coach out of ten who didn't call me Jaws. The whole team called me Jaws."
Maddox liked some of the nicknames he has, like "Little One" and "Sully".
"One of our black belts that I trained with, he gave me [Sully]," Maddox said. "I just walked in one morning for morning class and he's like, 'I'm going to call you Sully,' and I said, 'Okay. Why?' and he goes, 'Because you're a big monster, but you're nice and cuddly.'"
Maddox said his story is still told within the halls of DeLand High School, teaching kids not to quit. Now, Little One can add national champion to his legendary tale of utter failure, perseverance, determination, and eventual success.
—
If you see an error in this story or have any compliments or concerns, contact [email protected].