$15,000 burglary led to alleged false imprisonment incident
Three UNF students were burglarized April 25, resulting in the loss of approximately $15,000 in firearms, ammunition, jewelry, computers, cash and other belongings, according to an incident report from the Jacksonville Sheriff's Office.
One of the UNF students burglarized was Matthew I. Khosrozadeh, who was later charged with false imprisonment in a separate incident related to this burglary. Spinnaker previously reported Khosrozadeh and Clayton D. Cook forced a man into their vehicle and repeatedly hit him, according to police records. Cook is not listed as a victim on the police report from the burglary.
Officers state in the report from Khosrozadeh's arrest they obtained his cell phone containing a video of him holding the victim, hitting him and demanding to know who robbed his house.
According to the burglary report witnesses saw the alleged false imprisonment victim enter Khosrozadeh's house on the morning of April 25, and leave with a helmet, gloves, jacket and motorcycle.
Dean of Students Thomas Van Schoor confirmed the victim is a UNF student, but wasn't enrolled during the spring semester. The victim has not been arrested for burglary according to JSO records.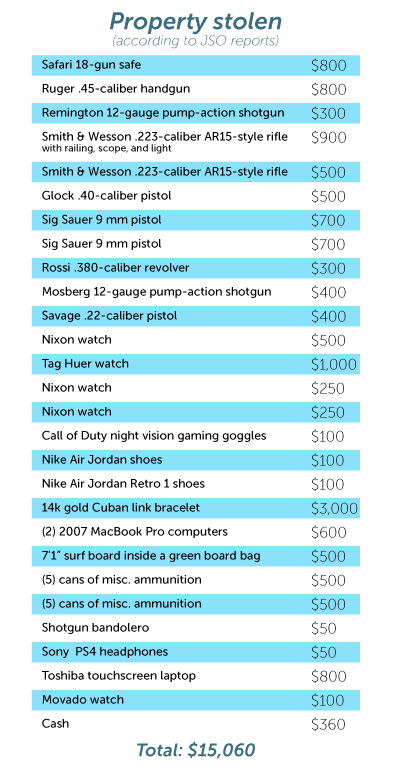 Included in the stolen property were ten firearms ranging from revolvers to pump-action shotguns to multiple AR15-style rifles, one equipped with a scope and light.
None of the missing property in the report belonged to the third resident, according to JSO records, and the responding officer noted "four large flat screen televisions and a video game" were untouched in the home.
The report states Khosrozadeh was at the residence, located off Kernan Boulevard, late on April 24, and when he returned around noon the next day he discovered the burglary. When the officer canvassed the neighborhood, witnesses said they saw a pool technician and a young white male (the victim of the alleged false imprisonment) picking up a motorcycle, according to the report.
Khosrozadeh identified the young white male as "a friend" who called to ask if he could go inside the house to get his helmet, jacket and gloves so he could leave with his motorcycle, the report states. According to the report, Khosrozadeh told the male to wait on the back porch, and he would be home soon.
The report states witnesses said the male arrived in the backyard of the home around the same time as the pool technician — around 9:30 a.m. on April 25. The male told the technician Khosrozadeh gave him permission to pick up his belongings so he could leave with his motorcycle, according to the report. The report also states the male left a few minutes after entering the residence with a helmet, jacket and gloves.
Spinnaker will continue to follow this story and update it as more information becomes available.
—
For more information or news tips, or if you see an error in this story or have any compliments or concerns, contact [email protected].