Last minute reminders for the Great American Eclipse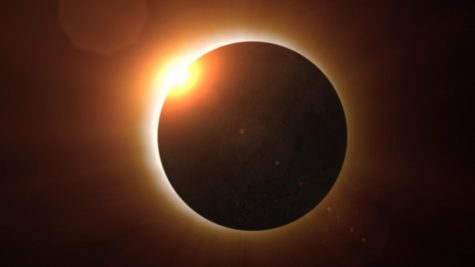 The solar eclipse is today, with the peak being at 2:47 p.m. We have some last minute tips from Aditi Mahadir, a physics junior, who is part of the Astronomy Club and is the Treasurer of the Society of Physic Students.
Don't look at the sun
One of the biggest warnings Mahadir is giving students is to not look directly at the sun.
"Don't look directly at the sun. It can really damage your eyes," Mahadir said. "Maybe for a quick second, it will be okay, but don't stare at it. You will ruin your eyes."
Although a limited amount of special glasses will be given away at the Solar Eclipse Party at the Coxwell Amphitheater, they are on a first come, first serve basis. Mahadir recommends people to share glasses and to take turns.
Learn more on where to get glasses and how to make your own DIY eclipse viewer here.
Once in a lifetime opportunity… almost
The last time there was a total solar eclipse in the United States, besides Hawaii, was in 1979. That was 38 years ago. The next total eclipse will be in 2024. Although the next eclipse is only seven years away, today's eclipse will be the only time Jacksonville will be in the line of partial totality.
One other interesting aspect to viewing an eclipse are that you get to witness stars and even planets. Mahadir said that Venus and Mars might even become visible to the naked eyes, if you know how to look for the planets.
"You can see all of [the planets] and that's never happened before on this side of the country," Mahadir said.
Although Spinnaker would never endorse skipping class, Mahadir said that she would suggest emailing professors ahead of time to see if it was possible to see the event. The exact 90% totality will be at 2:47 p.m. and will last a little more than 30 seconds. For those of you who are "stuck" inside, follow Spinnaker on facebook to see a livestream of the eclipse.
Stay off the roads
Driving won't be dangerous during this time, but traffic will be insane. Duval County Public Schools are cancelling all outdoor activities from 1- 4:30 p.m. and parents might pull their children out of school early to witness the phenomenon. People will also be driving to other viewing parties across Jacksonville, including the Main Library downtown and at Fort Caroline. Traffic across Jacksonville might be a little hectic when the eclipse is out, so be alert and careful when driving.
The Department of Transportation is telling people a couple do's and don't's to driving during the eclipse. Observe the following tips:
DO NOT drive with eclipse glasses on
DO turn headlights on when the eclipse blocks the sun
DO NOT stop along the side of the road to view the eclipse
DO be aware of increased traffic and pedestrians
__
For more information or news tips, or if you see an error in this story or have any compliments or concerns, contact [email protected].