Addressing everything from crime to infrastructure; What to know about the Deegan, Davis debate
Republican Daniel Davis and Democrat Donna Deegan stood behind podiums on opposite sides of the Lazzara Performance Hall's stage at the University of North Florida Thursday night. For an hour, the Jacksonville mayoral candidates debated topics like infrastructure, crime and affordable housing. 
Co-hosted by Action News Jax and UNF, the debate came in preparation for next month's runoff election. Last month, neither Deegan nor Davis managed to garner the required amount to win during the first election—Deegan received about 40% of the vote and Davis got 25%. 
Davis served as Jacksonville's former city council president in 2007 and is the current president and CEO of Jax Chamber, a foundation that funds workforce development and entrepreneurial education programs. Deegan is a former local news anchor and a three-time breast cancer survivor, inspiring the creation of the Donna Foundation which raises money for breast cancer.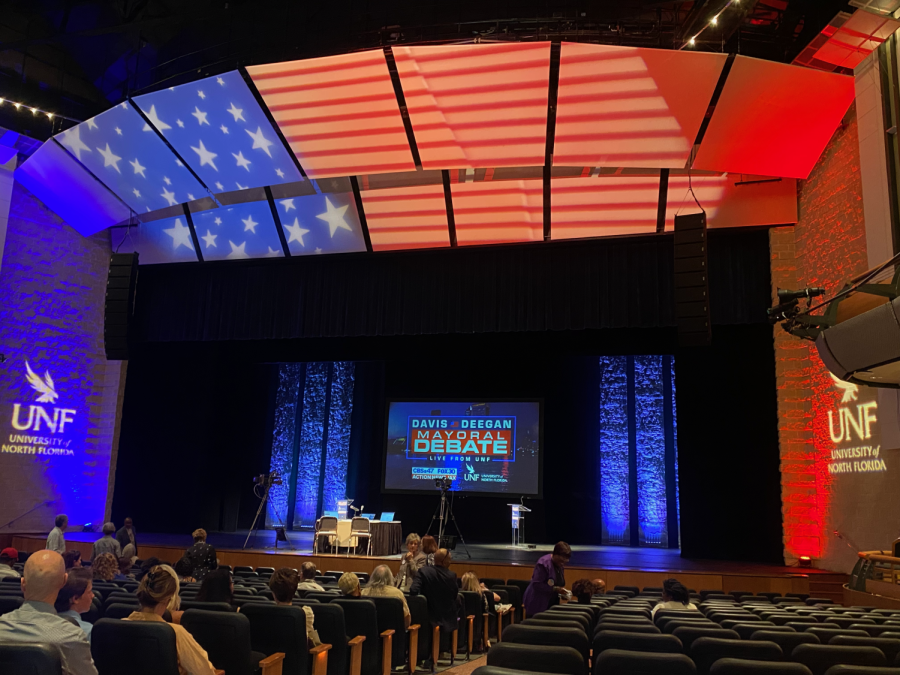 Here's a recap of the night.
In his opening statement, Davis thanked the recently elected Sheriff T.K. Waters for his friendship and endorsement, saying "Together we're going to make Jacksonville a safer, more affordable place to live."
In her opening statement, Deegan recalled the support she received from the Jacksonville community during her fight with breast cancer, calling it the "type of collaboration" she wants to bring to city hall. She said Jacksonville needs to be the city that turns the page on fear, division and self-dealing politics. 
Davis calls for more police, Deegan looks to the causes of crime
The first portion of the debate was concerned with crime. A 2022 JSO survey found that 42% of Jacksonville residents said the issue of crime worries them. Earlier this week, UNF's Public Opinion Research Lab released a poll that found that 47% of expected registered voters thought the top issue in this election was crime. 
"I have said repeatedly, regardless of what you may hear on television, that I will fully fund our police," Deegan said.
Deegan said she would also go underneath the causes of crime, including re-implementing programs like the Jacksonville Journey that targets issues like literacy and poverty to mitigate a life of crime.
 She also mentioned that almost half of the city's budget goes toward police, and suggested that putting more time into prevention and intervention might save money on the backend. 
City Council approved a record $545.27 million budget for the Jacksonville Sheriff's Office last September, the Jacksonville Daily Record reported. The city's total budget is $1.55 million. 
"We must put officers on the streets, but we must do more than the same old, same old to bring those numbers down," she said. Deegan didn't give a specific number of how many officers she'd like to add. 
Davis said that as city council president, a position he held from 2007-2008, he led the charge to add 100 new officers to the street and implemented the Jacksonville Journey. If elected mayor, he said he would add 200 new police officers on the streets over the next four years and prioritize finding the money in Jacksonville's budget to do so. 
He said he would fill the vacant spots on the police force and make an attractive sheriff's office to recruit and retain the best across the country to serve in Jacksonville.
"I'm going to partner with T.K. Waters to put the bad guys in jail so the folks that are prisoners in their own homes don't have to worry about the bullies in their neighborhoods," Davis said.
Citizens review board: yes or no? 
Another question asked candidates whether they support creating a citizen's review board to independently examine cases of alleged misconduct. 
Deegan first addressed the "false attack ads" circulating about her on this issue. She said that in 2017, the Supreme Court of Florida said that there cannot be a civilian review board that has any sort of authority over the police, so "that was always a non-starter."
Deegan explained her support for creating a citizen's board and that to have a safer city, there needs to be better communication and difficult conversations between police officers and citizens. 
"It is simply a means of making us safer by creating better conversation and yes, better accountability," Deegan said.
However, Davis said he believes we already have a citizen's review board. "It's called an election."
Davis said that since Sheriff T.K. Waters has been in office, crime has gone down. He said that when the police are defunded, crime goes up, using San Francisco as an example. 
"We cannot let that happen in Jacksonville," said Davis. "I'm going to make sure that our duly elected sheriff has all the authority he needs to attract and retain the best officers across the country."
Developing downtown and forging partnerships
Regarding the growth of downtown Jacksonville, Davis suggested establishing more residential opportunities in the area, including workforce housing which would contribute to the retail and restaurant opportunities. Deegan's plan focuses on bringing workforce housing to the area, as well as supporting the small business community in Jacksonville. 
A widely beloved aspect of the city, candidates were asked how much public money they would be willing to commit to help fund the estimated $1 billion dollar renovation of the TIAA Bank Field stadium.
While Deegan said she would bring in experienced negotiators to create a deal that works best for the taxpayers and the Jaguars, Davis said he would not bring anyone in from the outside to negotiate the deal, but instead, he would on behalf of the city to create a transparent deal where "everyone has skin in the game." 
Addressing Davis, Deegan critiqued his support for the $245.3 million proposal to bring a mixed-use entertainment and residential development in parking Lot J to the stadium in 2021, a project that was unpopular with the general public.
"The same guy that wanted to give us the Lot J deal is going to be the tough negotiator with the Jaguars? I'm sorry, I don't buy it," Deegan said. "I would much rather have somebody come in here that's used to dealing with the NFL than to turn my fortunes over to the guy that committed us to Lot J." 
In his rebuttal, Davis reiterated that his plan as mayor is to make sure citizens have a safe and affordable city to live in and that includes "negotiating strong business deals with big companies like the Jacksonville Jaguars."
"I don't really mind if Donna Deegan doesn't want me to negotiate that deal," Davis said. "Frankly, I'm going to win and I don't want her to negotiate that deal."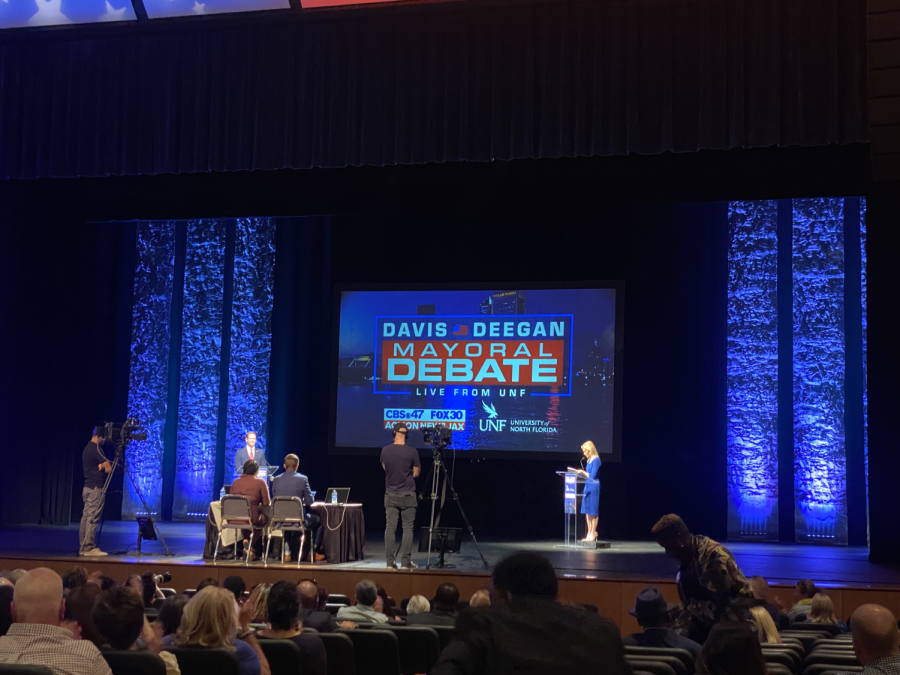 Addressing affordable housing
As rent prices continue to grow, both candidates were asked about their plans to increase affordable housing. 
Davis said that quality of life can't begin without a safe place to live. He said he will use infrastructure funding to increase workforce housing and "will build 10,000 residential units in eight years."  
Deegan suggested using the "hundreds of millions of dollars" of federal and state grant money to use it for things like affordable housing. She said there are all sorts of ways to deal with the issue, but it also requires putting "more money in the game."
"Many cities that are like-sized cities to us use tens of millions of dollars more a year to try and solve their affordable housing problems," Deegan said. "We need to change our zoning in some areas to create more multi-family housing, that's part of the way we can solve that problem."
She also mentioned dealing with "out-of-state folks that are coming in here and buying up properties and jacking up the rent."
The debate came to an end right at 8 p.m. and the audience gave one last round of applause before trickling out. The Jacksonville mayoral election will be held on May 16 to decide which candidate will take office as mayor on July 1. 
___
For more information or news tips, or if you see an error in this story or have any compliments or concerns, contact [email protected].