"Seagate needs gas money. Five dollars to get in…"
It was a firm one-liner delivered to every kid that tried to enter. Each attendee before the last clawed at the bottom of their blue jean pocket for change and loose bills before handing over their crumpled-dollar donation in their sweaty palms. 
As they entered, a wave of soul-shaking surrealism greeted them with acid rock playing on the stereo, and a mixed-media light show that pierced through a cloud of nicotine vapor, showing distorted clips of retro cartoons. It was what every nightclub in Downtown Jacksonville strived to be. Only it wasn't a nightclub, it was a small, suburban home in Murray Hill. 
A city dominated by top hat-sporting arena owners, who boast concerts featuring washed up, radio-rock-n-roll stars, up-and-coming musicians must engage in unorthodox and sometimes dangerous methods at getting exposure. In recent years, Jacksonville punk and indie bands have found themselves hosting elaborate underground shows, often organized in parks, under bridges, or even in other people's homes. 
These shows generally cost little, if anything at all, and tonight, Seagate would be hosting one of these mysterious, subterranean shows. In the past, concerts like these were made possible via the help of Neighborhood Jams, a small group of promoters based in Jacksonville Beach, who would organize concerts featuring local artists and even vendors, and Seagate were quite the regulars.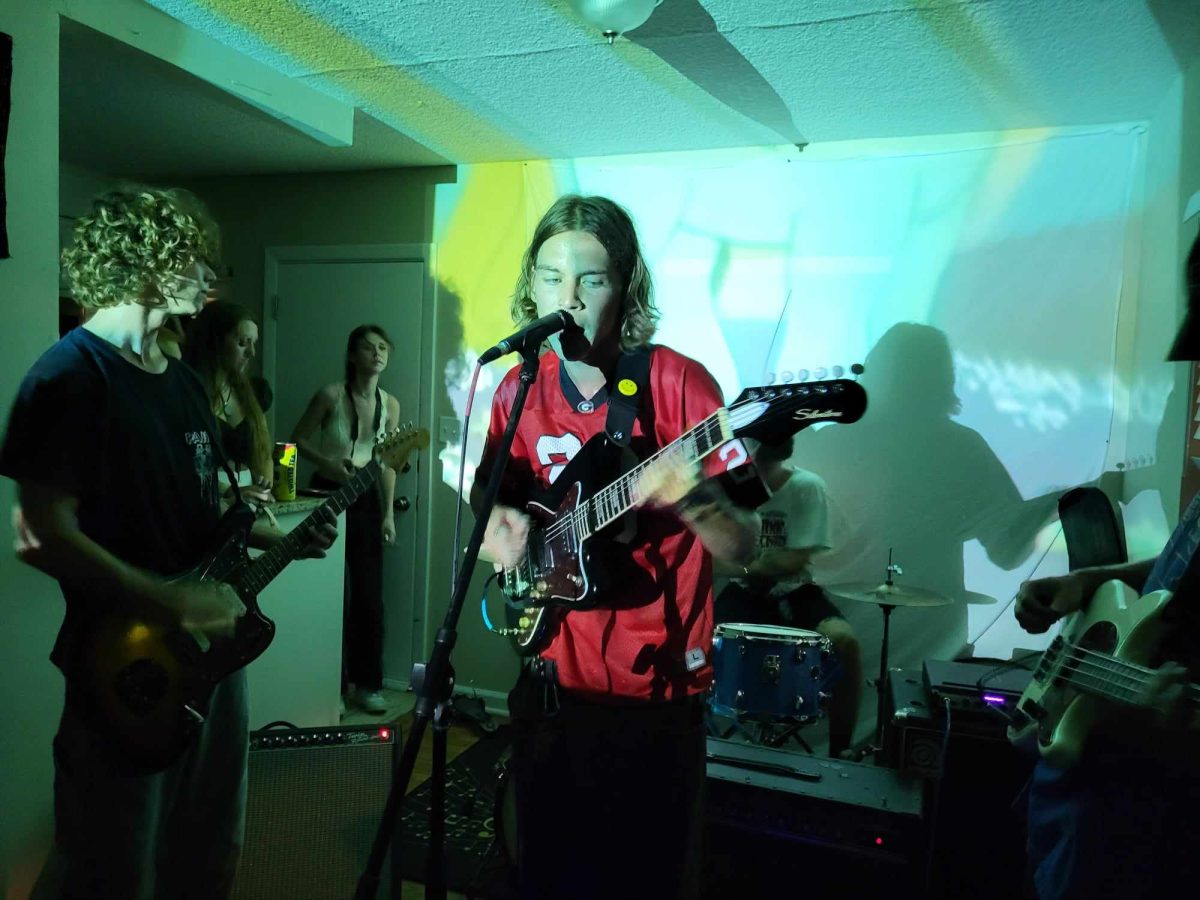 "Neighborhood Jams has just always been that thing," described Maxwell Taylor, the band's bassist, "It's rare, but when it comes, it's huge. Everyone and their mom is there…[but] it hasn't happened in awhile."
Seagate, founded by Fletcher High School students, is a surf-indie band from Jacksonville Beach. Their sound has evolved over the years, with their first works having a coastal post-punk flair. 
"Back in the day, it was more of a surf-tinged rock," Samuel Baglino, the band's singer, said. "It was a lot of Hot Flash Heat Wave and Mac DeMarco influence. Now it's more a garage rock influence." 
Since the early days of their surf-tinged rock, Seagate has acquired a dedicated cult following and even released their first official album. "We've recorded a nine-track album," Baglino said, "It got sent out to Lee Kuhn in Nashville to get mixed and mastered. It should be coming out in fall or winter. It's influenced by Mike Kroll and Thee Oh Sees."
Seagate debuted this sound along with their first official LP, "Pork" via an underground concert with Faze Wave, circa April 2023. 
The young quartet took to the corner of the room. Their presence was illuminated with the flashing lights and cartoon compilation of Jake Faiella, known locally as Glitch Pit. Baglino and Taylor tuned their instruments while a mixtape of Thee Oh Sees filled the silence. 
Audience members waited eagerly, some even taking their shirts off. The house Seagate chose to perform in lacked air conditioning, which turn the living room into something of an inadvertent sweat lodge. But neither Seagate nor their fans were strangers to the heat, having grown up in Jacksonville and Jacksonville Beach. 
If anything, the thick, humid air, and aroma of sweat and beer was a reminder of home. Seagate broke into their first song, Pork, and the audience erupted into one unified slam dance. 
Standing still was not an option, and the band found themselves dodging thrown fans. The floor grew slippery with sweat and spilled drink, but amidst the anarchy, music fans laughed, cheered, danced and sang.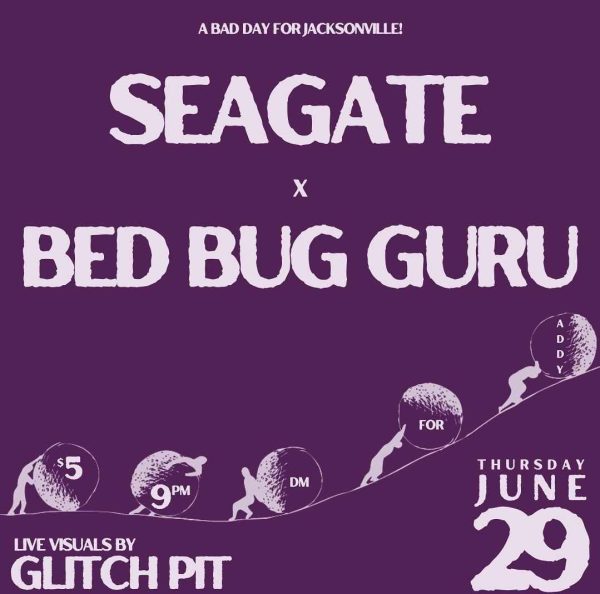 Seagate doesn't rely on complicated solos, nor odd time signatures. Rather, they go back to the roots of indie rock with a good riff, steady beat and a sweaty concert full of rockers, rollers, moshers and surfers. 
Whether you're a skater, punker, indie kid, or just a lover of good music, Seagate is a must-see. 
___
For more information or news tips, or if you see an error in this story or have any compliments or concerns, contact [email protected].