[Updated Nov. 20: Spinnaker originally published that Yssa was the organizer of Tuesday's walkout but was incorrect. Spinnaker apologizes for the error. The story has been corrected to reflect that mistake.]
When Michael Oren's lecture at the University of North Florida was first announced, people marked their calendars. About 200 people attended the former Israeli ambassador's lecture, but not all went to listen. Some planned to protest.
In total, about 20-25 pro-Palestine students and others had reserved tickets, according to Samira Yssa, a junior at UNF majoring in biomedical sciences, who also participated in the walk-out. 
When the event happened Tuesday evening, officers with the University Police Department and Jacksonville Sheriff's Office had caution tape around the Adam W. Herbert University Center parking lot. Only those with tickets were allowed to enter.
Inside, President Moez Limayem gave an introductory speech, condemning Islamophobia, antisemitism and divisiveness on campus. After, when the former Israeli ambassador began his lecture, the protesters began chanting "Free! Free! Palestine!" and marched out of the room. Some had painted their hands red and raised them in the air as they stood and left. 
Police escorted the protesters out of the building without incident, where they were told to leave. Some would later join a protest happening on the Green across campus. Organized by Students by a Democratic Society, over 100 people gathered with Palestine flags and homemade signs, protesting Oren's presence on campus.
The larger group would later march across campus to the University Center. However, they arrived after Oren and all the guests had already left. Instead, they chanted on the sidewalk as a long caravan of police cars left the area. 
Though it wouldn't be confirmed until after the lecture ended, Oren was physically in the building. But instead of lecturing in front of everyone in the ballrooms, he was streamed in from another undisclosed location in the building for guests to watch.
Spinnaker counted approximately 50-75 officers present across campus that night, spread across campus. The exact amount is unknown because that number is "tactical in nature," the university said. Inside the University Center, officers, some in uniform and others not, were all along the first and second floors. 
The former Israeli ambassador was the latest guest invited to lecture at UNF by the World Affairs Council of Jacksonville, part of their "Distinguished Voices Lecture Series." He spoke along the topic of "Israel and the Middle East: Navigating Complexities."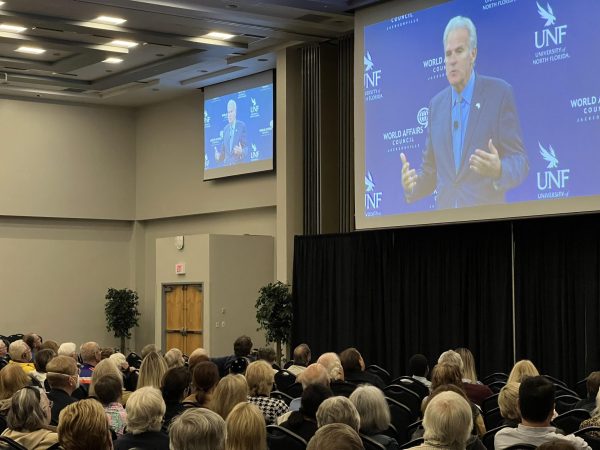 Lecture events are typically held at the University Center, are easily accessible and free for UNF students to attend. 
This time around, guests were unable to enter unless they had a ticket and valid ID, both of which were checked at the door. Once through the entrance, guests had to pass through a metal detector. Food and drink were confiscated if brought through. 
Spinnaker asked why security was so incredibly high compared to past events and UNF wrote in a statement that, "We increased security out of an abundance of caution and keeping the safety of guests as our top priority."
___
For more information or news tips, or if you see an error in this story or have any compliments or concerns, contact [email protected].