Riley beats buzzer for the win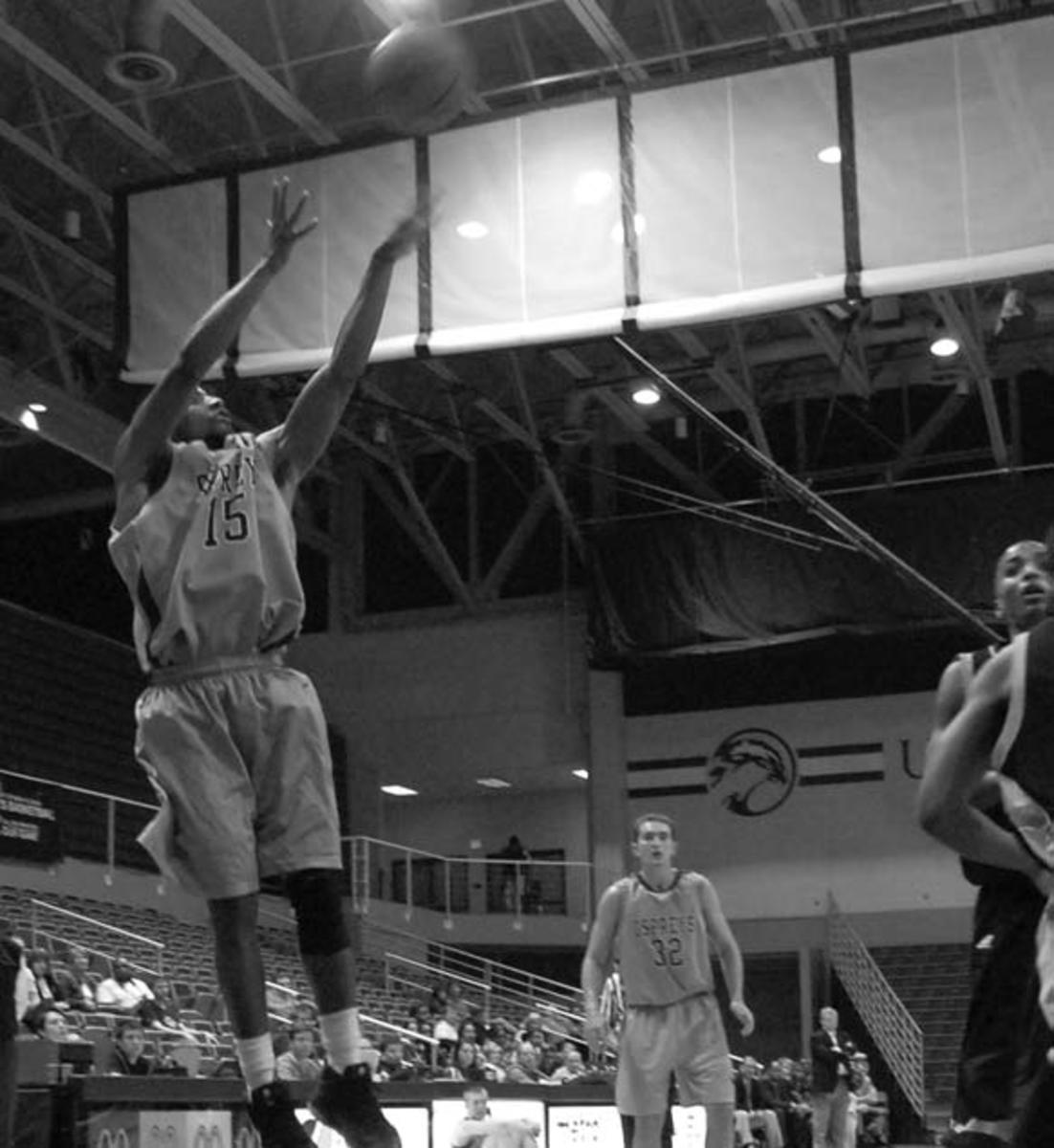 With no time left on the clock, senior guard Cortez Riley shot the winning basket to lead the Ospreys to a 55-53 win Jan. 25 against Stetson University at the Edmunds Center.
The UNF men's basketball team earned its first Atlantic Sun Conference road win in a comeback victory.
The Ospreys trailed by as much as 13 points early going into each half of the game.
"Im thrilled for Cortez, our team and all the fans that came to support us," said UNF head coach Matt Kilcullen. "I could not be more proud of this team right now. They got the monkey off their back, which is tremendous for the guys leading up to our next games at home."
Stetson took the lead in the first six and a half minutes of the game with a score of 17-4.
The Ospreys went on a 10-0 run of their own to pull within three points of the lead five minutes later.
Freshman forward Zack Riggins scored six of his eight first half points in the stretch, helping to score a career-high 16 points while also playing a career-high 29 minutes.
Junior guard Eni Cuka scored six points in the final 10 minutes of the first half, pushing the Ospreys into the Hatter's nine-point lead of 27-24.
"Teams with less heart would have conceded after suffering a 13-3 run," KiIcullen said. "We had some freshmen step up and play big minutes and our defense down the stretch was absolutely tremendous."
UNF's biggest advantage of the game came after a pair of free throws from Cuka – the Ospreys only 3-pointer in the second half.
"When we needed to make the big stops, we came through,"  Kilcullen said.
It was junior guard Stan Januska's two points that gave UNF the edge it needed in the final minutes of play.
Januska placed a rebound off of a miss and passed it ahead to Riley who forced it up the court in the closing seconds.
Riley slid left and picked up his dribble, looking to hand the ball off to Cuka.
With the pass being shot down Riley rushed down the court with less than two seconds in the game, double clutched and scored the game-winning basket.
UNF held Stetson to a .316 percent shooting from the floor and .231 from long range. UNF hit .537 percent of its attempts from the court.
"It's time for us to enjoy this win before we begin to prepare for USC Upstate," Kilcullen said.
As UNF ends their four game losing streak the Ospreys hope to keep the winning going as they go head to head against the University of South Carolina Upstate at 7 p.m Jan. 30 in the UNF Arena.
E-mail Heather Furey at [email protected]