The day for diversity, equity and inclusion to be removed from Florida state public universities has arrived, and faculty union members are preparing for its implementation. The law, SB 266, drastically changes the state's education landscape and faculty members have been ringing alarm bells over its impacts for months. 
Saying the bill "will cause irreversible harm to Florida's higher education system," Florida's largest faculty union, United Faculty of Florida, released a letter outlining guidance for how to best follow the law and protect faculty rights. 
The law is most well known for its crackdown on DEI, but it also grants the Board of Governors authority to review and possibly revise each university's existing academic programs and introduces a controversial post-tenure review that is now being put through the bargaining process at local university chapters.
Though the bill was passed months ago, the "exact nature and full extent" of the laws' impact cannot yet be fully determined, UFF wrote, because the "law's vague language and unclear definitions will likely lead to differing interpretation and implementation around the state." 
UFF wrote that they believe the vagueness of the laws is intentional to try and use state authority to limit and censor speech among students and faculty and to limit the free exchange of ideas in the classroom. 
Also, specific details for how the law will be enforced are still unknown while the Florida BOG and State Board of Education finalize the rule-making process, the union said. 
In the meantime, the union said, there are actions local members can take to exert their rights, protect their freedom and promote honesty in education, and they provide the following guidelines to do so.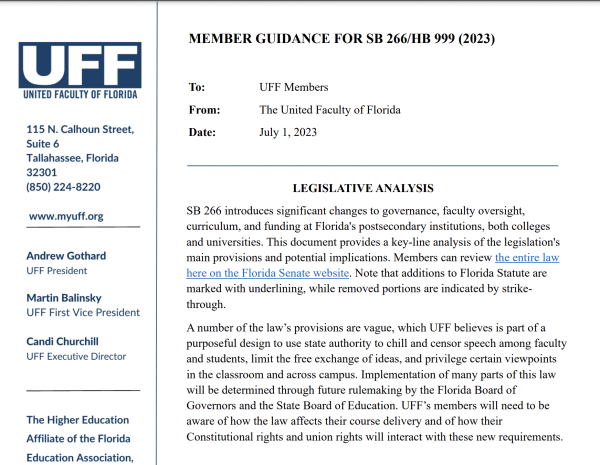 Guidance for members
Document, Document, Document!
UFF tells faculty to document any evidence of SB 266 impacts, but also warns members not to engage in self-censorship, "as it is vital that we fight the chilling effect of this law."
Whenever possible, the letter wrote, members should seek written guidance and clear statements of policy as they relate to SB 266's impact on their curriculum, shared governance, classroom management, student and faculty speech, right to associate with campus and community groups, and more.
They advise faculty to press their administrators for written directives before making any changes to their working conditions, and then to share those directives with their local UFF leadership.
Comply Now, Grieve Later
They also instruct faculty to "comply now, grieve later" in the case they are instructed to change their syllabi, cancel classes, censor their speech, "or otherwise take actions in response to SB 266 that you believe are discriminatory, unconstitutional, or against the terms of the local collective bargaining agreement."
However, it's important that faculty members do not refuse orders from their administrators, but instead they should comply and then document conversations with administrators and contact local UFF leaderships to ask for assistance with the next steps. 
Demand Weingarten Rights
The letter also reminds faculty of their Weingarten Rights, meaning union members have the right to union representation in a disciplinary meeting. 
To assert Weingarten Rights, faculty members must state that they demand such rights and then contact their local UFF leadership, who will then assign the faculty member with a union representative to attend the meeting. 
Get Involved
Finally, the letter encourages members to get involved. 
"The larger our membership and the more engaged our leadership, the more power we have to change Florida for the better and to ensure the rights of all members of the higher education community, no matter their backgrounds, beliefs, or politics."
The union also suggests to members who are unsure how to get involved in local or statewide actions to email [email protected] with their name, local institution and what kinds of action they would like to help with.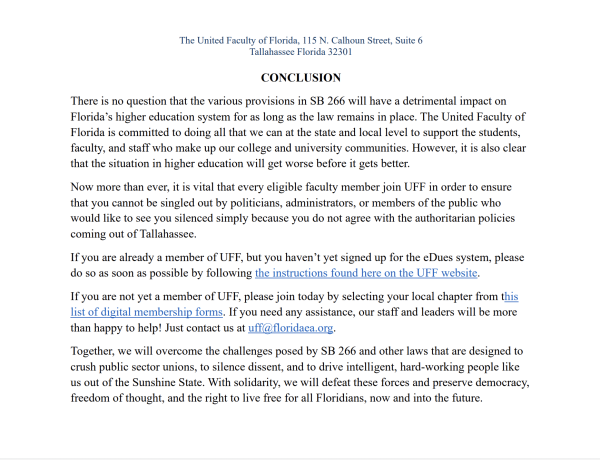 UFF first asserted their commitment to supporting faculty and faculty unions, and expressed their mission in the letter.
"The United Faculty of Florida believes unequivocally in honesty in education. Faculty have the right to teach the full range of available viewpoints, with universities and colleges serving as unhindered spaces for inquiry, debate, and knowledge production," wrote Andrew Gothard, president of UFF. 
___
For more information or news tips, or if you see an error in this story or have any compliments or concerns, contact [email protected].