UNF loses twice to Ohio State at Classic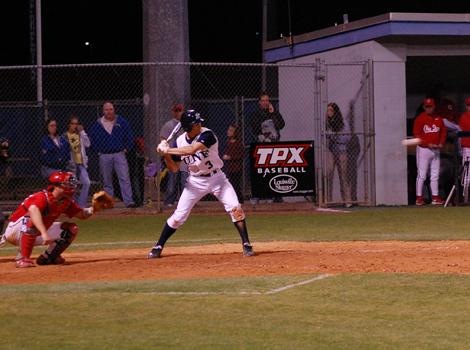 The UNF baseball team went 1-3 in the 2009 Kennel Club Classic Feb. 27-March 1. The only team the Ospreys defeated was George Mason University.
In the first match, UNF lost to Ohio State University 11-6. UNF slammed 13 hits, including four home runs, but it wasn't enough to overpower Ohio State. Junior outfielder Preston Hale grabbed the game-high ranking with four hits that included a double.
"We didn't do as good as we wanted to in the tournament," UNF head coach Dusty Rhodes said. "We had a few guys injured and a few out for the season that we could have used."
Sophomore outfielder Michael Smith fired up the fans by crushing a two-run homer in the bottom of the second to tie the score at two points.
Ohio State (4-0) gave UNF a tough time in the beginning of the third inning, putting up four runs including two homers.
All runs were earned because of a pass ball allowing OSU's Michael Stephens to reach the bases.
In the second game UNF lost to Connecticut University 10-2, but not before making defensive errors that cost them the game. Starting off rough against UConn, UNF committed four errors giving UConn the chance to score four runs against us.
Junior pitcher John Atteo picked up the loss after allowing five runs on seven hits within three innings.
"We had no good defense throughout the weekend and need to improve on that when we play Florida State next," Rhodes said.
As a team UNF had four total home runs against UConn, including a double.
UConn had only two RBIs, while UConn had nine making it a battle for UNF to come out with a win.
During UNF's second match vs. Ohio State, UNF was never given a chance to redeem themselves losing 8-10.
Redshirt freshman cather Andrew Karmeris smashed out a single down the left field line to drive in much needed points.
The Ospreys had 13 total hits, eight RBIs and eight runs, whereas the Buckeyes made 13 total hits, nine RBIs and 10 runs.
"It's still early in the year, and we still have time to improve on our game," Rhodes said.
Nearing the end of the Classic, UNF defeated George Mason 15-11, in a game where hits where what put UNF over the top.
UNF knocked out a season-high of 18 hits and 14 RBIs.
Senior pitcher John Frawley picked up the win after tossing a solid seven innings in which he allowed only five runs. Frawley struck out five hitters scattering 10 hits in his second career win.
UNF will return in action at 6 p.m. March 4, as they travel to Tallahassee to take on No. 5 Florida State. The game will be broadcast live on WBOB-AM 1320 in Jacksonville.
E-mail Heather Furey at [email protected].