Momma always said: "Money doesn't grow on trees"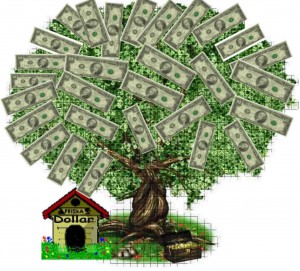 As with every political issue, it seems Florida college students' futures are stuck in a battle between bi-partisan Senate lines.
Comforting, right?
Both sides offered solutions on how to pay off the $60-million loan subsidy May 24, according to the Washington Post. But with different ideas on the matter, each solution was just shy of a 60-vote minimum in order to be passed.
Unless the two sides come to terms, we will be seeing loan rates double from 3.4 to 6.8 percent starting July 1.
Democrats offered a simple answer: close a loophole that allows some professionals making about $250,000 per year to skip certain taxes.
Republicans said we should discontinue the Prevention and Public Health Fund, which they compared to a slush fund.
Here's why both solutions suck.
First off, isn't skipping out on taxes illegal, anyway? There shouldn't be a loophole for them to use. Senators should reason, "What you're doing isn't right. You're stealing from the government, so stop doing it."
And then there's the option to close the health care fund because people don't need the aid. Bullshit.
Pooling together all the money Jacksonville has dished out lately is enough to put a dent in the debt.
Take this public hot topic, for instance.
The new Duval County Courthouse costs $350 million with an additional cost of $340,000 to move into the new building, according to First Coast News. But it failed several safety tests, was deemed uninhabitable until further notice, and now the city is moving once again, back into the old building.
The cost of the new courthouse and initial move would pay tuition for more than 175,000 in-state, full-time UNF students for the upcoming Fall semester. That doesn't include the costs for moving back to the old courthouse, renting furniture and dealing with a pesticide problem.
Gov. Rick Scott's Blue Ribbon Task Force, aimed at higher education reform, met for the first time two weeks ago via conference call. UNF President John Delaney was in attendance.
"It's very hard to do any strategic planning with absolutely no idea if your budget is going up or down," Delaney said, according to the Miami Herald.
And he's right — well, obviously.
Although the heated discussion has been on how to keep higher education affordable and what to do about loan deficits, the answer seems to be right in front of their faces.
Don't take the money away from programs — just stop spending it so frivolously.
This is a department in which I'm sure any struggling college student could offer financial advice.