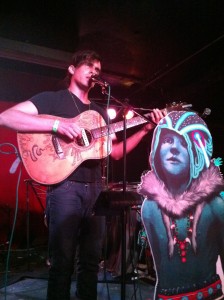 "A tapestry of humanism," as professed by Morgan Sorne himself, SORNE's album House of Stone encapsulates the most primal facets of mankind: envy, hatred, frustration, disgrace, passion, despair. The tap runs free on human nature's most animalistic qualities throughout Sorne's elaborate tale, which revolves around a family of five siblings reeling in the wake of the death of their powerful and abusive father. All of the band's tribally influenced work, from Morgan's wood-paint and sketch art to their 20-minute film Children of the Black Mountain, which premiered at SXSW earlier this year, reflects a sinister side of humanity, a side in which blood lust, rape, and deception run rampant. SORNE is born of a world of conflict, the embodiment of Thomas Hobbes' State of Nature.
Opening this night of sweat and dirt were the cosmic jams of progressive rock band Milo. In a similar vein to The Mars Volta, these Jacksonville locals pummeled through several melodic maelstroms of splashing drums and technical guitar work.
The newly reunited acoustic duo Maugli, joined by the drumming of Josh Wessolowski of fellow local gems Sea Cycles and Fainted Paces, followed Milo soon after. The group's mysterious folk songs, a clever seesaw between the resolute and the dissonant, set a tense and eerie tone in the quiet room.
The three members of SORNE took to the stage after Maugli, wearing clothes trimmed in golden folk art and flanked by standing prints of the five blue children around which House of Stone's narrative revolves. Looking sullen and contemplative before taking the stage, singer Morgan Sorne channeled the spirit of a wild animal as soon as the first beats of "Overtones" began. He soon became a frightful spectacle, a beast drenched in sweat, succumbing to spontaneous fits of shuddering and shouting.
Assembled by the poly-rhythmic drumming of Dean Cote and the fuzzy, saturated sampling of Kevin Naquin, most tracks were highly percussive, frequently using 5/4 and other asymmetrical rhythms. Playing through the songs of House of Stone mostly in order, their set mirrored the narrative arc of the album, with all the punch of its highs and the bitter depths of its lows.
After SORNE finished, Jacksonville's very own Wavefunctions performed, celebrating the birthday of their singer Ryan Turk. A multifaceted and talented group of several friends, the post-punk septet closed out a night at Jackrabbits that was nasty, brutish, and far too short.