'Adventureland' proves to be wild ride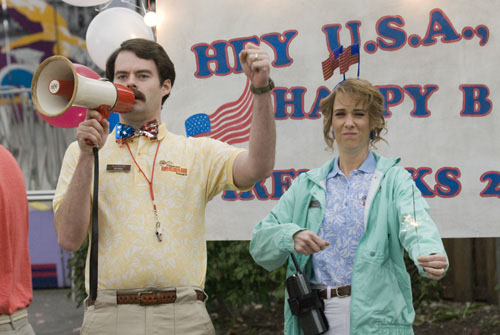 "Adventureland" is a brilliantly ordinary film that takes its setting circa 1987 and uses a series of shamelessly awkward moments to depict the life of young adults trying to make it on their own.
The movie centers on a young man named James Brennan (Jesse Eisenberg) who, upon graduating from college, comes to find out his father has been demoted and is no longer able to pay for his graduation trip to Amsterdam or his future dreams of living in New York to attend school.
When he and his family move back to their hometown, Brennan is forced to get a job at the local theme park, Adventureland, with a childhood friend, Tommy Frigo (Matt Bush), who, in a comical manner, relentlessly punches him in the privates every chance he gets.
Brennan befriends multiple co-workers relatively early by being the "baby joint" provider.
He sparks a love interest with Em Lewin (Kristen Stewart), a down-to-earth rebel, and finds a mentor in Mike Connell (Ryan Reynolds), the 30-something-year-old maintenance guy whom everyone admires.
A love triangle develops early on in this threesome, and Brennan falls in love with Lewin while oblivious of her continuing affair with Connell, a married man.
While Stewart's character is not much different than most of her previous roles, a shy and intriguing female to the lead male, Reynolds makes a complete turnaround from the comic relief to the low-life womanizing cheater who is notorious for preying on the young. Reynolds is more than successful with pulling off this kind of character and is more and more despicable as the film progresses.
Between the awkward and passionate moments throughout the film, there are plenty of side-splitting hilarious moments provided by a handful of the co-workers. James' boss, Bobby (Bill Hader), is probably one of the funniest members of the Adventureland team.
Bobby's main focus at the theme park is to cut as many corners as he can. He does this by rigging the games and never giving away the giant, over-stuffed panda bears as a prize. Both he and his wife Paulette (Kristin Wiig) are "SNL" cast members and cause much laughter throughout the film.
Perhaps the best thing about this movie is the way such a mundane and monotonous setting creates a perfect atmosphere for provocatively truthful insights to complications and awkwardness in new relationships and situations.
Although in watching this film one has to endure a lot of weird moments and dialogue, this only adds to the film's charming honesty.
E-mail Jackie Lerch at [email protected]