Weekend accident claims student's life, injures another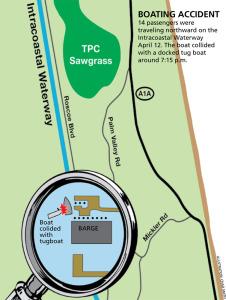 One student died and another was seriously injured in a boating accident April 12 in St. Johns County.
The 22-foot Crownline boat that carried 14 people collided into a 25-foot tugboat knotted to a dock in Palm Valley, according to a press release by the Florida Fish and Wildlife Conservation Commission, which is running the investigation of the accident.
There were five casualties and nine injured in the accident.
Family and friends now mourn the death of Elisabeth Rosenfeld, 20, a junior Fine Arts major at UNF with a concentration in painting and drawing.
UNF junior sport management major Karey Rae Cavicchioli, 19, was injured and transported to Shands Jacksonville.
Cavicchioli's condition was fair April 14, her mother Kathy said. Her injuries include broken bones and lacerations, according to a Florida Times-Union report.
Of the injuries, Kathy said the family was "working through them as best as we can."
The family will find out when Cavicchioli will be released sometime April 15. Her current classes, finals and grades for the spring 2009 semester will be handled directly with the College of Education and Human Services, Kathy said.
Rosenfeld did not take any classes in the art department this semester but did previously take introductory art classes and art appreciation, said Deborah Murphy, chairwoman of Art and Design.
Upon hearing of Rosenfeld's death, Murphy let the department's faculty know of the news and plans to offer condolences to the victim's family sometime later this week, she said.
The Counseling Center found out about the incident mid-morning April 14 and made grief counseling available immediately, which was utilized by at least one student when a counselor voluntarily escorted a male student to Building 2, room 2068 for support. He personally knew Rosenfeld and was distraught, Murphy said.
"[Rosenfeld] was at the beginning of her career," Murphy said. "She had great potential that was cut short. We're all horrified and our hearts go out to the families."
Everyone has to deal with grief sometime in life and having someone to talk to about it is key, said Terry Dinuzzo, director of the Counseling Center.
She spoke with the Cavicchioli family April 14 and plans to make contact with the Rosenfeld family sometime this week.
"We're all a family here," Dinuzzo said.
Rosenfeld enjoyed painting, drawing, making beaded necklaces, writing, reading, playing basketball, laughing and being in the sun and with her friends and family, her older sister Samantha said.
"She loved everything, so to just pick one thing wasn't going to be her style," she said.
"She just loved to let her mind be free."
Rosenfeld's involvement on campus began in childhood, as she attended basketball camp at UNF for years. She was a member of the varsity team at Nease High School, and though she stopped playing in college, her love for the sport never faded, Samantha said.
"She was a pistol and that didn't stop when she left the court," she said. "She was probably the smallest one on the court and took on the biggest."
When asked how the accident could affect or inspire the student body, she offered closing advice.
"Seize every dream that you ever have. Live each moment to the fullest," her sister said. "Laugh at everything and live like you've never lived before."
E-mail Rebecca McKinnon at [email protected]