The Spinnaker's guide to Jacksonville's haunted houses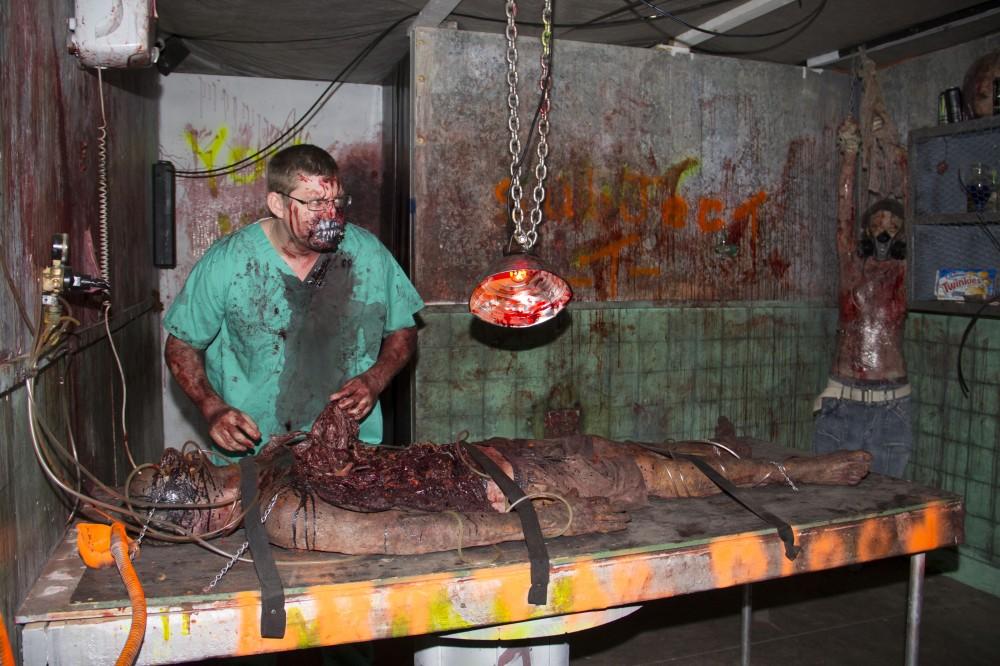 By Dargan Thompson and Jason Howard, Features Editor and Staff Reporter
With just a week left until Halloween, it's your last chance to get your scare on. The Spinnaker visited three haunted houses in the Jacksonville area to help you decide where you want to spend your screams this season.
Location: Adventure Landing 1944 Beach Blvd.
Cost: $17.99 for both houses
Step outside the bright, cheery arcade inside Adventure Landing, and you'll hear screams emanating from Haunt Nights' haunted houses.
The first one takes place within the darkness of the laser tag course, where black lights give an eerie feel to the paint-splattered maze. It is in 3D, which means guests wear glasses that obscure their view even more than the dark already does. Themed "Apocalyptia," it features strange creatures splattered with neon paint that pop out from behind curtains and corners.
The second house, called "Dark Fables," has creepy versions of fairy tale characters who taunt guests as they wind their way through the narrow passages. A few scare actors, including maniacal clowns, roam into the line outside of the house to invite the guests in.
Dan Faupel, operations manager of Haunt Nights, said on any given night there are about 50 or 60 people staffing the event. He said the staff goes to great lengths with the casting to make sure the right people are set up in the right spots.
"We try to put really high energy people in the spots where they have to run around a lot, and people that aren't as high energy, we'll put them in spots where they just have to pop out and then quickly disappear out of view," he said.
With scares that come more from the element of surprise than from particularly disturbing scenes or costuming, Haunt Nights is a fairly family friendly attraction, which makes it fun for those who may not be big haunted house enthusiasts.
Location: 11740 San Jose Boulevard
Cost: $19 Thursday and Sunday, $25 Friday and Saturday
Or $40 for a combo ticket with Warehouse 31
At Night Terrors, the bumps in the night do not stop till you have left the final maze. With at least 20 scare actors per house, there is no safe corner to turn.
Night Terrors begins with "Outbreak," where guests enter the zombie-infested corridors of the Jacksonville metropolitan area, traversing trap-filled territory and frightful special effects until they must spill out before the second haunt.
The next challenge, "Madhouse," is designed to resemble the legendary haunted downtown landmark, abandoned Public School No. 4. Patients induced with torture and electro-shock therapy play games with the guests who make their way through the maze. Interesting obstacles and pitch-black chambers along with contortionist nurses lead guests to the final haunt.
"The Vacancy" kicks off with a doorman welcoming guests into a lobby with rumbling chainsaws and insists they make their stay. This cannibalistic hostel forces victims though frightfully interactive chambers and perception-altering living rooms tilted about 30 degrees up, throwing off guests' balance. Claustrophobic gateways and a creature the scare actors affectionately call "Fluffy," finish out the adventure.
The two months of horror at Night Terrors is a yearlong project where refurbishment and film-quality sets are designed to maximize realism and scares.
Barry Adaska, casting director at Night Terrors, said a week after the season ends, the crew begins tearing down. Planning and design for updates starts about nine months before the next season, he said.
"We're always trying to stay innovative and ahead of the curve," Adaska said.
The interactive obstacles and chill-inducing sets house nearly 50 scare actors. Every haunt is wheelchair accessible and Night Terrors welcomes any guest ready to have a night of certain terror.
Location: 225 W Davis Industrial Dr. Saint Augustine
Cost: $20, buy one get one selected nights
True to it's name, Warehouse 31 is located in an actual warehouse on the outskirts of St. Augustine. The location lends an added air of anticipation, as you have to drive down a long wooded road to get there.
The first house, "Vertigo," is disorienting, with strobe lights, pumping music, and characters who blend in with the intricately painted black and white walls. It's over quickly, and guests are left feeling like they just went through the set of a music video for a strange electronica song.
The aptly named "3D Clown Nightmare" is just what it sounds like. Guests are handed a pair of 3D glasses as they enter the garishly painted maze. If the abrasive colors aren't enough to make guests dizzy, a rotating tunnel makes it difficult to walk in a straight line. Clowns pop out from behind corners and curtains, and a loud surprise at the end gives an added adrenaline rush before exiting.
The longest house by far, "Rigamortis" is a hodgepodge of nightmares, featuring everything from lunatics to scary dolls to a robotic dinosaur head. Starting with a library that resembles the Haunted Mansion ride at Disney World, "Rigamortis" opens into a graveyard. Guests are led through a maze of fantastically designed sets that play all the senses. Along with strategically placed strobe lights and dark rooms, some of the areas even have the smells to accompany the sights, making the effect all the more terrifying.
Kelsey Flynn, Warehouse 31's social media director, said the staff comes up with the themes based on what they think will scare people and what scares them personally. There are about 75 people working the event, and they do their best to make the experience great for every customer.
"It's really intense and scary," Flynn said. "They really take time to do makeup and make sure all the props work and everything's very scary for the customers."
Email Dargan Thompson or Jason Howard at [email protected]com