Electronic dance trio Corporate Slackrs shares stories of its recent success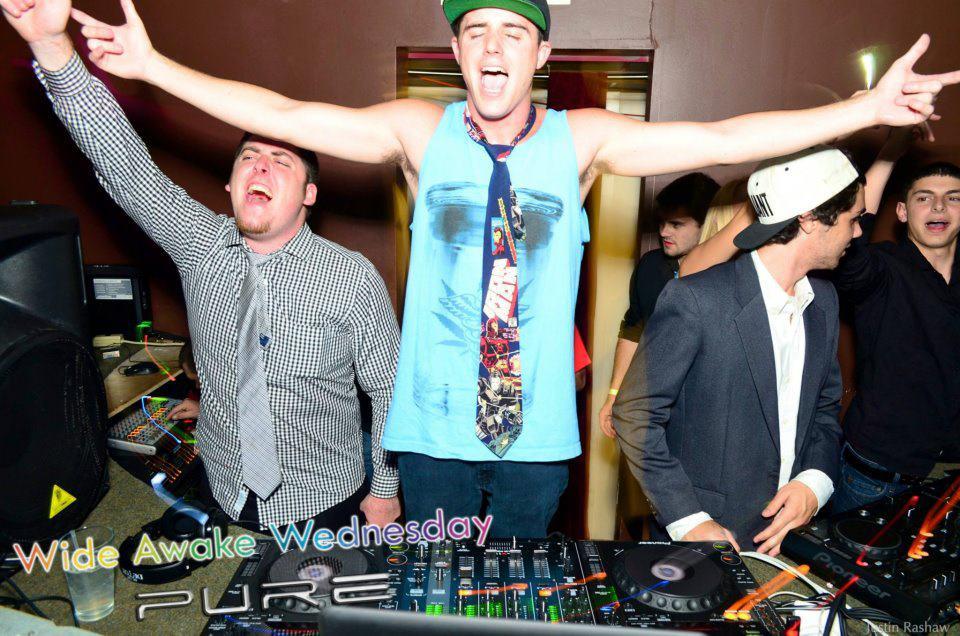 The room was covered in black soundproofing material and the desk was piled with electronic devices. The faint glow from the computer screen and LEDs provided the only illumination in an otherwise dimly lit room.
There was a seemingly endless stream of wires and chords coursing their way across the room where the members of Corporate Slackrs used their instruments to manipulate the band's distinct sound.
"Corporate Slackrs' goal is to be that group where you can go party with your parents," said AJ Ironman, the group's DJ. "Our track list and set goes from old school hip-hop to 90s rock but has a consistent [electronic dance music] style. I like for people to always wonder what we're going to play next."
The group finds success in the unique trio of Ironman, the DJ, Sean Reilly, the graphic designer and Devin Meadow, the MC. All three of the Slackrs help produce the group's original tracks.
Corporate Slackrs formed in the spring of 2012, but the group has already started its rise to success, opening for acts such as Porter Robinson, Calvin Harris and Steve Aoki.
One of the group's more successful tracks, "Warp 1.9 Corporate Slackers Trap Remix," was recently picked up by the electronic dance music group Bingo Players and has been played throughout the country at various venues.
Meadow, a networking & telecommunications management senior at FSCJ, and Reilly, a marketing and advertising junior at FSCJ, said the most memorable thing that has happened to the Corporate Slackrs since forming was playing in front of 3,000 people at a Steve Aoki show.
"When I saw 3,000 people looking me in the face at Steve Aoki I couldn't believe it," Reilly said. "I had to keep pinching myself to make sure I wasn't in a dream world. I never thought that something I started in my bedroom would put me into that position."
In recent months, the trio has signed with Steve Aoki's record company, Dim Mak Records, to produce official remixes. Meadow said being signed shows that all of the group's hard work is starting to pay off.
"To someone like myself, who started this whole music thing as a side hobby, what we have done in this short time span is huge," Meadows said.
Electronic dance music, or EDM, was the highest growing genre in the U.S. in terms of album sales last year.
Billboard.com said in 2011, Electric Daisy Carnival and Ultra Music Festival drew a combined 380,000 attendees. This startling number bested all former attendance records for EDM festivals.
With the recent explosion of popularity, many EDM fans have decided to try their luck and become DJs or producers in the scene.
Ironman said he began DJing about two years ago, mixing tracks during his first year of college in his UNF dorm room in the Crossings. He said it was more of a hobby or pastime than a full-blown career.
"One Christmas I just asked my dad for a controller deck," Ironman said. "He was like, 'I'm not going to get you something too expensive.' I had to prove to him that I was going to make money first."
Meadow, nicknamed "Corporate" by Ironman, the MC of the trio, had been producing hip-hop tracks for about four years before meeting Ironman through shows at Freebird Live during the summer of 2011.
From there, the pair began to combine their unique blend of distinct sounds until the last piece of the puzzle was found in Reilly.
While sitting on the couch one day, Ironman came up with the group's name after combining Meadow's nickname "Corporate" with Ironman's personality, "slacker."
Ironman said the key to being a successful artist lies not only in having self-confidence, but confidence in your music.
"If someone says I suck, I'm going to do everything in my power to prove that person wrong. I have to prove that I'm the truth," Ironman said.
Ironman said his favorite thing about being a DJ is the fans, the reputation, and being able to create his own music.
"Being able to hear my set, and imagining how people react, and then playing it and they react the way I want them to its like, 'Yes.' That's how I know I'm doing it right. That's definitely the part I love about it the most," he said.
Email Zach Sweat at [email protected]