The latest installment in the BioShock series departs from the 1960s undersea city of rapture in favor of a more vertigo inducing locale.
Set in 1912, BioShock: Infinite puts the player in the role of a new character by the name of Booker Dewitt. Dewitt, a former Pinkerton agent, is sent by his employers to the city Columbia, a city floating in the sky, to retrieve a mysterious girl named Elizabeth in order to pay off his gambling debts.
When he arrives in Columbia, Booker finds the city is a technologically advanced society that seems to have a utopia which reflects the American dream — for white people, anyway, who live in comfort and happiness while the city's minorities slave away in the factories and squalor.
Civil war is brewing between the underclasses and the elite, and Booker gets Elizabeth out of the city before all hell breaks loose. Little does he know, something far more sinister is on the horizon involving the city's crazed religious leader, Father Comstock, and a dark power wielded by Elizabeth that could spell destruction for them all.
The story, setting and characters of BioShock: Infinite reflect the darker side of the late 1890's and early 1900's idea of "American exceptionalism." Xenophobia, racism, and anti-immigration appear throughout the game.
Sometimes they are subtle — a racially segregated bathroom here, a pro-white poster there. Other times it's much more in-your-face, like when Booker relives his past once he and Elizabeth stumble upon a museum glorifying two bloodbaths Dewitt witnessed: the Indian massacre at Wounded Knee in 1890 and the 1899 Chinese Boxer Rebellion.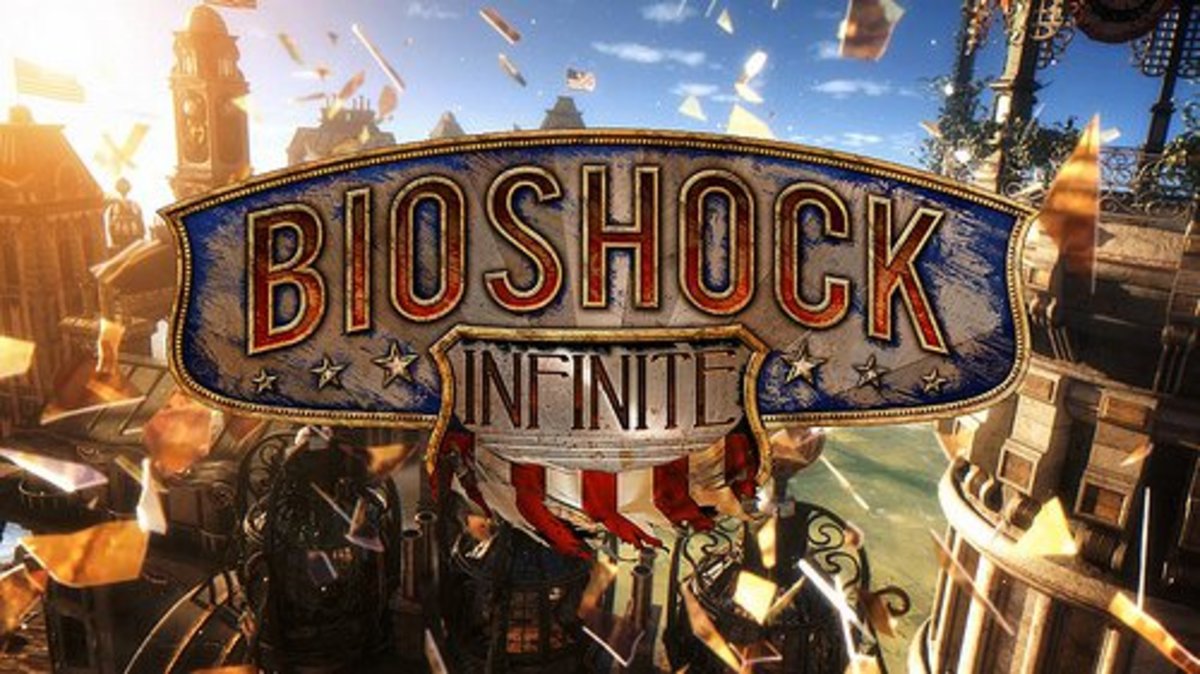 Booker has taken these events, along with the death of his family, as burdens for years now, causing him to become an alcoholic and costing him his job and his money. However, when he meets Elizabeth, he gains a new purpose in life.
Not only does her warm, joyful personality give him hope, but they are able to form a special bond as both have become outcasts of their respective societies. The leaders of Columbia may seek to harness her power, but they ultimately fear her abilities which is why they keep her locked up 24/7.
BioShock: Infinite shares similarities to its predecessors and brings some new features to the table. The core gameplay is gunplay, which is as frenetic and adrenaline pumping as ever as you fight a variety of lethal opponents.
The sword-wielding KKK dudes can turn into a swarm of crows; heavy troopers soak up enormous amounts of damage; mechanical George Washingtons are equipped with gatling guns; firemen will burn you to a crisp; flying robots have machine guns; and "Handymen," who are 10-foot metal cyborgs, will rip apart anyone who gets in their way.
To combat these threats, the player is equipped with an arsenal of firepower, which has an industrial, steampunk aesthetic. Like BioShock 1 the player is has a variety of elemental abilities that allows you to cast fire, water, mind-control, electricity, etc. All the enemies are vulnerable to fire, except for one that has a fireproof suit of armor, so you can pour your upgrade points into fire and barbecue your opponents.
There are two new gameplay features. The first is the city's rail-system that allows for quickly traversing certain sections of the game. It's important to note that this mode is not for anyone who's afraid of heights or has a weak stomach, since you travel by twisting and turning at high speeds while dangling thousands of feet up in the stratosphere. Second is your companion Elizabeth, who assists the player; unlike previous installments where the player was on their own.

In combat, Elizabeth will scavenge the area for supplies, like medical kits and ammo, while out of combat she can pick locks on doors and safes. She also has the ability to tear open the fabric of reality to bring objects, such as turrets and cover from parallel dimensions to assist you in combat. Best of all, she can never die and the enemies won't try to kill her because they're under orders to capture her alive.
Developer Irrational Games has been pushing the boundaries of video game storytelling since their critically acclaimed hit System Shock 2. BioShock: Infinite is an action packed roller coaster ride from start to finish with deep social commentary and mind-bending science fiction elements.
5 out 5 stars