Return to the frozen tundra of EDN III in Lost Planet 3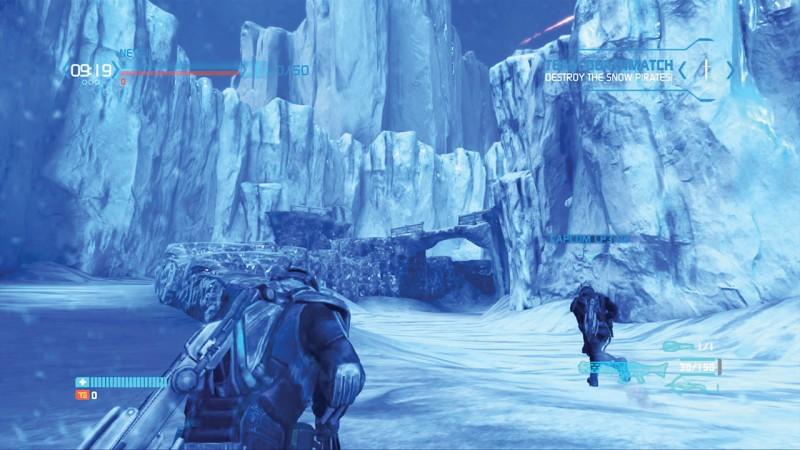 While I was playing Lost Planet 3, chills ran throughout my body. The game takes place in an arctic environment and even though I played it from the comfort of my non-arctic air-conditioned room, I was so immersed in the game that it felt like the A/C dropped 30 degrees.
Lost Planet 3, a prequel to the game's first two installments, takes place in the futuristic snowy world of EDN III. The player follows engineer Jim Peyton, who has come to the planet to find work for his family. Peyton is assigned to the planet's main colony, which has been set up to harvest a new renewable resource to help with the energy crisis back on Earth. At the start of the game, Peyton's work schedule consists of dealing with the base's mechanical issues and fending off ferocious Akrids, the planet's indigenous species. However, as the story progresses, Peyton discovers the local wildlife is the least of his concerns. Dark secrets are revealed about the mysterious NEVEC Corporation, which runs the operation.
Lost Planet 3 has managed to take a step forward while also taking a step back. Both the characters and the writing are significantly better than in the previous two games. While Lost Planet 1 and Lost Planet 2 suffered from confusing plots, Lost Planet 3 has a straightforward story and a protagonist with a convincing character arc. Also, many of the bugs and glitches that had previously brought down its two predecessors have been ironed out in this game.
On the other hand, the gameplay in Lost Planet 3 has been reworked in a way that is similar to Gears of War. The previous games had fast-paced, adrenaline-pumping action with epic-scale boss battles that made the gamer feel like they were fighting titans, but Lost Planet 3's gameplay is more sluggish and introduces third-person, cover-to-cover based shooting. Game makers already tried introducing this with Resident Evil 6, and we all know how much of a mess that turned out to be.
The grappling hook returns once again, but the player's opportunities to use it are fewer in number. The guns and explosives also seem less powerful than they did before. The graphics engine has also been changed. The environments are noteworthy like before, but their variation isn't as visually broad as either of the first two games. While the game is still visually engaging, the battles have nowhere near the cinematic look they previously had.
Lost Planet 3 is a decent shooter game. At the same time, it has fallen victim to the gaming business, which tries to please everyone. By doing so, this game produces another mediocre experience.
3 out of 5 stars
Contact Daniel Woodhouse
[email protected]