Reported armed robbery near campus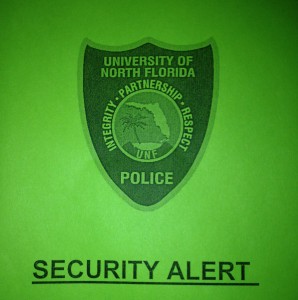 Three students reported being robbed on the morning of Oct. 20, as the students were traveling towards the Osprey Fountains dorms.
The victims were approached in the area of Kernan Blvd. and First Coast Technology Parkway by what they described as a white, blonde female who stood about 5-foot-3 and wore a green hooded sweatshirt and jeans. According to UPD's report, she was possibly armed with a handgun.
The students told UPD the suspect demanded money and they were forced to comply. After the robbery, the suspect escaped on foot, heading south on Kernan.
Any news or information relating to the case should be directed to the UPD through the telephone number (904) 620-2800.
Email Cameron Czerkiewicz at [email protected]