Time slots, mandatory requirements and lack of refunds have some students wondering why meal plans at University of North Florida are so strict. Some students want to know why they can't get a refund on the cheeseburger they didn't get to eat at lunch.
At Osprey Cafe, students can enjoy a variety of foods offered to them just steps away from their classrooms. However, some students aren't fond of some of the rules that go hand-in-hand with meal plans, especially when plans cost between $1,600 and $2,000 a semester.
"I think they make good attempts to try and provide student nutrition for the student body. However, I think a lot of the policies and procedures they go about aren't effective," said Ryan Sheppard, political science freshman.
Abbie Bernet, international studies and Spanish freshman, said, "It's inconvenient the way you can only buy things at certain times and if I go for lunch, there's four hours where I can't use my meal plan. If I get hungry again, I have to wait or I have to use my dining dollars."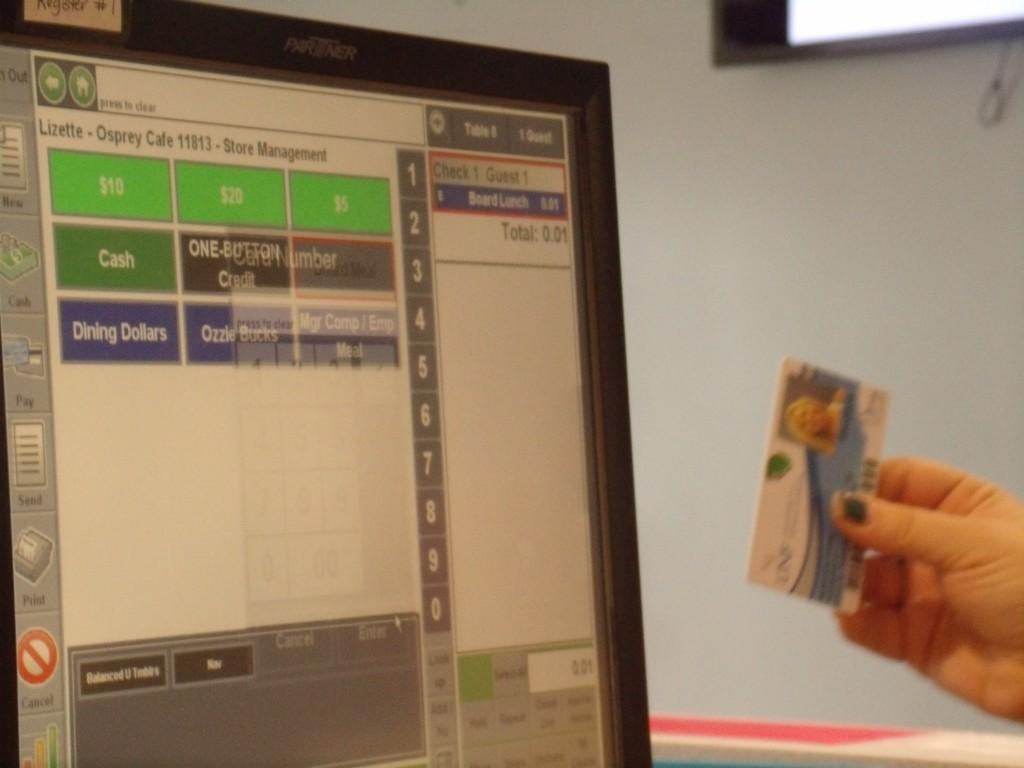 Students are required to follow time slots in order to receive their meals in the café. If they are unable to make it within the time slot, they can rely on the $4.25 in dining dollars they can use at other spots on campus.
Chartwells is the company UNF works with to provide students with a variety of dining options on campus. David Jordan, Chartwells resident district manager, said time slots aren't a Chartwells' policy, but a UNF one.
"The simple reason is that some students were buying meals for others with their meal plans and running out of meals each week. This was upsetting parents as they expected their student to have enough meals to last the week," said Jordan.
The $4.25 is the monetary value of using a meal. It is part of the contract UNF negotiated with Chartwells in 2002 to work with students' busy schedules.
"The intent was to provide each member with the option of being able to purchase a snack when they didn't want to eat a full meal.  This way, instead of missing and losing a meal it could be used to purchase something if the student was in hurry or running late," said Jordan.
Using the meal credits counts as a full meal for students with weekly meal plans. Students also have the option to use dining dollars to pay for food. Any unused dining dollars do not roll over to the next semester. Unused dining dollars are not refunded.
"That's $300 down the tube if I don't use it. I'll probably end up buying soda and chips at the end of the semester and stocking up because I don't want the money to go to waste," Bernet said.
Although other state colleges like University of Florida and Florida State University allow student dining dollars to carry over into the next semester, meal plans at UNF are non-refundable.
Jordan said budgeting prevents refunds. He said if a student agrees to a meal plan for 10 meals a week, Chartwells has to purchase, provide and prepare the food. Money was put into providing the student with the option to eat, regardless of whether the meal is eaten or not.
Not all students are dissatisfied with meal plan policies. Students like biology junior Marisa Beasley aren't bothered by time slots and lack of refunds. She said, "I didn't have a problem with it because my times worked out fine. I had the lowest meal plan, 10 plans a week, so I would go for lunch and dinner."
Bernet said, "I would have gotten [a meal plan] regardless because otherwise I would have been starving to death and malnourished. I'd only be eating Ramen noodles. I'm forced to go to the café because I have a meal plan or I have a meal left, so I know I might as well go."
Chartwells has teamed with UNF to produce selections on campus for students looking beyond the average hamburger. For freshman on campus, having the café at their back door is convenient.