As national student debt increases, so does the UNF athletic fee.
An Experian study from September 2014 found that national student loan debt increased by 84 percent, surpassing $1 trillion during the recession (2008 to 2014).
Meanwhile UNF's athletic fee increased every year since fiscal year 2006-2007, after the university began its transition to NCAA Division I classification.
Of the seven local fees UNF students paid for fiscal year 2014-2015, the most expensive was the athletic fee at $18.83 per credit hour, 43 percent of UNF's $43.55 local fees.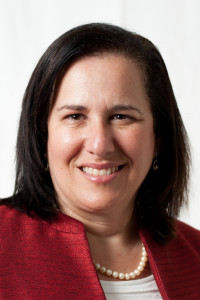 The allocation of local and additional fee funds is determined by the Student Fee Assessment Committee (SFAC) every year. The SFAC is made up of 9 members, with Vice President of Administration and Finance Shari Shuman as the current chair.
Every year, SFAC assesses the student fee and recommends changes to UNF President John Delaney if needed, based on enrollment numbers. The 2014-2015 school year projected low enrollment numbers for UNF, and SFAC had 48 cents per credit hour of unallocated department needs for 2015-2016.
During SFAC presentations last November, only two departments requested fee increases. Athletic Director Lee Moon requested 47 cents from the 48 cents of unallocated money. Counseling Center Director Andrew King also requested an increase to the center's fee of $2.90.
On Dec. 2, the SFAC decided to recommend an increase of 29 cents to the athletic fee, but left the counseling fee unchanged.
"As our fee has increased over the years, so has our revenue," Moon said. "It's a good number because we've increased the student fee, but we have also done our fair share to increase our overall budget by generating revenue streams outside the student fee which lowers the fee."
UNF's student fee is the Counseling Center's only revenue source, according to King.
"The Counseling Center doesn't get state money," King said. "We serve the students and the students pay."
Shuman declined to interview with Spinnaker about last Fall's SFAC decisions, but offered the following statement about the SFAC through an email: "The Student Fee Assessment Committee evaluates student fees and makes a recommendation to the President regarding any increases or decreases."
UNF's athletic fee covered $7,082,459 of the total athletics budget for the 2014-2015 fiscal year, which was 68 percent of UNF athletics' $10,453,430 revenue. In 2009-2010, the student fee covered 81 percent of the budget.
"We're doing our share and growing the revenue stream so it's not all student fees," Moon said.
Revenue streams outside the fee include ticket sales, NCAA and conference distributions, sponsorships and fundraising.
UNF's athletics department determines how it spends revenue within the athletics programs, but it is limited in some aspects such as construction.
For the 2015-2016 school year, the athletic fee will be $19.12 per credit hour. In 2005, UNF transitioned from a Division II school to Division I. Looking forward to Fall 2015, the fee will have increased by 86 percent since UNF became an NCAA Division I school.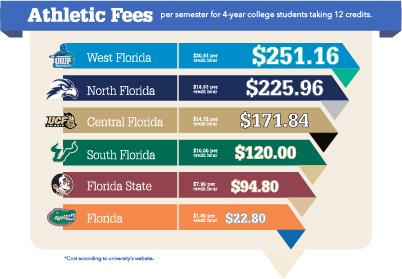 When UNF transitioned from the NCAA's Division II to Division I, the reclassification was not free. UNF's yearly athletic fee was fitted to include a $2.00 fee imposed by the NCAA to facilitate the division change, according to the State University System of Florida's data.
The students support a majority of Osprey sports revenue. While UNF is trying to grow as a legitimate Division I program, the university does not have the same support for athletics like more established schools do.
Students like Henry Bankshaft, communication junior, disagree with the fee increase, even though he believes athletics are important.
"I think the fee should stay the same," Bankshaft said. "If they made it higher, if it made tuition go up, I wouldn't really agree with that."
The current  athletic fee accounts for 43 percent of UNF's local fees, according to UNF's website.
"I feel like 43 percent is overwhelming compared to the amount of students that perform in athletics," Anna Lee Walters, social studies education freshman, said.
UNF students pay the second highest athletic fee in Florida's public university system.
The athletic fee seems high compared to Florida's larger schools. The disparity exists because UNF doesn't have the outside revenue sources that established Division I schools can tap.
Power-conference schools generate millions of dollars from booster clubs, sponsorships or investments which typically stem from having a successful football program.
For example, the University of Florida's (UF) athletic fee per credit hour is $1.90. This fee accounts for just 2 percent of UF's total athletic budget.
UF's athletic fee has maintained this rate since 1992. It is so low because of outside revenue sources, such as booster clubs, ticket sales and Southeastern Conference (SEC) revenue.
Melissa Stuckey, UF's associate athletic director, said the fee is used to supplement women's athletics as well as keep tickets for students at a free or discounted price.
—
For more information or news tips, contact reporter7@unfspinnaker.com; if you see an error in this story or have any compliments or concerns, contact enterprise@unfspinnaker.com.