Artist Profile: Russell Bailey
Russel Bailey is graduating from UNF's sculpture program at the end of this semester. Russell Bailey has been building things since he was a kid. When he was five, he started with a makeshift lawnmower built out of scrap wood and now, at 23, he has moved to building furniture out of metal and wood.
Bailey says he prefers functional artwork like furniture so that, if it doesn't sell, he can use it instead of just letting it sit around.
Although he originally majored in education, Bailey is graduating from UNF's sculpture program at the end of this semester.
Randy Rataj at the The Spinnaker sat down with him Thursday to talk about what inspires his art.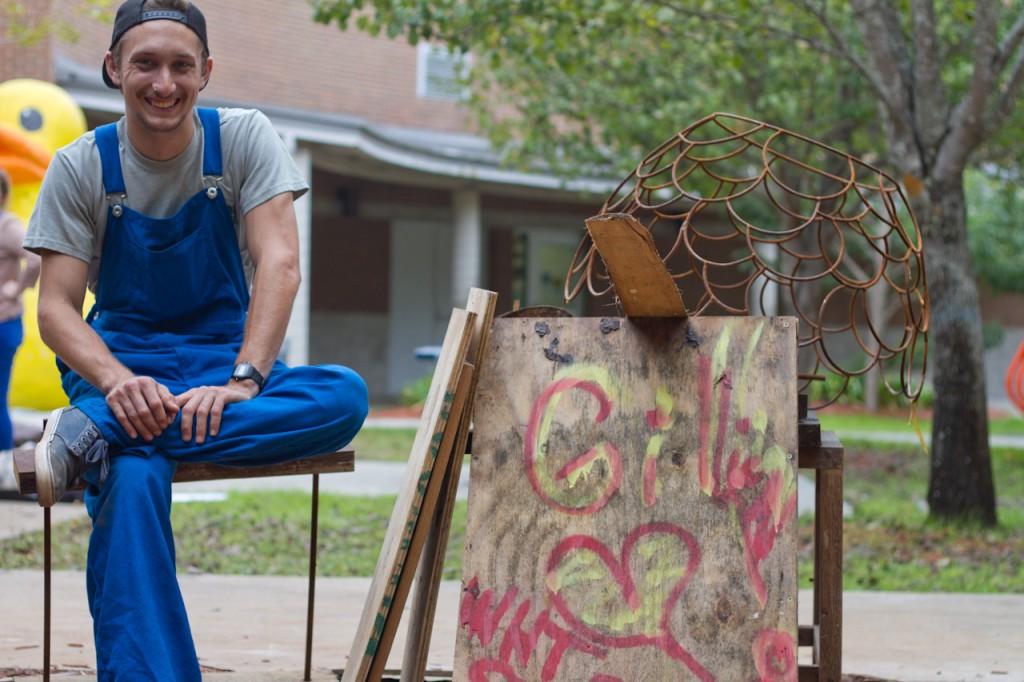 Russell Bailey Q&A
Randy Rataj: Russell, can you tell me about your artwork?
Russell Bailey: It all has to do with the ephemeral quality of not having a specific time or date it's going to last till. If it rusts away, it rusts away; if it stays around, it stays around. It all depends on how it's displayed, where it's displayed. I like to work with my materials… in their original state so they don't lose what they had in their former life before they were turned into a piece…. lots of natural surfaces, either rust or a clear stain or oil on wood.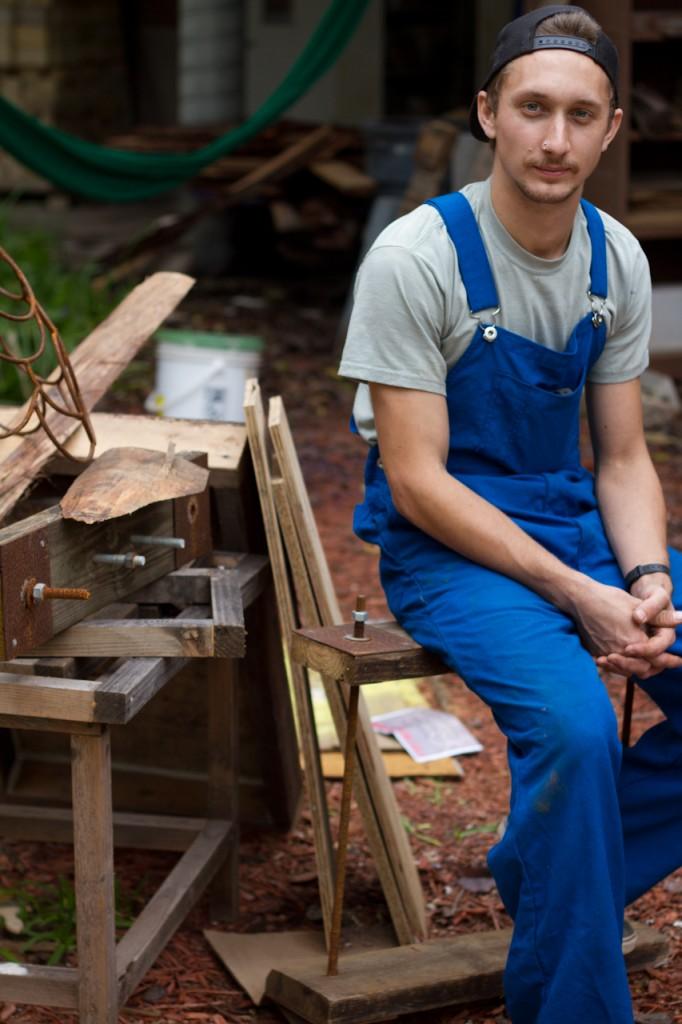 RR: What's the history behind it; how did you start making sculptures?
RB: My dad was a civil engineer; he retired a couple years ago. My mom's always been a woodworker. So I just fell into making stuff. My first piece was all these sheets of plywood that I screwed and nailed together when I was maybe five and I dragged it around the lawn and called it my lawn mower.
RR: What about the process? How do you make the things you make?
RB: In school, everyone wants you to sketch and have these ideas that you lay out on paper before you start to make them. If I work the way I like to work, I start out with an idea and just start cutting and measuring and putting it together. So there is no actual plan that anyone sees before the piece is finished.
RR: Can you talk about building the pieces — welding, cutting, woodworking — any specific processes in that?
RB: Let's say with this [bamboo bike rack] I had this idea that I had to sketch out. It was "take tube steel, flare out the ends." I built a forge with a burner from one of the kilns, heated up the ends to red-hot, took a conical splitting wedge, flared out each end. It took me about three or four days to finish every single flare; then I welded them together. Then I started welding it together and measuring it out so it fit together just right. [This process] took a lot of time, ruined my hands, but they were already ruined before.
RR: Are there any specific artists that inspire you?
RB: Maya Lin — she designed the Vietnam War memorial. She also does a lot of earthworks; she has one outside of a courthouse in Broward County. It's just waves, made out of grass and earth. Pretty cool. She does a lot of topographical work just working from maps and stuff. And then Martin Puryear — he does some very simple pieces, but all the meaning behind them makes them interesting. He does a lot of woodworking and uses hand tools… I like to use hand tools so I kind of mesh with him on that.
RR: You were talking about natural material showing through rust wood. Is there anything other than artists that inspire you, like nature or culture?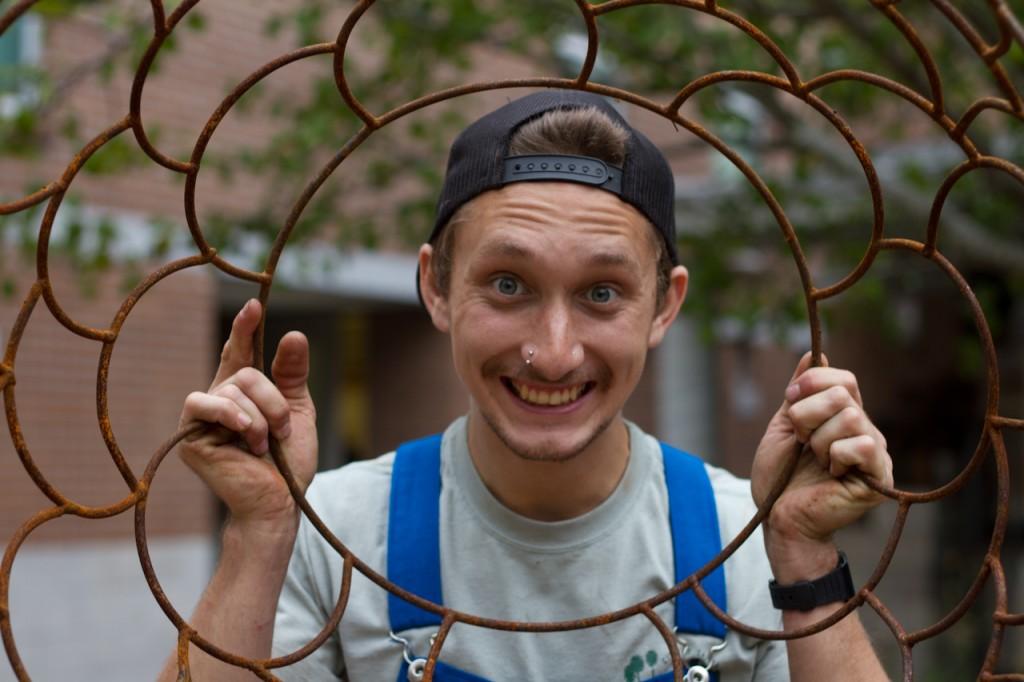 RB: I like controversy… I like making things that people will question. I sent you an image of a bunch of crosses that are turned on their sides. I also like nature… You find form in nature and the forms in nature have no reasons or purpose besides "it is how it is." So the form is the most important thing because without the form it won't be beautiful and if the form's not beautiful, the artwork can't grow and make a statement. Or it can make a statement and it is just terrible.
RR: You are about to graduate and leave the comfort of academia and this courtyard. Where do you see your art going from here?
RB: I'm moving back to Tampa. I have a job at an art studio; I'm going to be teaching ceramics classes. I think I'm going to start working with a lot more ceramics and working in the ceramics medium. [I will] probably invest in a studio space and have a full woodshop and a couple of wheels.
RR: If you're going to work in clay, do you see yourself more making functional pieces like pots and pans or sculptures in clay?
RB: Maybe a little bit of both. I want to start making some of my sculptures out of clay to keep with my same forms. I also want to make more functional things too because if there is no function, I am not too interested.
RR: Where can someone see some Russell Bailey originals, any galleries or installments around town?
RB: My senior show is up at The Cultural Center at Ponte Vedra Beach; it will be up until Nov. 22. This bike rack is going to go somewhere on campus; I'm not quite sure where, but somewhere, and it will be here forever.
RR: You had some pieces up before on the green that you had made out of bamboo.
RB: Yeah, every once in a while I will put something up. I have a piece at The Arboretum up off of Monument, the Jacksonville Arboretum and Gardens.
RR: Are you going to be working with the Zoo Lights Student Projects?
RB: I am, all the pieces in my senior show. I have some organic metals forms that will be going into the Zoo Lights Student Projects.
RR: Let's talk more about making your art. Do you have any rituals when you make things, any music you like to listen to?
RB: As far as music, if I can whistle to it, it keeps me in my groove… the constant whine of music… has to be present. Otherwise, I can't focus.
RR: Would you like to say anything else about your work, any closing statements?
RB: I'm never going to stop working so hopefully there will be more venues to showcase my work.