Fashion on the move at UNF Market Day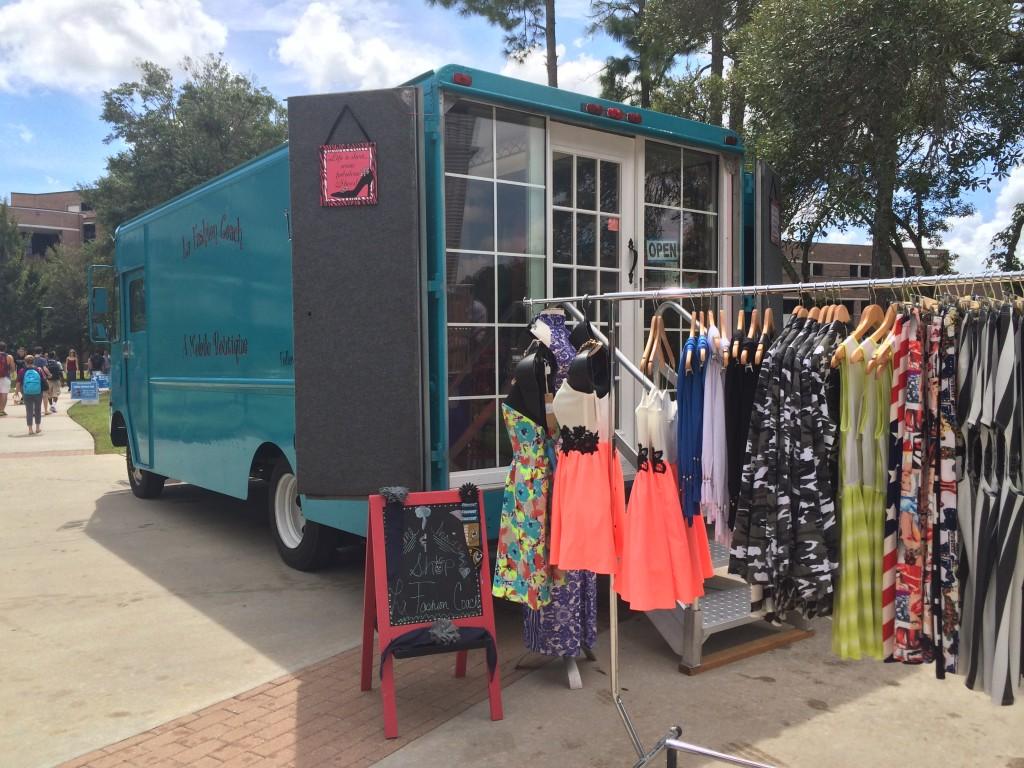 Every Wednesday from 10:00 a.m. – 3:00 p.m., Market Day is held at the Student Union. An eclectic variety of local artists and vendors can be seen throughout Osprey Plaza offering various items for sale, tastings from popular eateries and live entertainment. One Market Day vendor has brought a cutting edge and innovative business to campus: a mobile boutique.
Susanne Radtke is the "professional fashionista" and owner of La Fashion Coach, LLC. Radtke runs a local fashion truck in Jacksonville and has decided to take her business to UNF every Wednesday for Market Days.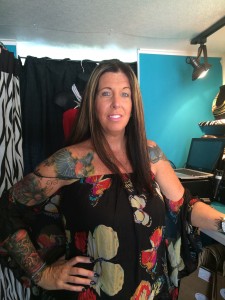 The turquoise La Fashion Coach truck is literally a boutique on wheels. On any Market Day, the whimsical truck can be seen with an outside display of handmade headbands next to a rack full of colorful dresses, tops and bags. The truck's insides have been transformed into a sophisticated mini boutique, complete with shelves of accessories and even a dressing room.

The mobile glamor of La Fashion Coach is what makes it so appealing to many students. "I thought it would be a great way to reach the students," Radtke said. "I know a lot of them can't get out and get off campus to do a lot of shopping." In addition to unique clothing and jewelry, La Fashion Coach offers signature headbands and coin purses that are made locally by one of Radtke's friends.

Having a fashion truck is fairly new for Radtke. "About a year and a half ago I was out of work, having a hard time finding a job," she said. Her husband encouraged her to start a fashion truck. Radtke wasn't sure about the idea at first, but decided to give it a try.  The couple went to Orlando, bought a truck, gutted it and completely redesigned it into the chic mobile boutique it is today.

La Fashion Coach had a slow start but is finally starting to take off after a year in business. The truck was originally opened for closet clean-outs, which offered people an easy way to make cash. La Fashion Coach pays upfront for all items – they do not consign. Also, the truck is available for special occasions, parties and events.

La Fashion Coach shoppers can expect the unique boutique to be just about everywhere around Jacksonville. "Wherever we can fit in, we go," Radtke said. "It's exciting because we get to go so many places, versus a brick and mortar where we are stuck in one spot. We can actually bring it to the people and get the chance to make new friends and contacts everywhere."

At a time when food trucks have become insanely popular, boutique trucks may be the next big mobile market trend. Visit La Fashion Coach every Wednesday this semester from 11:00 a.m. – 2:00 p.m. in Osprey Plaza.

Gallery photos by Lacey Wyndham

[doptg id="21″]

Email Lacey Wyndham at [email protected]