Panel discusses anti-discrimination protection for LGBT in Jacksonville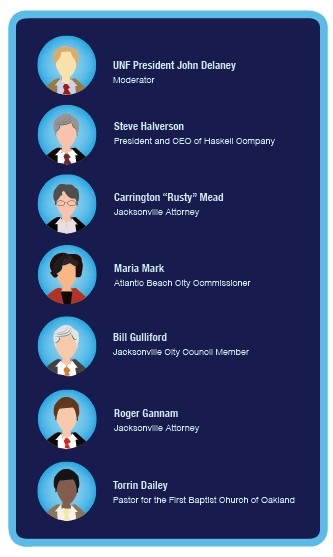 UNF hosted a panel discussion titled 'Human Rights Ordinance: Does Jacksonville need it?,' held in the Lazzara Performance Hall on Oct. 30. The purpose was to have a civil discourse on a Human Rights Ordinance (HRO) the Jacksonville City Council could vote on in the near future.
The expanded HRO would include sexual orientation and gender identity in those protected by the non-discrimination laws in Jacksonville.
Jacksonville is currently the only major city in Florida without a Human Rights Ordinance protecting UNF LGBT, said Jake Moore, program coordinator of the LGBT center. He said, by not passing the ordinance, it gives the community the understanding that it's OK to discriminate.
There is no current state law in Florida protecting LGBT when it comes to employment, housing and public accommodations, but several organizations have their own HRO in their policy, including UNF.
The issue of the expanded HRO has come up in City Council before. In 2012, the council voted against adding sexual orientation, gender identity and expression to those protected under the existing HRO.
When the ordinance only included sexual orientation, it failed 9-10. When expanded to include gender expression and identity, it failed 2-17.
UNF President John Delaney acted as moderator for the discussion.
Panelists included:
Halverson, Steve – President and CEO of the Haskell Company
Mead, Carrington "Rusty"- Jacksonville Attorney
Mark, Maria – Atlantic Beach City Commissioner
Gulliford, Bill – Jacksonville City Council Member
Gannam, Roger – Jacksonville Attorney
Dailey, Torin – Pastor of the First Baptist Church of Oakland
Tom Serwatka, VP Chief of Staff at UNF, said you can't stop discrimination, but laws curb behaviors.

Carrington "Rusty" Mead said she has experienced discrimination several times. The Jacksonville attorney said the word 'faggot' has been keyed on her car, and she was once told to leave a restaurant because they found out her orientation.

"People who say there's no discrimination are typically people who've never experienced it," Maria Mark said, causing part of the audience to erupt in applause. The Atlantic Beach City Commissioner said "it's a challenge to have civil discourse when the opposing side isn't acknowledging what's going on."

Jacksonville Attorney Roger Gannam disagreed, "By and large we don't have a pervasive problem that would justify the law."

Steve Halverson, president and CEO of Haskell Co., said the lack of an HRO keeps companies from being able to bring people to Jacksonville. He said after talking to employees, he realized the problem is more pervasive than he thought.

Jacksonville City Council member Bill Gulliford, who voted against the ordinance, said it polarized the community more than any other issue in City Council.

"Woe unto us for confusing our right to disagree with legalizing someone's right to discriminate" said Torin Dailey, pastor of the First Baptist Church of Oakland.

Gulliford argued that the ordinance could impact the amount of lawsuits brought to small businesses.

Atlantic Beach recently passed an HRO banning discrimination against LGBT people. Mark said it was an 11-month process.

Multiple members of the panel discussed Houston, Texas where an attorney subpoenaed several churches for their sermons after discovering they had been encouraging support from the pulpit to overturn the Human Rights Ordinance passed there.

Dailey said what happened in Houston is what makes him wary. He said he was in support of the ordinance.

Delaney said he hoped people would walk away from the panel feeling like they understood both sides.

The event was sponsored by OneJax, WJCT, The Florida Times-Union and UNF.

Gallery Photos by Lacey Wyndham

[doptg id="61″]

Email Saphara Harrell at [email protected]

*11/6/14 at 5:02 p.m. – Updated with new graphic and professional titles for each panel member.