The brains behind the bolts: the engineers of Osprey Racing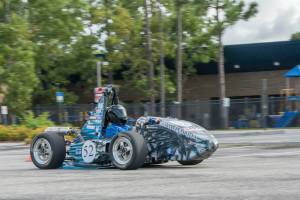 Photo courtesy of Facebook
As Samantha Delgado and the Squillace brothers, Nick and Sky, sauntered into a quiet TV room next to the Boathouse on a Wednesday afternoon, they displayed official Osprey Racing shirts. The trio entered in a perfect triangle, as if they were trying to express in their body language that they are mechanical by nature and that every move they made was carefully calculated to fit their surroundings.
Samantha Delgado, Nick Squillace and Sky Squillace are all mechanical engineering majors. They are also members of Osprey Racing, a non-profit chapter of the Society of Automotive Engineers (SAE) here at UNF.
Each one is a major contributor to the design and production of a formula race car that is raced against 120 other universities from all over the country once a year at the Michigan International Speedway in the Formula SAE Collegiate Design Series. Like Delgado and the Squillace brothers, the rest of the team is also comprised of UNF engineering majors.
While most Ospreys are asleep in their beds, these future engineers are doing something unique while they earn their degrees. The sheer amount of time that the members of Osprey Racing put into constructing their car, on top of their rigorous courses, would be enough to send most average students into a stress-induced break down. These students, however, can't get enough. Their dedication to this project allows them to build a car in matter of months, a tedious process that generally takes much longer.
"In years past we've tried to count [the amount of hours put into building the car per week] and it's almost impossible to track the amount of hours because of how long people are in there," Nick Squillace said. "If you go by the engineering building at night, you'll see the one light on…it's us."
When asked if all this hard work is worth it, the trio replied in unison: "yes."
"Everyone is really motivated. We want to get all of our homework done so that we can actually do work on this car," Sky Squillace enthusiastically said.
It wasn't until the topic of formula race cars came up that their expressions switched from that of tactical engineers to kids in a candy store.
"Compression ignition is just cool," Delgado said with a smile on her face, as she described some of her favorite car features.
Delgado is the current president of Osprey Racing, a job that requires her to contribute to everything from the intake and fuel system production, to communicating with the team's numerous sponsors. At her side are Nick and Sky: current captain and co-captain of Osprey Racing. Their main responsibilities are to oversee the design process of the car. Or as Delgado described, "everything."
Everything is certainly a stretch, considering it takes a full team of Osprey engineers and a team of sponsors to get the car on the track. The 2014 car, named SwoopD3, took over $36,000 in donations to build and finished 82nd out of 120 teams in this year's competition.
Each competition consists of three static events which include business presentation, design presentation and cost analysis. As well as four dynamic events: acceleration, skid pad, autocross and endurance/fuel economy. Nick Squillace described the SwoopD3 as having the ability to go over 100 mph, although the course that their car races on only allows for a max speed of around 87 mph. According to Sky Squillace, the driver is typically someone who works on the design aspect of the car or a member of team who has extensive knowledge on how the car operates.
The passion these three have for building a car is obvious by their sheer devotion to the project. That passion is more than likely a stepping-stone for projects on an even grander scale. The Squillace brothers are already working for a company named Drone Aviation Corp. which designs and builds drones for civilian and military use, while Delgado is currently undertaking research on diesel emission efficiency at UNF. Her ultimate goal is to figure out a more efficient way to get rid of emissions while at the same time trying to discover more effective ways to use fuel. All of these ambitions are more realistic now that these mechanical engineering majors are gaining valuable hands-on experience in their areas of interest. And none of it would be possible if they had not taken on the challenge of building this formula race car.
These leaders of UNF's own formula race car team are the brains of the operation. They are the ones that can turn long nights into diesel-fueled domination, the ones who piece together machines one part at a time and the ones that can't wait to watch their sweet ride hug every turn with deadly precision.
Vroom vroom.
—
For more information or news tips, contact [email protected]; if you see an error in this story or have any compliments or concerns, contact [email protected].