UNF to host first-ever Deaf Spark

Video shot and edited by Jack Drain
UNF will host the first annual Deaf Spark this Saturday, May 16, to raise awareness for the deaf and hard of hearing community.
Inspired by One Spark, Deaf Spark's own array of interactive events will feature artists, filmmakers, storytellers and performers in a day meant for children who are deaf or hard of hearing and their families.
According to a press release from UNF Public Relations, Deaf Spark is co-sponsored by UNF's ASL/English Interpreting Program, the Jacksonville Deaf Club and the Florida School for the Deaf and the Blind.
Dr. Sherry Shaw, program director of ASL/English Interpreting at UNF, and graduate assistant Kelly Lindsey have helped plan Deaf Spark since last summer.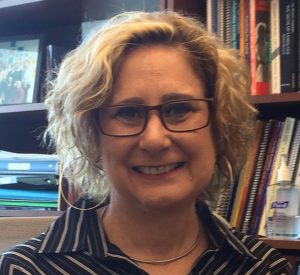 Shaw said the idea of Deaf Spark originated during a meeting she had with leaders from the School for the Deaf and Blind and the Jacksonville Deaf Club in July of 2014.
"We were talking over dinner, and I just asked them if they had goals that they would like to pursue in their various organizations and how could UNF support them in achieving those goals," Shaw said.
Then the idea sparked for Shaw and the leaders.
"At the very end, there was a woman named Kerry Cooler." Shaw said. "She is involved in the Jacksonville Deaf Club, and she said, 'What about Deaf Spark?'"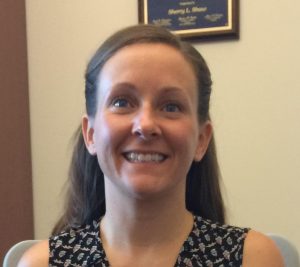 Almost a year later, Deaf Spark is just days away and Lindsey said she hopes it's here to stay.
"It came out of the deaf community, and UNF Interpreting program wanted to support their idea, and they want it to be the first annual," Lindsey said. "We're ready to support them from here on out."
Lindsey said she hopes Deaf Spark becomes a staple of Jacksonville life.
"I just imagine this becoming something that becomes part of Jacksonville culture," said Lindsey. "Like how One Spark is the culture of Jacksonville, and [I hope] that it just becomes not a niche thing, but something that the entire city knows about and is proud of."
Deaf Spark starts with a 5K walk sponsored by the Florida Black Deaf Advocates at 8 a.m. in Lot 100.
Kids ages 12-18 who are interested in film/media or performance arts can attend the Eyes Alive! Film Camp from 10 a.m. until 4 p.m. at Tom and Betty Petway Hall, Building 57.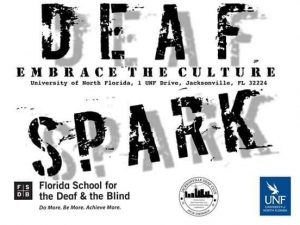 Deaf storytellers will entertain children ages 3-11 while parents can attend various seminars including basic American Sign Language (ASL) skills, roundtable discussions, vocational rehabilitation resources and a grant-funded workshop by DeafTEC.
There will also be a Community Expo throughout the day at Osprey Plaza. The expo will include deaf artists, a silent auction and organizational vendors.
Closing out Deaf Spark will be the ASL Spark Show from 7 to 9 p.m. in the Andrew A. Robinson Jr. Theater. This will showcase films and performances by the Eyes Alive! Film Camp participants and improvisation by local deaf comedians.
The event is free and open to the public. Donations are welcome, and all proceeds benefit the Jacksonville Deaf Club.
—
For more information or news tips, contact [email protected]; if you see an error in this story or have any compliments or concerns, contact [email protected].