Return to "Ocean Avenue" – Yellowcard comes back to Jax
Fair warning: if you live in Jacksonville and you don't know who Yellowcard is, don't let the locals know. Yellowcard came together in 1997 in Jacksonville, Florida, and if you listen closely, there's a little bit of that hometown feeling featured on every album.
Yellowcard stopped by Mavericks at the Jacksonville Landing Tuesday night for their first concert in the area in four very long years. The band recently announced a fall tour with New Found Glory and special guest Tigers Jaw.
Does anyone else hear that faint sound? It's the former pop-punk princess in me squealing.
Tigers Jaw and New Found Glory attracted a decent crowd, filling the venue almost to the max. Both bands did their duty in hyping up the crowd for Yellowcard, and New Found Glory's popular song "My Friends Over You" erupted the crowd into a deafening roar of slurred lyrics.
Screams from avid fans drowned out the between-set music as Yellowcard violinist Sean Mackin and lead vocalist Ryan Key stepped onto the stage with their hands up, encouraging the crowd to get louder for the main spectacle.
The crowd maintained its high energy throughout the set as the band sang a variety of old and new music, while they responded most enthusiastically to the older tunes.
The classics "Way Away," "Breathing," and "Rough Landing, Holly" were first up on the set list and triggered the most moshing and crowd surfing.
Following his violin solo, Mackin screamed, "F*** yeah!" in response to the crowd's enthusiasm toward the older songs.
Mid-set, Key stopped to thank the fans for sticking with Yellowcard for the past 15 years and apologized for taking so long to come back for a show in Jacksonville. He encouraged the crowd to go "bananas" as they did the last time the band played in their hometown. And bananas they went.
Popular song "Light Up The Sky" followed the speech from the album Paper Walls. Everyone's feet were off the ground during this number, and looking around, I didn't spot a single person not singing along.
A number of songs from Yellowcard's more recent albums Southern Air and Lift a Sail were sprinkled throughout the show. If it's even possible to feel like a city, the song "Southern Air" does just that. It feels like Jacksonville. And you don't need to be a local to recognize that.
I know you're wondering, and yes: the band did play "Ocean Avenue."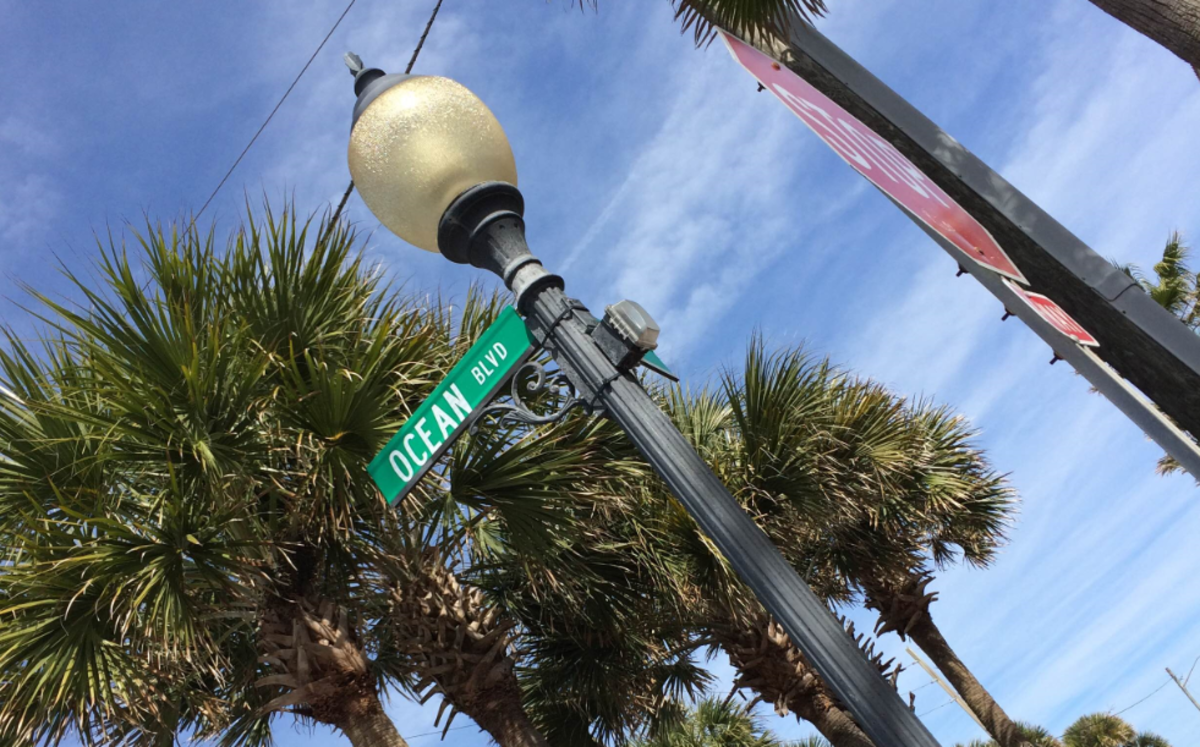 Released in 2003, "Ocean Avenue" is Yellowcard's most popular song and, if you weren't already aware, it was written about a street in the heart of Jacksonville's Atlantic Beach.
It is true that there is no actual street in Jacksonville called Ocean Avenue. But in an interview with The Aquarian Weekly in 2012, Key admitted that the street they hung out at was the Ocean Boulevard we are familiar with as Jacksonville residents, but calling it "Ocean Avenue" in the song just rhymed better.
Key teased the crowd with the traditional "one more song" act before playing "Ocean Avenue." It's typical to hear the song described as a crowd favorite, but that underestimates what it truly is to Yellowcard fans. Hearing this song live is similar to what it feels like to hug your mom, snuggle in bed with your pet and a warm cup of coffee or anything else that takes you to your safe haven.
Following the show, Key took to Twitter to say thanks one more time.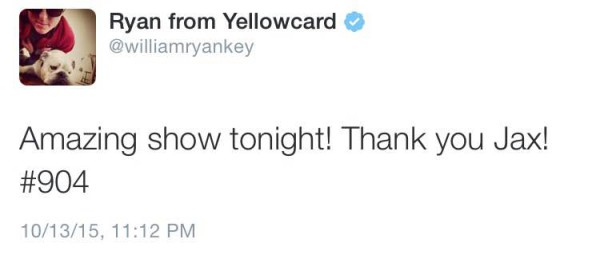 —
For more information or news tips, or if you see an error in this story or have any compliments or concerns, contact features@unfspinnaker.com.