Osprey Eyes Mystery Programs pays students to be secret shoppers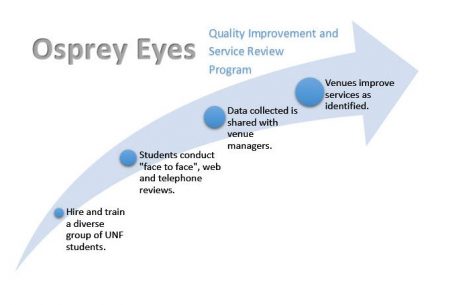 The Osprey Eyes Mystery Patron Program seeks out the good and the bad on venues around UNF's campus.
Starting back in 2014, the student-based customer service program is entering its eighth semester on campus to help the school better its customer service through undercover students.
"It's a customer service review process that enables us to identity and address key customer services components," said Todd Vatter, the communications coordinator.
With 729 combined surveys done as of spring 2017, the program tries to better overall customer experience at on campus venues. It started as a way help the university identify what it deems as important customer services components.
There are two main things the program focuses on, what the venue is doing well and what areas need improvement.
"So we want to make sure that if [there's] something it's doing well that students like and a service they enjoy, then they continue to do that," Vatter said. "If there's something they could improve in the process in the way that they are delivering their customer service we look to do that as well."
Hiring starts at the beginning of each semester with approximately 20 students on staff per semester. Students can apply at unfjobs.org. The position offers students an hourly wage of $10 and 3-6 hours of work a week.
"When we look at hiring we look to get a diverse representation of what the student body resembles as a whole," said Vatter.
Student reviewers go to over 40 venues around campus and conduct reviews through surveys. The venues include places on campus like athletics events, on-campus dining and  Osprey Productions.
"The actual number of questions varies per venue as different venues require different detailed identifiers related to the service they provide," said Vatter.
The survey is made up of a few different parts. Student reviewers rate the venue services on a five point matrix scale from an excellent to an unacceptable rating. Some of the things student reviewers rate in the section are initial acknowledgement, appearance of the venue, quality of the interpersonal contact, knowledge of the staff, accuracy, quality of the product or service, timeliness and efficiency.
The next part of the survey includes two questions, both being open ended, "What the venue is doing that they should continue doing" and "How this venue could improve the service they provide."
The student reviewers are asked "If the way they were treated made them feel like a priority?" and to give the venue an overall letter grade. The data collected from these questions the program uses for its benchmark comparisons.
The survey takes around 20 minutes to complete. Unfortunately, people who wish to see the results cannot due to the fact that results are not made public.
"While the results are not made public, we do conduct individual meetings with each of the venues at the end of each semester to review and analyze their results," said Vatter.
According to Vatter, UNF's Osprey Eyes Mystery Patron Program has been used as a base by other universities, including University of Florida and Boise State, to start similar secret shopper program.
—
For more information or news tips, or if you see an error in this story or have any compliments or concerns, contact [email protected].