'Isle of Dogs': a little "ruff" around the edges
Wes Anderson's latest production of symmetrically synergized puppets is both whimsical and slightly unnerving, as much of the light-hearted moments are paired with an abundance of extremely dark dialogue.
The cast is comprised of a portion of the most recognizable actors of the past decade and Yoko Ono, for some reason. The majority of the film is spent with the escapades of Chief (Bryan Cranston), Rex (Edward Norton), King (Bob Balaban), Boss (Bill Murray), and Duke (Jeff Goldblum), five dogs quarantined to "Trash Island" until they either starve to death, kill themselves or are returned to their "masters".
The familiar cast helps to push along the quirky and often morose dialogue Anderson has crafted, but I often found the voices of these pups to be highly distracting at times. The pacing of the dialogue seems to fit too perfectly with each of the actor's understood personalities. More often than not, I didn't feel I was listening to Rex put up a decision for a group vote, or Duke retell a rumor he had heard, I was listening to Edward Norton and Jeff Goldblum. The heavily recognizable shattered my sense of immersion at multiple points in the film.
Every human in the film speaks in their native tongue, with few exceptions, and translation of their dialogue is not always there, leaving their action to tell much of the story. While I appreciate what Anderson was trying to do here, I can only stomach so many translations explained from interpreters that sound like they're auditioning for a role on the Japanese version of Dora the Explorer.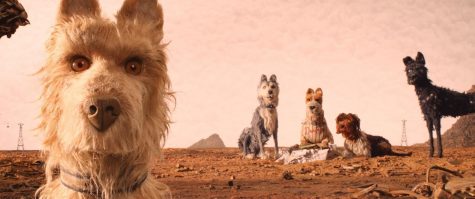 The music was truly a treat, as the film's score included everything from a theme that oozed traditional Japanese, all the way down to tracks you'd hear on a college alternative music radio station. The juxtaposition comes during the timing of their use. Tense moments and stare-downs before a conflict were often accompanied by the more traditional Japanese drums, while segments showing time passes were often accompanied by the more hipster and eclectic tones of indie rock. It's a weird but charming blend that works well enough to help push the story along.
Without spoiling anything, most viewers can probably predict the overall story arc after about 20 minutes into the film. The fun comes from the random and unexpected moments generated by a human population that mostly hates dogs and is convinced they carry disease that will transfer to them. A stark contrast from a quarter of the people seeing this film who probably only attended a screening to see some very good boys on-screen.
The real reason to see Isle of Dogs is the beauty of every shot and scene. The movie behaves much like pornography; even when the story isn't that great, there's plenty to gawk at. The color contrast between locations and the variety of textures presented in the animation are simply astounding. If scenes from Blade Runner 2049 were translated into papier-mâché, I imagine much of it would look like scenes from Isle of Dogs, it's genuinely gorgeous.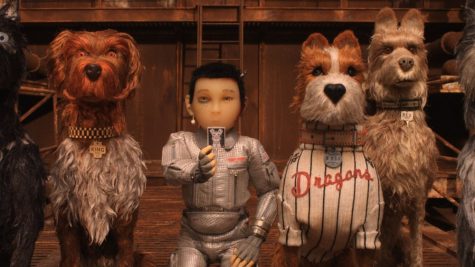 If you're a Wes Anderson fan, you're probably seeing this movie anyway. But if you're not a die-hard quirk master, there is still plenty of reason to buy a ticket for a movie that's a bit ruff around the the edges.
—
For more information or news tips, or if you see an error in this story or have any compliments or concerns, contact [email protected].