Ospreys get revenge against Camels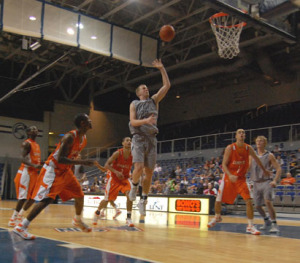 The UNF men's basketball team defeated Campbell University 61-59 Feb. 14 led by three Ospreys who finished in double figures.
The team equaled its all-time win total at the Division I level and evened the season series with Campbell, who beat the Ospreys by four points at home Jan. 19, at one game apiece.
The Ospreys (6-20, 4-12 A-Sun) were led by junior guard Eni Cuka who scored 12 points, senior guard Cortez Riley with 11 points and freshman forward Matt Sauey with 10 points. The Campbell Camels (10-15, 7-9 A-Sun) scored once in the final three minutes of the game.
UNF had to overcome a seven-point second-half deficit to hang on for the win.
"Down the stretch our defense was tremendous," UNF head coach Matt Kilcullen said. "Cortez Riley played like a senior point guard for us in the closing minutes. Everyone gave us good minutes today."
UNF took a 9-2 advantage at the beginning of the game, which it eventually expanded to a 20-8 lead after a pair of 3-pointers by Cuka. The Osprey's free throw with 11 minutes, 2 seconds left in the first half gave UNF a 21-11 lead.
But Campbell came back with a 19-4 run and took the lead 29-25 at halftime.
In the second half, Sauey scored seven points and led an 8-1 UNF run when he tied the score at 35-35 with a layup.
Junior guard Stan Januska's 3-pointer gave the Ospreys a 45-43 lead they would not surrender for the rest of the game.
Amir Celestin of Campbell completed a layup with 3:01 left to play to pull within three points. Teammate Jonathan Rodriguez scored his game-leading 15th point of the night with a layup at one second left on
the clock.
But the shot forced Riley to the free-throw line, where he made one of two free throws to seal the win for UNF.
Sauey contributed five rebounds and five blocks in addition to his 10 points, and Cuka tied Rodriguez with a game-high six rebounds. However, Campbell did outrebound UNF 36-27.
The Ospreys shot 52.3 percent from the field for the game, including 66.7 percent in the second half, and held the Camels to 35.2 percent shooting.
UNF will remain home next weekend when it hosts Florida Gulf Coast University at 7:45 p.m. Feb. 19 before welcoming Stetson University Feb. 21.
E-mail Matthew Hersch at [email protected]