Students be warned; Mexico considered unsafe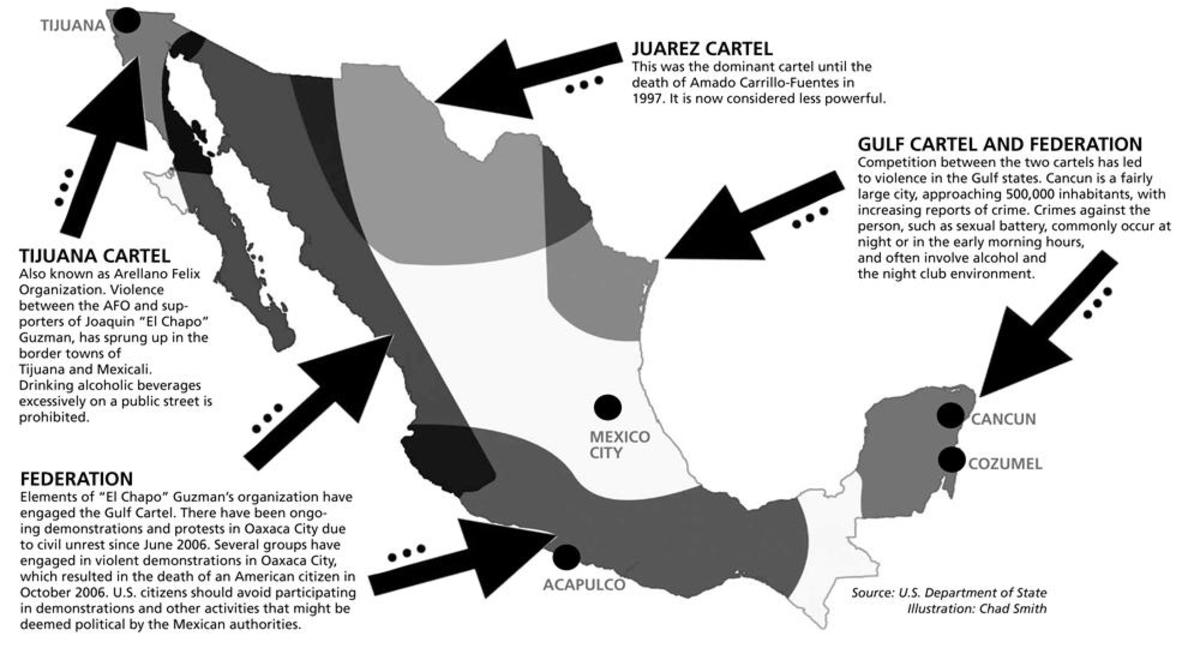 The U.S. Department of State recently issued its annual Spring Break advisory for students traveling abroad, but this year it was noticeably different – specifically citing Mexico as a potentially dangerous destination for students.
The UNF Department of Health Promotions also cautioned students traveling to Mexico for Spring Break during its Safe Spring Break Fair March 10 on the Green.
Although UNF has had the fair every year, the recent elevation of civil unrest fueled Health Promotions to
single out the U.S. neighbors to the south.
"We advise all students to know their limits, make sure they know where their money is, and always make sure someone knows where you are," said Shelly Purser, director of Health Promotions.
Currently, wars are being waged between the Mexican military and drug cartels for control of trafficking routes, and has moved the country up on the U.S. Department of State's travel advisory list, said Ben West, a security analyst for the Stratfor Global Intelligence company.
"Mexico is basically a corridor for drug trafficking," he said. "Once the Colombian cartels began to lose power in the 1990s, the Mexican cartels began to pick up the slack."
West specifically pointed to the recent actions by Mexican President Felipe Calderon to combat these cartels as the prime reason for the recent up-tick in violence.
"Calderon sent in troops at the end of 2006, and since then there has been an increase in narcotics-related deaths," he said. "What we are seeing now is the military response to the cartels, which control most of the country."
Nearly 6,300 murders in Mexico can be attributed to the domestic drug war in 2008. So far the war has claimed more than 1,000 people in 2009, according to a nonpartisan think tank Reason Foundation report,.
While West urges all students to be careful, he said that as of yet, foreigners are not being targeted specifically.
However, he said there is a risk to students that get between the military and the cartels. Even more worrisome is the recent influx in kidnapping, he said.
"It could simply be an express kidnapping where they clean out your bank, or it could be something more serious, like a prolonged kidnapping where they extort millions of dollars from your family," he said.
West said the biggest issue facing students was the need to obey the local laws and maintain a clear head at all times when walking through the streets.
"You definitely want to stay on the right side of the law," West said. "[Being on the wrong side] can lead to imprisonment, or you can become subject to bribing police. Also, you want to keep a good head on your shoulders. If you are drunk walking down the street at 2 a.m., you look like a good kidnapping target."
Each year more than 2,500 American citizens are detained and arrested abroad. Half of the cases are related to narcotics, even for possession of small amounts of illegal substances, according to the U.S. Department of State.
Alcohol is also a prime cause of trouble for Americans traveling abroad. Students are specifically mentioned for being arrested because of intoxication levels in public, for underage drinking, and for driving under the influence, according to the U.S. Department of State's report.
One student who traveled to Cancun, Mexico in 2003 said she would not return due to the heightened security risks.
Junior psychology major Kristen Kennedy experienced paranoia while visiting and maintained a heightened alert.
"Don't travel alone," she said. "Make sure somebody else knows where you are at, and write a travel itinerary for your family to know where you should be."
Tips on staying safe
• Register with the U.S. Embassy or Consulate.
• Stay close to your resort, and don't wander throughout the city.
• Avoid military personnel. They are targets for drug cartel attacks.
• Stay in groups and don't drink alcohol excessively.
E-mail James Cannon II at [email protected].
Jonathan Morales contributed to this report.