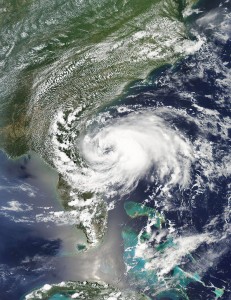 We're barely through with the first month of the hurricane season, and already, we have a fourth storm by the name of Debby brewing in the gulf. And I worry how prepared we will be.
Last month, before the start of the hurricane season, we already saw Tropical Storm Beryl make history in being the strongest storm ever to make landfall in the U.S before June 1 and the second strongest to make landfall in the Jacksonville area, according to the NOAA.
Interestingly enough, and to the chagrin of children everywhere, little was expected of Beryl. Schools didn't even bother closing in anticipation of the havoc such a storm could wreak.
And for the entire night of May 27, 2012 that Beryl came ashore, the storm battered the city; knocking out power and knocking down trees. Things were pretty much back to normal by Tuesday, thanks to the efforts of JEA and other city services making speedy efforts to clean things up.
Just four years ago, when tropical storm Fay was doing its stop in Jacksonville as a much weaker tropical storm in comparison to Beryl, the school board gave kids two days off. Damage was mild at worst and power outages weren't bad at all, but kids got the days off anyway.
Eight years ago the situation was much the same when hurricane Frances affected the area with tropical storm strength weather conditions, except power outages carried on for close to a week, as did school cancellations. We really have come a long way in how well we clean up after these storms. The aftermath for tropical storms never seemed more painless.
But it's because of this, that I have to wonder if our city's increasingly improved cleanup response and our history of easy breaks, are factoring into us letting our guards down for whenever the next big storm comes barreling through.
As far as storms have been concerned, we truly have been blessed in being able to avoid so many potentially devastating hurricanes. Had they hit us directly instead of just skirting our shores, or making land fall elsewhere, life today would truly be much different.
On a personal level, I've found that my family is generally prepared for every hurricane season when a storm threatens the area.
So imagine my surprise when I came home the day Beryl was scheduled to rock this city and finding that my parents were totally unprepared for the storm. No supplies, nothing. Throughout the years, I have noticed preparations tapering off, but I at least expected preparations of some sort.
Luckily, outside of the sporadic power outages, and the extremely stormy weather outside, life was as usual on that day.
But what if the power was out for days, and the tap water contaminated? We would have had practically zero food, and very little water.
Now, they are every bit as responsible and overbearing as any good parent should be, but I suppose after all these close calls we've had with storms that never seem to live up to their promise of destruction, they've just loosened up about this whole preparation process for the hurricane season.
And if even they are, I know they're not the only ones either.